Today's Post by Joe Farace
After I converted my Panasonic Lumix mirrorless cameras to infrared capture I had the same kind of euphoria that everyone who has their first IR experience feels, even though I've been experimenting with IR capture since the 1970's with Kodak's color and black & white infrared film. Here's what happens: You run around taking pictures of everything and stuff that appears mundane when captured in color but looks so different in IR, so much that my wife Mary calls the effect "dreamy."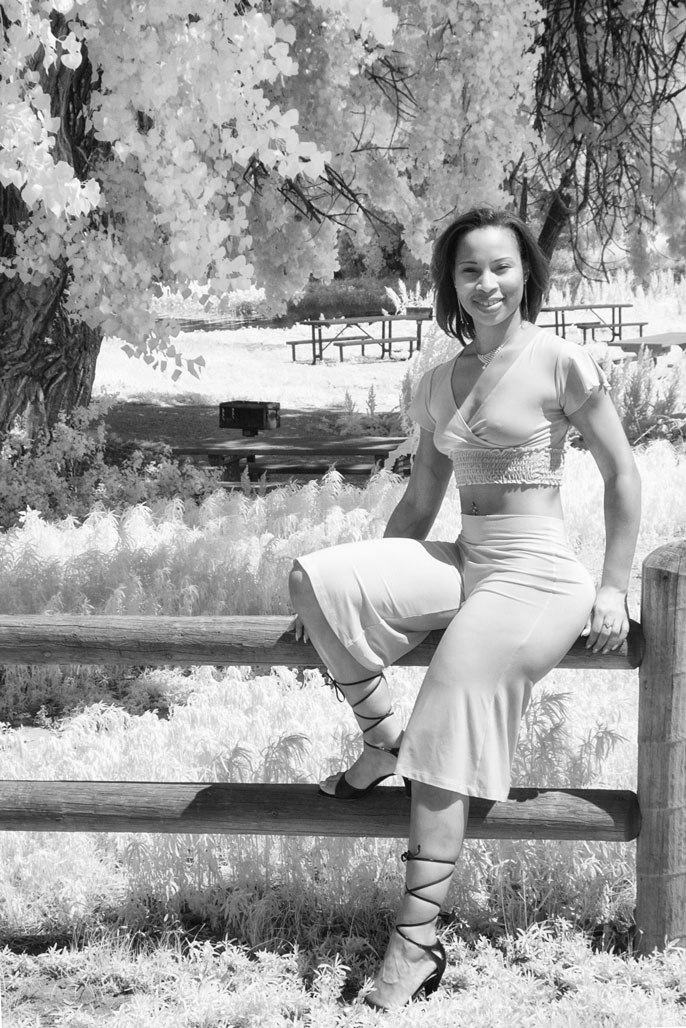 For example, in a post on my car photography blog entitled Best Subjects for Infrared Photography, I show an example of an infrared photograph of a car, that was handcolored.
And in a previous post here called Infrared Portraits and Depth-of-Field, I featured an environmental portrait shot using color infrared techniques. It's a different look, one that some may like, while others may not. In fact it was cut by the publisher from my book Available Light Glamour Photography.
This seems to be a trend since the image featured in this post was cut from an article I wrote a professional photography by an editor who deemed it "demonic," although nobody could possibly consider the lovely Ms. Stoneman as anything but angelic. I understand…Infrared portraiture, like today's image, is not to everyone's taste.
How I made this shot: I photographed Y'amie in Brighton, Colorado using a Canon EOS 50D that had been converted to infrared capture by LifePixel. Lens was the EF 22-55mm f/4-5.6 USM with an exposure of 1/320 sec at f/13 and ISO 400. The image file was processed in Silver Efex Pro with the Glamour Glow filter from Color Efex Pro added for a touch of IR glow.
Due to the general unpredictability of all infrared photography, not all IR portraits turn out this well (or at least I think so) but why not give it a try. But no matter what happens I promise that you will have fun.
Postscript: Coming soon. My Introduction to Infrared workshops will be held on select Saturdays in Summer 2019 at McCabe Meadows near Parker, Colorado. Look for details as trees start to come into full bloom.
---
I've found that Life Pixel does a great job with IR conversions and they have done most of the conversions for my Canon DSLRs and all of my Panasonic Lumix G-series cameras. This is not a paid or sponsored endorsement, just my experience.
My book, The Complete Guide to Digital Infrared Photography is available from Amazon with used copies selling from $5.00 as I write this. Creative Digital Monochrome Effects has a chapter on IR photography and is available from Amazon with used copies starting at $4.00.