Today's Post by Joe Farace
A capacity, and taste, for reading gives access to whatever has already been discovered by others. —Abraham Lincoln
Most of the photo books that publishers send me to review aren't that great. The bulk of them are written by Internet-famous photographers with hundreds of thousands followers and the publishers are hoping the influencers themselves will sell the books to so they don't have to. Along comes two books that defy this trend and are something, along with Jeff Bridges Volume 2, that I can recommend as a holiday gift for friends, loved ones, and maybe just yourself.
The author of both books that are featured today is Chris Gatcum, a UK-based photographer, journalist, and author. When he isn't wielding a camera or writing about wielding a camera, Chris is said to be peering into the engine of his VW camper van, mopping up oil leaks under his motorcycle and denying he's a hipster.The two books are not just full of great photographs and provide simple but different roadmaps that will help improve your photography, starting with…
How Do I Photograph a Sunset?: More than 150 essential photography questions answered The title says it all; Questions are answered. The initial photograph in the book shows the author's first camera, an Olympus OM-G film-based SLR. But make no mistake about it, this book is only aimed at digital photographers. In the first chapter, which is called In the Bag, the book's third question is: "Are full frame cameras better than cropped-format cameras." Regular readers know I'm not a fan of the term "cropped sensor" and since this is a no spoilers review you'll have to buy the book or pick up a copy at your library to find Gatcum's answer to that thorny question. New photographers or new digital camera owners might just want to skip over that section and instead start reading with the next section, In The Beginning. I suggest reading that one before going back to the first section and was surprised the publisher didn't organize the book that way. This section is full of useful information on setting up your camera to make it useful for the kind of photography you either do or want to do.
The next sections are called In the Frame and In the Field and kick of with question #88 "What are the biggest mistakes I can make with my photographs?" No spoilers but Mr. Gatcum's advice, while inherently sound, is a lot different that what my mentor gave me back in the 1970's. The last section is called In the Digital Darkroom and follows the question and answer format to help understanding software related issues. The entire book is as if the author has been asked these questions thousands of times and has compiled his thoughtful answers in a format that makes this an excellent book for bedside reading. It answers questions you may not have thought about and inspires you with great photographs making the book a winning combination. Highly Recommended for beginners, Recommended for all photographers, especially those who have hit the occasional creative snag and didn't know who to ask to get past it. Now you do.
#PHOTO52: 52 weekly projects to make you a better photographer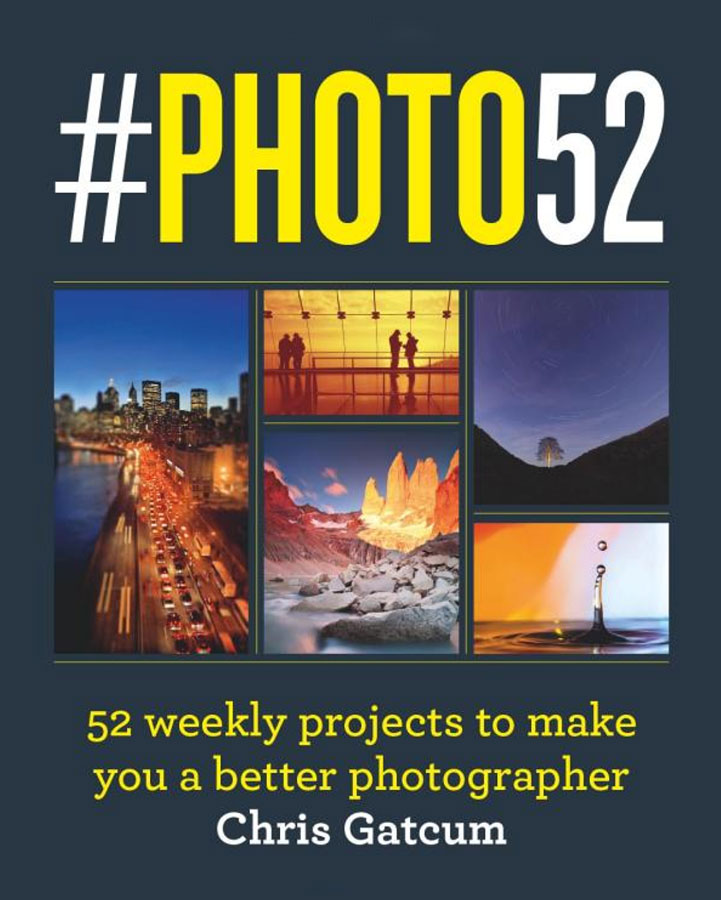 Yes, you can read yourself out of a creative rut. This terrific book provides a roadmap of creative challenges that you can either follow in numerical order or inversely or randomly pick topics to put your own spin on the process and then go out and shoot them. And, most of the time, these self-assignments—and that's what they really are—that Gatcum gives you will work as well for a digital photography or for readers who have a hybrid analog/digital workflow. This includes all you film shooters, who can feel free to skip any sections with references to "post processing" unless your workflow is truly analog/digital like many people's, including me.
The topics themselves are as varied as Long Exposures or as off-the-wall as Freelensing, If you don't know what the latter is, Gatcum explains it thusly: "freeing" (unmounting) the lens from the camera body and holding it allowing you to produce photos that are characterized by a vintage feel including light leaks and vignetting. (Or you could just cheat, and shoot with a Holga to get similar results.) The author breaks down the book into different sections such as Shooting Creatively to Equipment to Lighting to Processing, where you'll find a section on Digital Infrared, that film shooters can easily try by shooting some Rollei Infrared 400 or Ilford SFX 200 film. Hint: Rollei's offering is cheaper and available in 120 format too. You'll find it all of this practical information and inspiration in a book that's as much fun to read and put into action as a barrel o' monkeys. Unlike most review books that I donate to the local library, I'm hanging onto this one because I plan to try many of these assignments during 2022. Look for the occasional post about them during the new year. Highly Recommended for every photographer.
How Do I Photograph a Sunset?
Publisher: ‎ Ilex Press (October 12, 2021)
Paperback: ‎ 176 pages
ISBN-10: ‎ 1781578214
ISBN-13: ‎ 978-1781578216
Dimensions: ‎ 7.55 x 0.6 x 9.2 inches
Amazon Prime Price: $17.99, Kindle $9.99
PHOTO52: A Year to Great Photography
Publisher: ‎ Ilex Press (October 5, 2021)
Paperback: ‎ 176 pages
ISBN-10: ‎ 1781578508
ISBN-13: ‎ 978-1781578506
Dimensions: ‎ 7.5 x 0.7 x 9.25 inches
Amazon Prime Price: $22.4, Kindle $11.99