Today's Post by Joe Farace
…in which I share some of the dumb photographic things that I've done over the years and, for some reason, always seem to involve attractive women. Or as Bob Ross once said, "We don't make mistakes, we make happy accidents.
How I made this shot: I was photographing Kellie, an aspiring model at one of the group photo shoots in Fort Collins, Colorado that were sponsored by John and Dawn Clifford. Mary and I had photographed Kellie previously and I was looking forward to working with her again.
When I shoot in backlighting situations like this one, I use a speedlight to add fill to the subject to balance the ambient light around them. My typical rule is to expose for the background and just turn on the speedlight. And that works most of the time but sometime I have to make adjustments via the camera's exposure compensation control. My guiding principle is not to put too much fill light onto the subject so that it ends up looking like any other flash shot that could have been taken in a dark room; you know the look.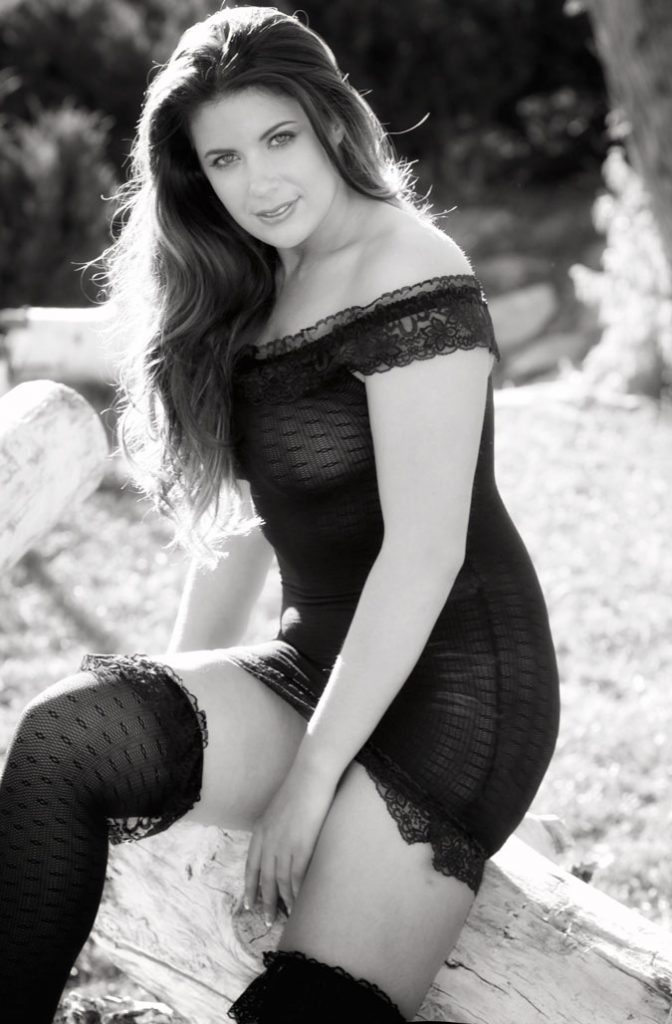 Camera used was a Canon EOS 50D with my favorite portrait lens, the EF 85mm f/1.8. A Canon 550EX speedlite was mounted on the camera, maybe with a Sto-Fen Omni-Bounce, diffuser attached, I don't remember. Exposure was 1/250 sec at f/4 and ISO 200. The image was originally captured in direct monochrome mode and later enhanced with some light burning and dodging along with a dab of Color Efex Pro.
This was the fourth of five photographs that I made of Kellie before backing up, probably to get the rest of her in the shot, and then tripping over something and falling backwards a** over tin cups. As I got up I noticed the 550EX was no longer attached to the DSLR. I mistakenly thought it has slipped off the camera's hot shoe but (oh no, Mr. Bill) the speedlight's mount was still attached to the camera's hot show, while the mountless 550EX lay on the ground. I had a backup camera as well as a backup 420EX flash, so I was able to keep shooting for the rest of the day. The mood, as they say, for this particular session with Kellie was broken. Yet Kellie and I would go on to work together many times, including a session that was featured in an article about lighting for the now defunct Studio Photography magazine.
And yet the stupidity continues… At the time I thought of myself as a hot shot magazine writer (I no longer harbor such misguided illusions, to be sure) and called a friend at Canon asking about sending the 550EX back to the company for repairs to replace the broken shoe/mount. This turned out to be a double dumb idea because although the 550EX, at the time, was still in their product line-up, it took Canon service three months to send the repaired flash back to me. So much for my hot shot ego.
---
If you enjoyed today's blog post and would like to treat me to a cup of Earl Grey tea ($2.50), click here. And if you do, thank you very much.