Today's Post by Joe Farace
I was having breakfast with a photographer/friend and we were talking about Canon lenses and I mentioned that my favorite for photographing people was the EF 85mm f/1.8 ($369.) He really liked that idea but really wanted to own the EF 85mm f/1.2 ($1899) that I tested for Shutterbug a few years ago. There's a $1500 difference between those two lenses, which got me to thinking about why Canon doesn't offer an 85mm f/1.4 like Nikon does for users of their system and while both Sigma and Zeiss offer similar lenses for EOS mount neither is what you might call inexpensive.
While browsing the Internet, I saw what I was looking for: The Samyang 85mm f/1.4 that's priced at $229. Since that's less than a EF 85mm f/1.8 costs I knew there had to be a catch and there was: The lens is manual focus.
The Samyang lens's minimum aperture is f/16 and its internal focusing design uses ten Elements in seven groups. The lens produces a 28.3 degree angle-of-view and focuses as close as 3.3 ft. Filter size is 72mm and a lens hood is included. It's available for Canon, Nikon with auto confirm chip, Pentax, Sony Alpha and E-mount along with Micro Four-thirds, although I think that its one pound weight might be a handful when used with a lightweight mirrorless camera like my Olympus E-M10 that itself weighs 13.76 oz. That price varies depending on the mount selected with the Sony Alpha being the most expensive ($349.99) and the Pentax ($226.71) the least costly.*
To, ya know, see what happens, I shot a side-by-side comparison between the Canon EF 85mm f/18 and the Pro-Optic 85mm f/1.4.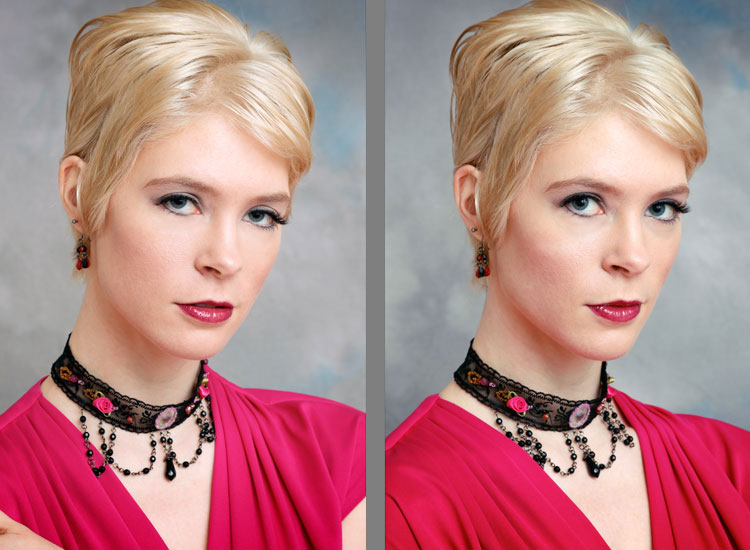 Pam Simpson modeled for this headshot shot in my in-home studio. Camera was an EOS Digital Rebel T4i. The main light was from a 300 W/s monolight at camera right with a white  86-inch parabolic umbrella mounted. An inexpensive ($29.90) Westcott 30-inch 5-in-1 Reflector was placed at camera left for fill, although I'm not sure how much it added. Exposure was 1/100 sec at f/8 and ISO 400. I first attached the Canon EF lens, then made a few shots with the Samyang. Can you tell which one is which? To help you decide, I enlarged a section of Pam's eye. Now can you tell? (Answer is under the close-up photos.)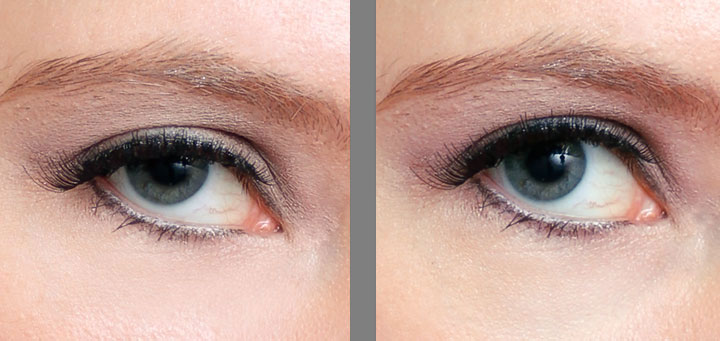 The Samyang lens shot is at right.
If that works for you and you don't mind manually focusing a lens, it looks like a good deal for budget-minded portrait photographers.
*All these prices are current as I write this on April 19, 2019.
---
If you enjoyed today's blog post and would like to buy Joe a cup of Earl Grey tea ($2.50), click here. And if you do, thank so very much.
If you're interested in learning how I shoot portraits and use cameras, lenses and lighting in my in-home studio and on location, please pick up a copy of Studio Lighting Anywhere that's available new from Amazon.com for $18.39 or $9.77 used, as I write this. The Kindle version is $11.99, if you prefer a digital format format.