Today's Post by Joe Farace
A muse is a "woman or a force personified as a woman who is the source of inspiration for a creative artist." In Latin, a shrine to the Muses was called a museum. Artists or poets would call on their Muse to inspire them and a poem itself might begin with such a call; thus, Homer's Odyssey starts with, "Sing to me of the man, Muse."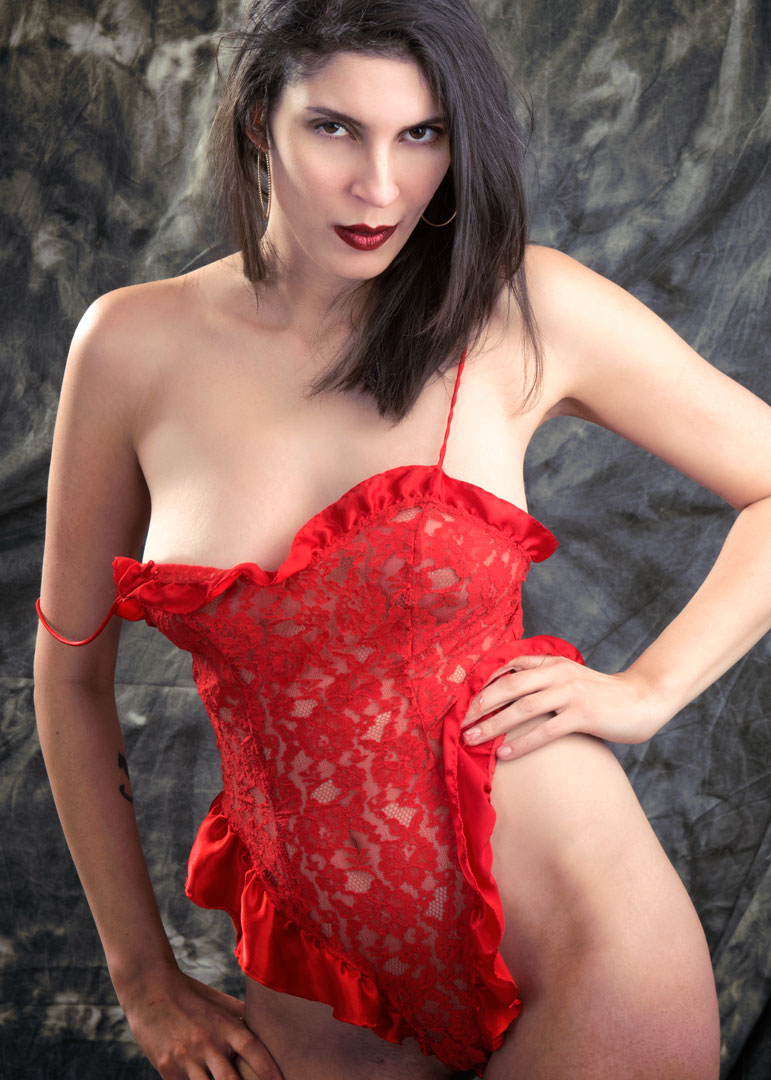 Inspired by Gary Bernstein's book Burning Gold, I've decided to publish a different portrait of the same model over the next several Sundays, in this case it's Erin Valakari.
She is an artist, model and cosplayer, originally from Texas and now living in Colorado. She is a sweet and lovely model who is totally professional in her work ethic. What's more, her hard working style is combined with attitude that compliments a model who is stylish, talented and sexy. You can follow her on Instagram at @valatheartist.
How I Made this Portrait: I'll be featuring a different image of Erin that was made over the nearly two years years that I was lucky enough to have photographed her and showcasing all of her many, many looks in many different styles. Today's featured image was made during our last shoot together in November, 2018.
The lighting setup used a Paul C. Buff DigiBee DB800 with a Plume Ltd hexagonal Wafer soft box that was placed at camera right. An Alien Bee B800 with a (no longer available) 18-inch Paul C Buff OMNI reflector with Triple layer diffuser sock is at camera left while another Digibee with a 48-inch Dynalite Quad Square black/silver umbrella that was placed in a back left corner of my studio. The background was a cheapo muslin background suspended from falling-art JTL background stands.
The camera used was a Panasonic Lumix GH4 with a used Lumix G Vario 14-45mm f/3.5-5.6 lens (at 31mm) that I purchased on eBay from a camera store in Japan. The exposure was 1/125 sec at f/11 and ISO 200. Image was color balanced with PictoColor's iCorrect Portrait plug-in, retouched using my standard retouching techniques and the tweaked using the Glamour Glow filter that's part of Color Efex Pro.
Erin was my former muse; If you would like to be my
new muse
: I prefer working with women from 21-45 of any ethnicity and
no experience is necessary.
If you have a friend or maybe yourself who would like to be a muse, please look at
this post
that has lots of details of what's involved. If you want to schedule an interview at a nearby Starbucks to discuss what involved with being a muse or would be interested in a test shoot, please click the
Contact
button or send me an e-mail at joefarace at gmail dot com.
---
Gary Bernstein's book Burning Cold is long out of print but new hardcover copies are available from Amazon for $19.99 with used, paperbacks starting around four bucks, as I write this. Ms. Simpson is featured on the front cover and several inside pages of my book Posing for Portrait & Glamour Photography. New copies of my book are available from Amazon for $29.95 with used copies starting around 19 bucks, as I write this. Kindle copies are $28.45 for those preferring a digital format.