Today's Post by Joe Farace
My home studio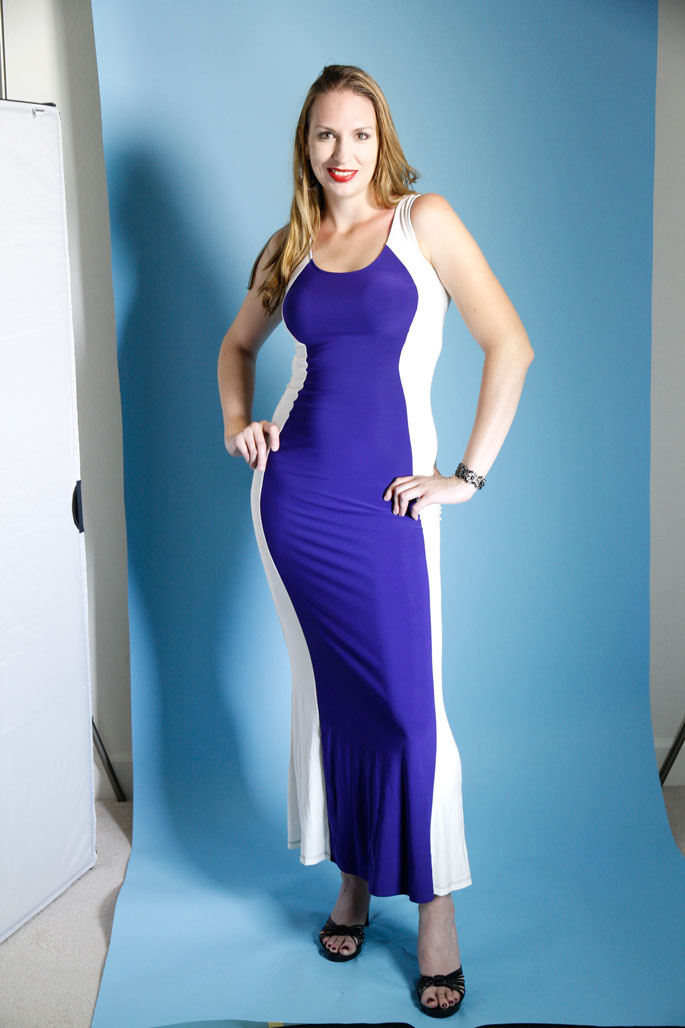 measures 11×15 feet but on one end of the room the wall is angled and has a doorway making shooting full length portraits a challenge. You can see the doorway in this post,
Single Light Boudoir Photography
, where the model, Colleen Brianne is actually posing in the doorway.
Shooting full length poses in tight quarters requires wider angle lenses than I typically prefer for making portraits but some compromise are required when working in smaller spaces. Making wider angle lenses work for this kind of shot requires special attention to camera height and sometime I find that kneeling down or sitting in a chair (thus lowering the camera) to photograph the model works best for me. You can use whatever contortionist trick works for you as long as you are not shooting down on your subject while using a wider-angle lens. If you do it, the effect will produce unflattering foreshortened and distorted portraits with disproportionate head sizes. I know that some younger photographers actually like this look; I do not. Don't get too low either because then you'll end up looking up your subjects nostrils. That's not a good look for most subjects.
How I made this shot: The above image of six-foot tall model Danielle was made during our first shoot togetherand she's is in a kind of modelly pose but that's to be expected when working with a new model in a studio where she has no props to interact with. This pose works with her wardrobe and the seamless paper background that can be pulled out into my studio's floor. How I made this shot: As you can see in the above setup, the 53-inch roll of Savage's classic Ocean Blue seamless paper. did not fully cover the frame. For the final image I used Photoshop's Edit >Content Aware Scale to extend the background to the edges of the frame. Some Clone Stamp use was required to clean up the wrinkled leading edge of the seamless paper. In this setup a 60-inch parabolic umbrella was mounted in shoot-through mode onto Bicolor LED light that was placed at camera right. A another LED light was placed at camera left to provide side lighting, although in this shot it didn't seem to do much. Camera was a Canon EOS 60D with EF-S15-85mm f/3.5-5.6 IS USM lens (at 35mm) with an exposure of 1/80 sec at f/5.6 and ISO 640.
---
If you enjoyed today's post and would like to support this blog, you can help by making a contribution via Patreon, where memberships start at just $2.50, with additional levels of support at $5 and $10 that includes special benefits. And if you do, I would like to thank you for your support.