Today's Post by Joe Farace
This appears to be my week to talk about f/1.4 lenses…
Yesterday I received a trio of f/1.4 mirrorless lenses from Sigma. The lenses seem to echo the "double-the-focal-length" system that was popular back in the film days. On Micro Four-thirds cameras these lenses produce the equivalent angle-of-view of 32mm, 60mm and 112mm. The specific lenses are:
Sigma's 16mm f/1.4 DC DN Contemporary ($399) is prime lens that's designed for mirrorless cameras including Sony's E mount and Micro Four-thirds cameras, like my Olympus and Panasonic models, and is the largest lens in the trio. The wide aperture is great for low light photography and the lens has a rounded nine-blade diaphragm should create nice shallow depth-of-field effects. When shooting video, the optical design and stepping motor deliver smooth autofocus and if I have time to create a vlog, this will be the lens to use.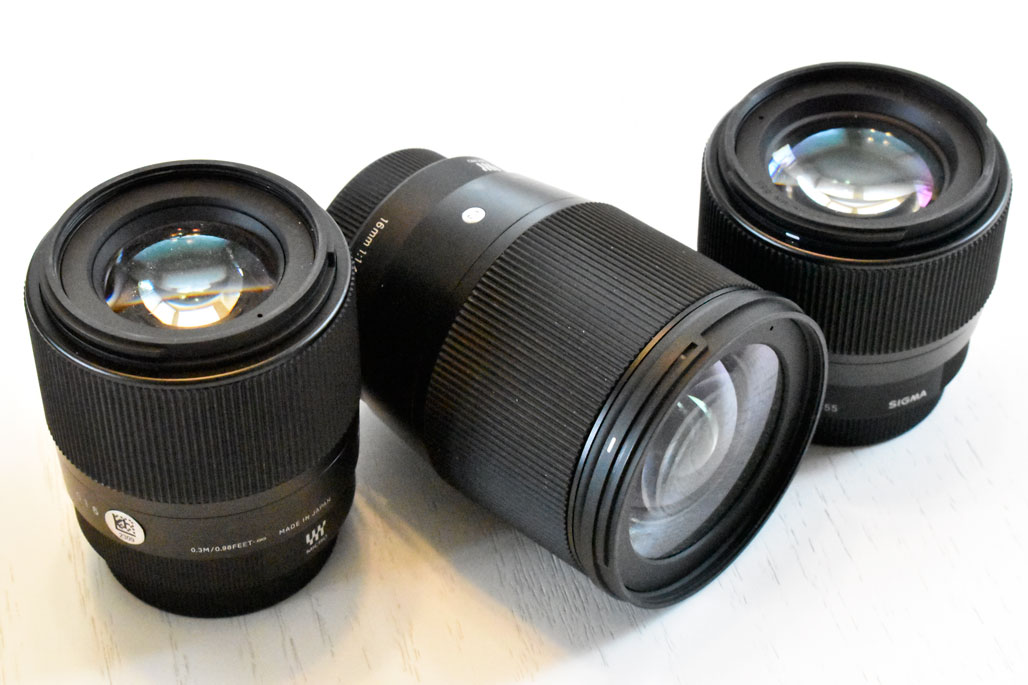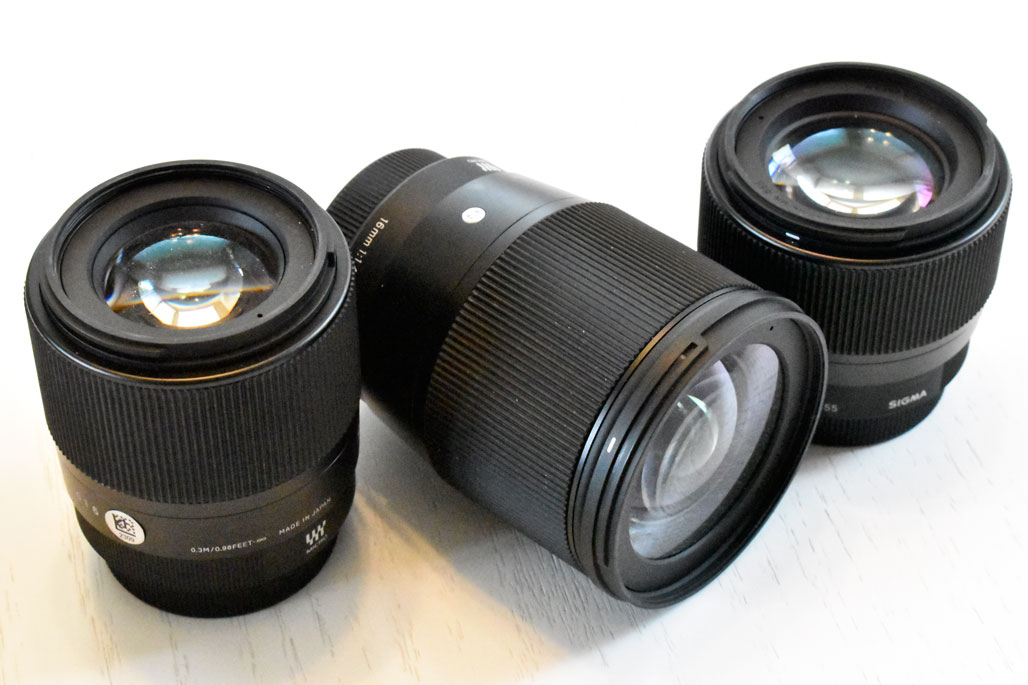 Like the 16mm lens, the Sigma 30mm 1.4 DC DN Contemporary ($289) is designed for Sony E mount and Micro Four Thirds camera. A stepping motor provides fast and accurate autofocus and Sigma claims that it's useful for shooting video too. This is the oldest (and least expensive) lens in this trio and I shot some portraits in my studio a while ago using one. You can read about that experience here.
The 56mm F1.4 DC DN lens ($429) completes Sigma's wide aperture series of wide-angle, standard and short telephoto prime lenses in Micro Four Thirds and Sony E mounts. While having the longest focal length and biggest price tag, it's also the physically smallest lens in this trio. Sigma claims it has a "beautiful bokeh" along with smooth and quiet autofocus. I think this will make a great portrait lens and if I can find a model to photograph, I'll be giving that a try as well.
My initial thoughts: Just picking them up and holding them in my paws it's easy to see that these are impressively crafted lenses. Sigma says their Contemporary line is part of a Sigma Global Vision effort and each lens is hand-crafted in a single factory in Aizu Japan and individually inspected before shipping. And while they are made in both Sony E and MFT mounts, they are also impressively compact is size. Many lenses designed for APS-sensored cameras and retrofitted to a Micro Four-thirds mount are too BIG for the smaller MFT chassis bu these lenses are not. They fit the cameras, are solidly designed and hefty in weight. All of them include nicely made lens hoods, something some camera and lens manufacturers charge extra for.
Barry Staver and I plan to take the lenses to the Colorado Railroad Museum next week for a shoot-out putting them through their paces with a variety of Micro Four-thirds cameras. In the meantime, I'll be shooting them next to my famous wall o'bricks for critical testing and will be taking the lenses to Cars & Coffee in Parker. If there's time before I have to return the lenses, I'd like to shoot a vlog with them to see how well they do with video. In the days to come, look for several updates about each of the lenses this trio.
---
If you enjoyed today's blog post and would like to buy Joe a cup of Earl Grey tea ($2.50), click here. And if you do, thank so very much.