Today's Post by Joe Farace
The original title of my book "Posing for Portrait and Glamour Photography" was The ABC's of Portrait Posing but you know how that goes. So presented for your approval today is a few letters of the alphabet,
Sometime a pose will work; sometime it won't. We're all different and a pose that looks perfect for one subject won't always work with another person. The main thing to keep in mind that any failed pose is the fault of the photographer, never the subject.
W is for wall. If there's a wall handy, one of my favorite posing tips for models is having them lean against it but, at the same time, tell them they shouldn't let their arms hang down like they're wondering, "what do I do with my hands?" Having the subject place them behind her head is a good pose, if they are comfortable doing it but that's why it's always a good idea when you think you have the pose nailed to shoot through a pose.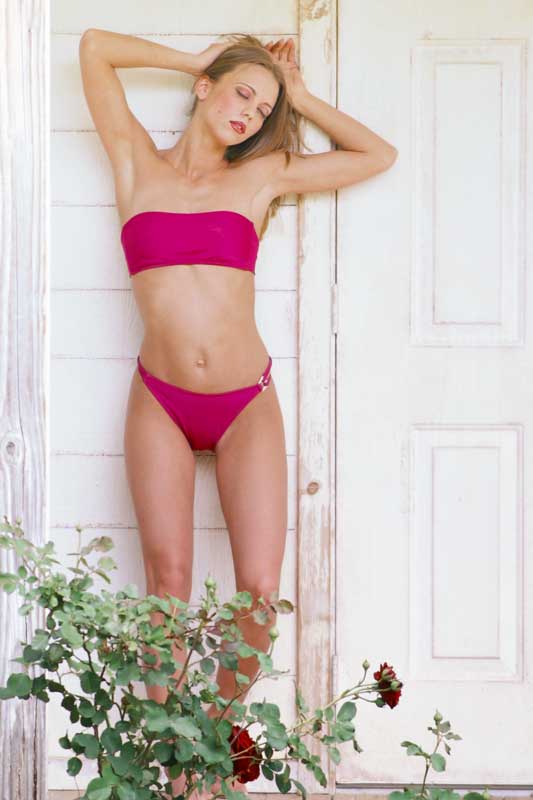 E is for Eyes. Your subject's eyes don't always have to be open. Look what happened when I asked Tasha to close her eyes—her entire expression changed. I love the look on her face when her eyes are closed but who's to say which portrait is the better?
Me? I prefer the second pose (at left) but if there's one thing that I've learned form my many years making glamour photographs is what your subject likes will always be different than your preference.
How I Made this Photo: I photographed Tasha, who at the time had just learned that she was pregnant, on a movie set a few years ago in Phoenix, Arizona. Only available light was used; not even fill flash was used. The camera I used for this portrait was a Canon EOS 50D along with (one of my favorites) the Soft focus EF135mm f/2.8 lens with its soft focus setting at "zero." Exposure was 1/400 sec at f/5 and ISO 200. The original JPEG file (made before my current RAW+JPEG regimen) was retouched and lightly processed in Photoshop.
---
If you're interested in learning how I shoot  available light glamour portraits, please pick up a copy of Available Light Glamour Photography which is available new from Amazon.com for $28.32 with used copies starting around twenty bucks, as I write this. The Kindle version is $22.49 for those preferring a digital format.