Not an April Fool's post by Joe Farace
Alas, poor Yorick! I knew him, Horatio, a fellow of infinite jest, of most excellent fancy. He hath borne me on his back a thousand times, and now, how abhorred in my imagination it is!—Shakespeare's Hamlet: Act 5 Scene 1
Tomorrow, Google's failed experiment in social media—Google+—shuts down. In a recent press release Google  stated: "In December 2018, we announced our decision to shut down Google+ for consumers in April 2019 due to low usage and challenges involved in maintaining a successful product that meets consumers' expectations. We want to thank you for being part of Google+ and provide next steps, including how to download your photos and other content."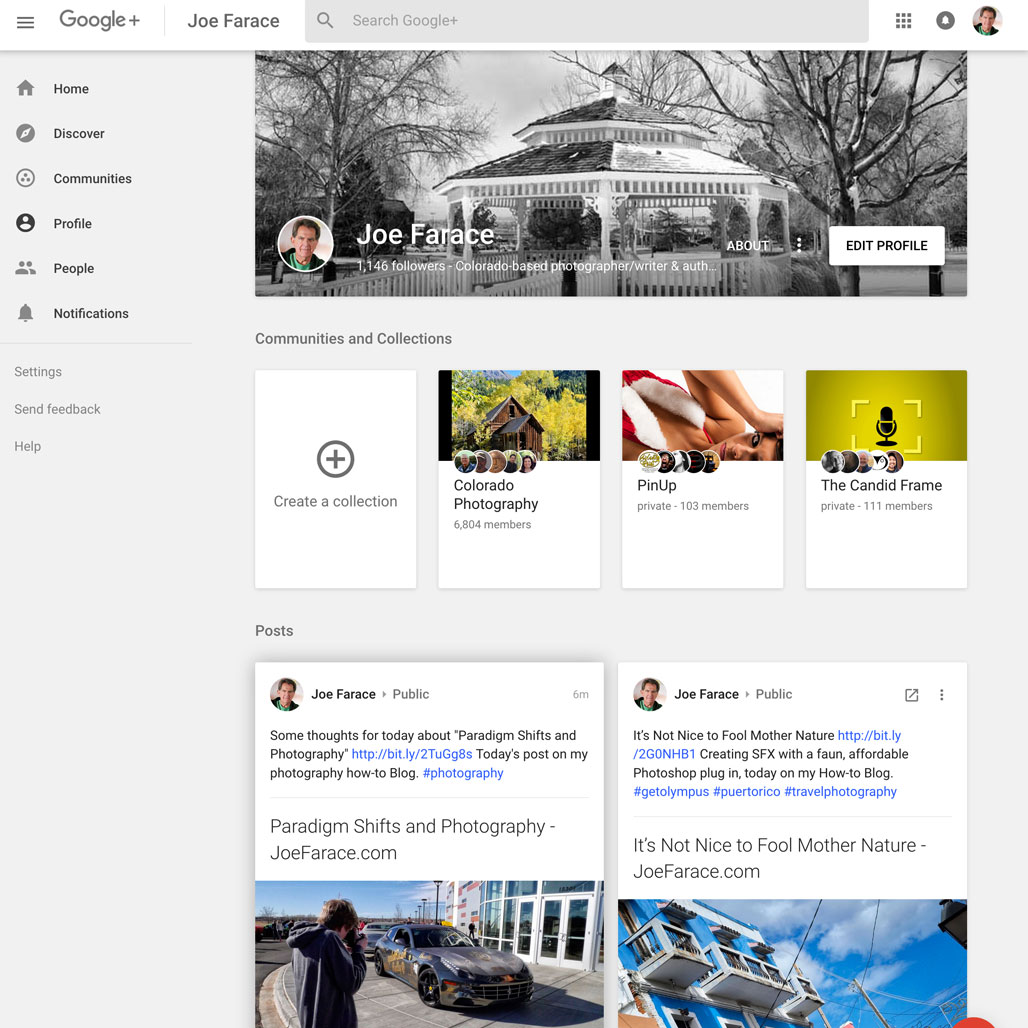 This was reported by all the usual suspects tech sites/blogs and, as is typical, they simply regurgitated Google's press release without adding any insight or suggestions for people like myself who are/were happily using Google's social media site.
The funny thing is that I used Google+ every day, so was doing my part and it seemed that so were many other photographers who were posting images as well as following my exploits on this site.
So what's a poor hippo to do? Am I going back to Facebook? Hell, no. It's no secret that I have a love/hate (mostly hate) relationship with social media and as I've mentioned here recently I have backed away from Facebook-owned Instagram in recent months too. A few months ago that same tech press reported that Facebook is planning to combine Messenger, WhatsApp, and Instagram messaging into a single, unified platform and based on a recent announcement by Mr. Zuckerberg this is happening sooner than later. Count me out.
Right now I am not planning on making any additions to my social media activity but plan to stay active on Twitter and Pinterest. If any readers have any suggestions about other social media sites that I might find interesting and useful, please click on the Contact tab and tell me about it.
In the meantime, please follow me on Twitter and Pinterest to keep up-to-date with what's happening here on Daisy Hill. And if you like cars, please stop by my car photography site/blog that now has new posts every Monday, Wednesday and Friday.
---
If you want hands-on training on how to shoot better portraits and would like some one-on-one training, check out my 2019 one-on-one workshops.
Please pick up a copy of Studio Lighting Anywhere if you're interested in learning more about how I shoot portraits and how I use cameras, lenses and lighting in my in-home studio and on location. As I write this, the book is available new from Amazon for $22.04, starting at $9.77 used or $11.99 for the Kindle version, for those preferring a digital format.