Today's Post by Joe Farace
Canon's A cameras are a series of six manual focus 35mm SLRs that were primarily aimed at amateur photographers. The first camera in the series, the AE-1, was introduced in April 1976 while the final camera, the AL-1, was released in March 1982. Here's a time line showing the complete line of A-series SLRs: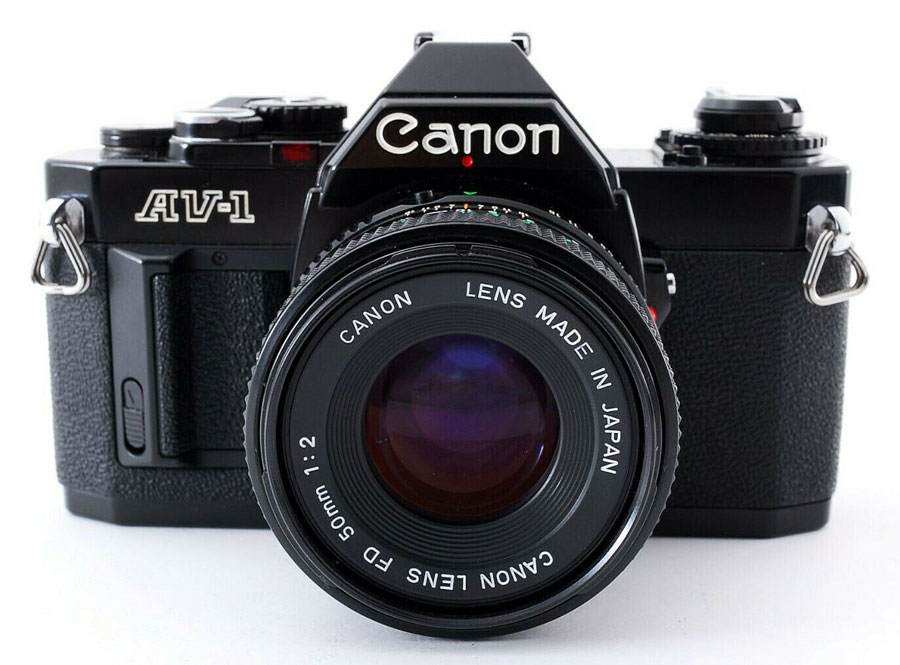 To fuel my compulsive completeness, Mary gave me a (real) MINT AV-1 and an EXC+ AL-1 body, both in black, as Christmas gifts. All that's now missing from my collection is an AT-1 but all of the models that I've found for sale, so far anyway, have been in rough shape. I can wait…
The Canon AV-1 is similar in design to the AE-1 but provides aperture priority auto exposure rather than the AE-1's shutter speed priority but it's not capable of manual exposure. Canon's American distributors wanted a camera like this because competing brands, probably Nikon, offered aperture-priority cameras and some shooters preferred this system of exposure control. The camera uses an A544 battery that's tucked behind an easy opening grip/door that I wish other A-series cameras used. The AV-1 is compatible with Canon's A and A2 winders, so I purchased the smaller, lighter and more versatile A2 Winder from UsedPhotoPro.com and put it on my A-1, moving its A Winder to the AV-1. According to Bob Adkins Canon's Date Codes, my camera was built in April, 1980.
When the AV-1 appeared, Canon concurrently introduced a new series of FD lenses eliminating the mounting ring that was fitted on to the back of the older lenses and was awkward to use, requiring two hands to mount. The newer, easier system lets you line up the red dot on the lens with the red dot on the camera and turn the lens clockwise until it clicked into place, the way you might expect any bayonet-mount lens (like Nikon's) to work. All of the three FD lenses that I own are this type and I scrupulously avoid the older style when shopping for FD lenses on eBay.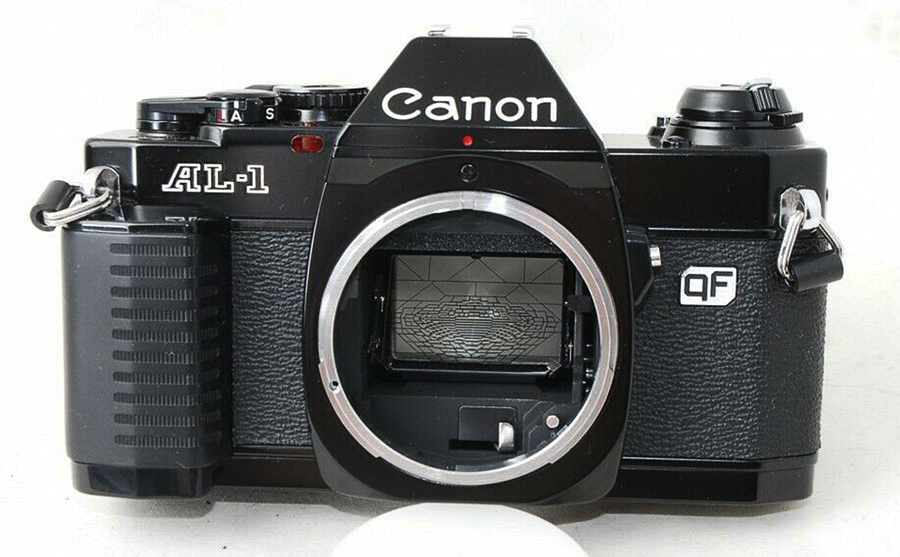 Canon's AL-1 did not offer a long list of features. Instead, it marked Canon's first public foray into autofocus by offering focus-confirmation. The camera also included aperture-priority autoexposure along with a few manual shutter speed settings, plus a 10-second self-timer. The new design added a larger grip that held two AAA cells for power. The body was constructed from polycarbonate and was painted to imitate the look of a metal body. It had a hot shoe, winder connections and was also the last SLR to carry Canon's 1960s-era logo on the pentaprism. According to Canon's numbering system, my camera was built in April, 1982.
The AL-1, while far from being true AF, featured what Canon called its QF focus-assist  (Quick Focus) system and used phase detection linear CCD arrays in the base of the camera. Light was diverted to these sensors through a partially silvered mirror. When the light of the subject was in phase, the image was in focus. In the viewfinder, red arrows indicated which direction to turn the lens to achieve sharp focus. Optimum focus was indicated when a green dot between this two directional arrows was illuminated. In actual use, it's a not-so-quick for anyone used to manually focusing lenses. but focus confirmation was a thing at the time and other camera systems, including Contax, used similar systems as well.
Field tests: Because the weather here since Christmas has been horrible, I haven't been able to shoot with either of these new cameras. It's been really cold and snowy with high winds that contributed to the devastating wildfires near Boulder more than fifty miles from our Daisy Hill home. When the weather improves, look for some test shots and photo walks and maybe even some images of cars (that will appear on our car photography website) with these new/old cameras sometime in the near future.
---
If you enjoyed today's post and would like to support this blog so I can to increase its coverage of film photography, please consider making a monthly contribution via Patreon. Memberships start at just $1.25 a month, with levels at $2.50 and $5 that include special benefits. If subscriptions are not for you, that same linked page lets you to make a one-time contribution. I also recognize that the pandemic has had an adverse effect on people's incomes, so if you would prefer to just send some good thoughts my way, that's appreciated too.