Today's Post by Joe Farace
There are lots of options when it comes to choosing a backdrop for portraiture, starting with the ubiquitous seamless paper, which is a subject of its own and previous post. So here's a look at some other options: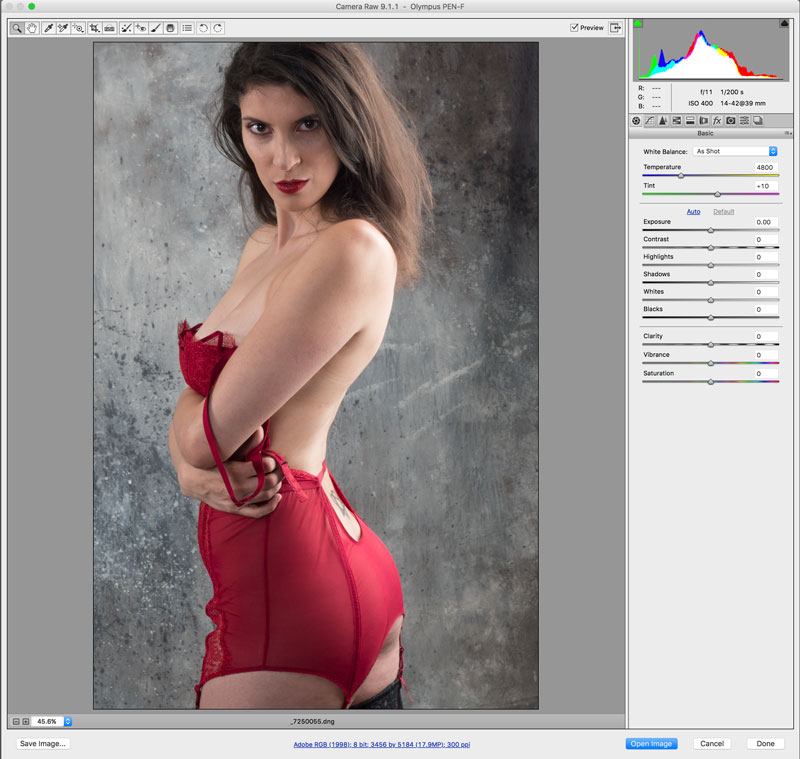 Muslin is a closely woven cloth that's produced from corded cotton yarn. Different kinds of dyes can be applied to it and because of its light weight muslin can be easily compressed making it ideal for packing for location shoots. For a different style than the last time you used a particular background, a muslin backdrop can be draped using clips sold at Home Depot and Lowes to provide a new look, like I did with this photo.
Some companies offer wrinkle-free synthetic fabric backdrops. Silverlake Photo calls their backgrounds Colorsmacks and they can literally be smacked into place with sewn-in Velcro fasteners. And then there are unique backdrops like Savage's Translum background that looks like frosted glass and is available in rolls of 54-inches and 60-inches wide as well as 12×12-foot sheets. Translum is made from Mylar and can be hung on a background stand, even my falling-apart JTL stands.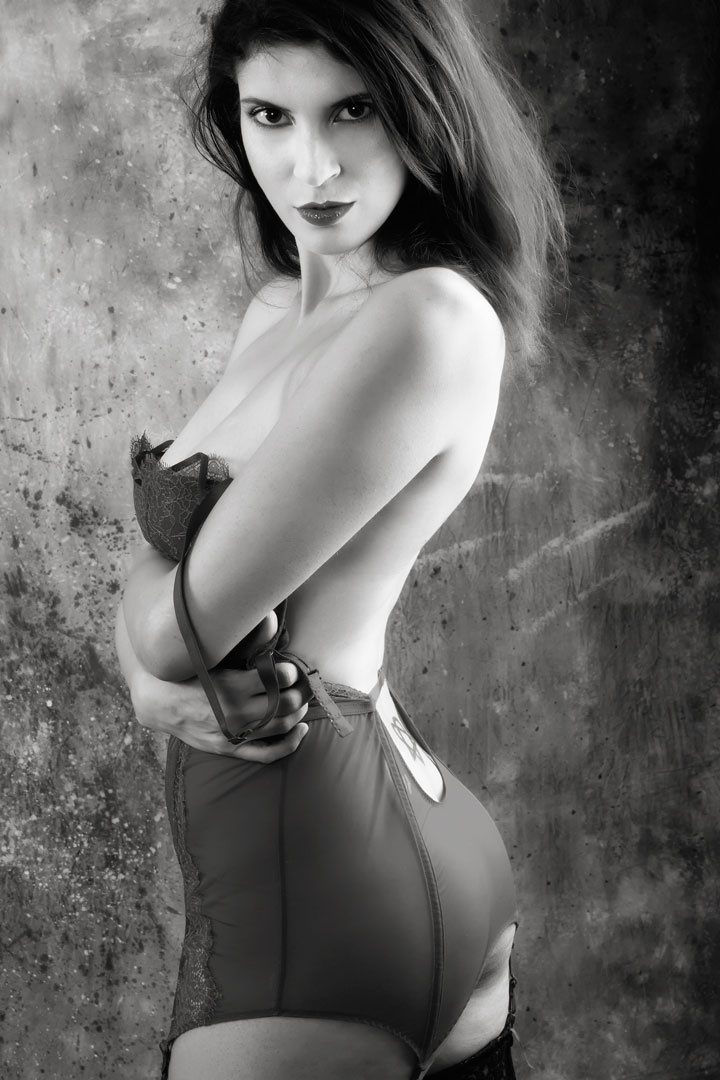 How I made this shot: I photographed Erin Valakari in my 11×15-foot home studio.The camera used was my Olympus Pen F with an Olympus M.14-42mm f/3.5-5.6 II R lens at 39mm. The exposure was 1/100 sec at f/11 and ISO 200. It was originally captured in the RAW+JPEG format that I typically use for studio shoots. Since my version of Adobe Camera RAW (above right) will not read the Pen F's RAW files I used Adobe's free DNG Converter to convert the image into the portable Digital Negative format that was used to open then process the image in Exposure X4.
Lighting for the portrait was provided by a blue Paul C. Buff DigiBee DB800 with Plume Ltd Wafer softbox attached and used as the main light. It was placed at camera right. An Alien Bee B800 with 16 x 30-inch Westcott Apollo Strip soft box was located at camera left with another (red) DigiBee with a 48-inch Dynalite Quad Square black/silver umbrella placed in the back far left corner of the studio space. The background was Silverlake Photo Accessories' (no longer available) Carbonite muslin backdrop that looks just as good in black & white as it does in color and was suspended from my still-falling-apart JTL background stands.
Because of their heavier weight, canvas backdrops are suited for permanent locations. They can also be mpre expensive than muslin but the surface lets the artist produce realistic looking backdrops. Paint is hand brushed and colors tend to be intense. Canvas must be kept rolled between uses or when transporting to avoid creasing. Because the background is perfectly flat a canvas backdrop is consistent from one photograph to the next. This is especially important to shooters photographing corporate employees so the background always looks the same no matter when it was made. Photographers committed to a traditional portraiture style feel that canvas gives a more formal look but I'm not so sure you can tell canvas from a well-made muslin, like the one above, just by looking at the portrait.
Today I mostly use traditional muslin and the colorful Colorsmack backdrops after many years of schlepping canvas backdrops and setting them up in locations as diverse as a client's living room or a convention center. But seamless paper still remains a really useful tool for portraiture and I have a bunch of rolls including Savage's Printed Background Paper such as the Savage Celebration Lights used to make this portrait of Erin.
---
It's Freelance Writers Appreciation Week and you can show your appreciation for this blog and treat me to a cup of Earl Grey tea ($2.50) by clicking here or you can just click on Contact and offer a simple "thank you."
If you're interested in learning how I shoot portraits and how I use cameras, lenses and lighting in my in-home studio and on location, please pick up a copy of Studio Lighting Anywhere which is available new from Amazon.com with for $24.16 and starting around three bucks used, as I write this. The Kindle version is $19.99 for those preferring a digital format.