Today's Post by Joe Farace
Each year from September 15 to October 15, we observe National Hispanic Heritage Month by celebrating the histories, cultures and contributions of those American citizens whose ancestors came from Spain, Mexico, the Caribbean and Central and South America.
This observation originally began under President Lyndon Johnson in 1968 as Hispanic Heritage Week. It was expanded in 1988 by President Ronald Reagan to a 30-day period starting on September 15 and ending on October 15 and was enacted into law on August 17, 1988. September 15 is a significant date because it's the anniversary of independence for the Latin American countries of Costa Rica, El Salvador, Guatemala, Honduras and Nicaragua. Mexico and Chile celebrate their independence days on September 16 and September18, respectively. Columbus Day or Día de la Raza, which is October 12, also falls within this 30 day period.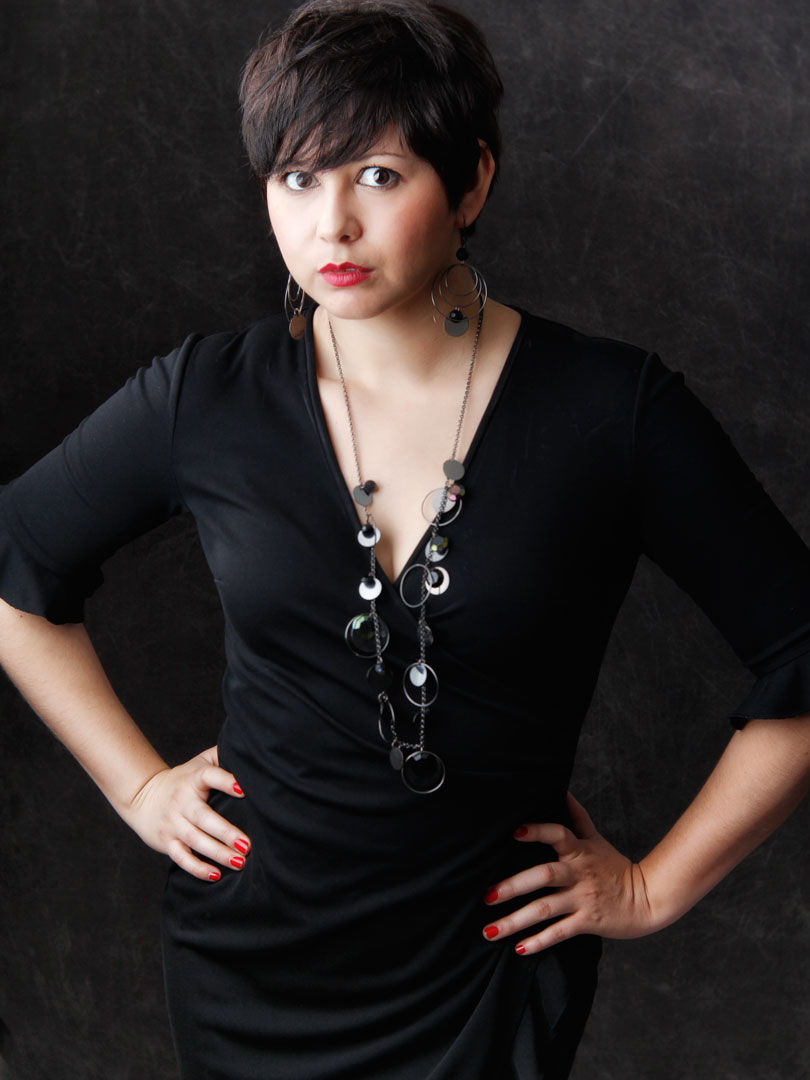 In my little corner of the Internet I want to use this time to highlight some of the wonderful Hispanic models that I've photographed over the years, beginning today with Safina.
She is a multi-talented woman and as an artist, writer or model she excels at all of these roles. I was constantly surprised by the many skills and interests this wonderful woman was involved in and she bought all of that talent to bear during our sessions together. I only got to photograph Safina twice and today's featured image is from our second session and in it she exhudes a deliciously retro vibe that expresses one of the many sides her unique personality.
How I made this portrait: Lighting was provided by Nikon SB800 speedlight that was mounted inside a FourSquare FSK48 48-inch softbox. It's big but only 20-inches deep allowing the softbox to be used in tight spaces like my 11×15-foot home studio. For location work, it knocks down to 20-inches long, slipping easily into the pouch included with the kit. My friend Cliff Lawson and I shot the 48-inch Softbox several ways including using only the front diffuser (more light, less diffusion) and with both inner and outer diffuser (less light, more diffusion.) We shot using four, then three, trying two speedlights gradually ending up with using only one SB-800 at one-quarter power to produce the image at right.
The background was one of Silverlake Photo Accessories' Colorsmacks backdrops, in a more classic style, that was clipped to my aging JTL background stands. The camera used was a Canon EOS 60D with EF 28-135mm f/3.5-5.6 IS USM lens at 50mm with an exposure og 1/125 sec at f/8 and ISO 100.
NOTE: In the coming weeks, I'll be featuring other Hispanic models that I've been privileged to work with over the years

---
If you enjoyed today's blog post and would like to buy Joe a cup of Earl Grey tea ($2.50), click here. And if you do, thank so very much.
If you're interested in learning how I shoot portraits and use cameras, lenses and lighting in my in-home studio and on location, please pick up a copy of Studio Lighting Anywhere that's available new from Amazon.com for $33.11 or used starting around twenty-two bucks, as I write this. The Kindle version is $19.99, for those preferring a digital format format.