Today's Post by Joe Farace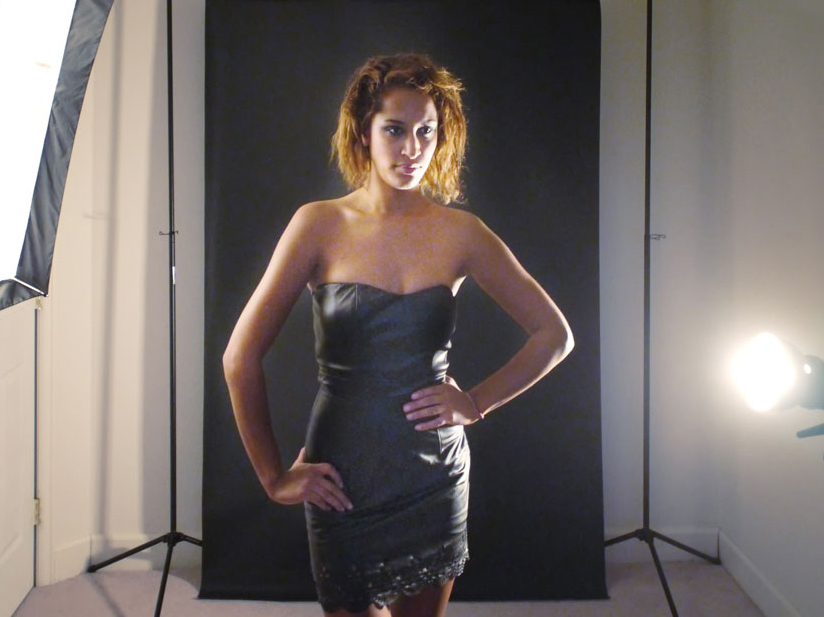 If you're a regular reader of this blog or follow me on Instagram (please do at @joefarace) you know that a few years ago, my basement was flooded causing lots of damage to my basement, including my in-home studio.

My basement studio is approximately 11×15-feet and one end there's a window via a window well—that's where part of the flood waters came in. The rest came through a window in the family room on the other side of the studio. The wall opposite the studio window is where I place my backgrounds and has an angle cut for a door you can partially see in setup photo at right. While architecturally interesting makes setting up a background challenging.
There are lots of things you should consider when setting up a home studio beginning with exploiting all of the possibilities of the available space. That space also determines the kind of lenses and focal lengths you'll be able to use, which is invariably why I choose zooms. There are some exceptions.
But what about your subject? You'll need to work with them in the space you've set aside and place them in poses that will help them achieve the best possible photographs. Posing is highly subjective but I've written about this subject many times, including in a book (below) and on posts found here and there. But since I get lots of e-mail asking for posts on this subject, I expect that it will continue to be a theme for the future.
How I made this shot: For this low-key lighting setup with Amanda, I placed a Godox QT600 monolight with a Westcott 16 x 30-inch Apollo Strip light softbox at camera left. A Godox DS200 monolight with standard reflector is at camera right and placed behind the subject. I first thought I would need a snoot on this light (which I didn't have anyway) but the standard reflector worked OK.
This portrait of Amanda was shot against a 5×7-foot black Savage Infinity vinyl backdrop—there's no reflections—and was made using a Panasonic Lumix GH4 and a Lumix G Vario 14-45mm f/3.5-5.6 (at 45mm) with an exposure of 1/125 sec at f/7.1 and ISO 200
---
If you enjoyed today's blog post and would like to treat me to a cup of Earl Grey tea ($2.50), click here. And if you do, thank you very much.
You can learn more about my posing techniques in Posing for Portrait & Glamour Photography and brand new books are available from Amazon.com for just $18.95 with used copies starting at $17.97. Kindle versions are $11.99 for those preferring to have the book in digital form.