Today's Post by Joe Farace
"When you are a photographer, you work all the time, because your eye is the first camera."— Patrick Demarchelier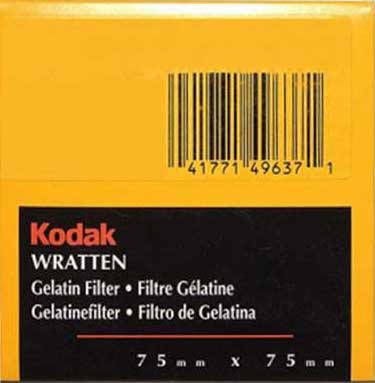 Many times colored camera filters are referred to by their Wratten numbers. The Wratten system was originally introduced in 1909 by the English firm of Wratten & Wainwright in their book The Photography Of Coloured Objects. Established in the 1877, the company primarily made photographic plates and chemicals and in the 1880s and '90s also produced cameras. In 1912 George Eastman acquired Wratten & Wainwright and their name, for filters anyway, stuck.
One of the most popular filters for shooting infrared is the Wratten 89B and it's one of the three filters in my basic IR kit. The filter I use is Cokin's Infrared 89B filter and instead of placing the filter in a Cokin holder,  I typically hold the filter against the lens to avoid daylight coming in from the sides and polluting the IR. The other two filters in my kit are a 58mm Hoya R72 and a 58mm Singh Ray iRay filter*, both of which I use with step-up/down rings on my mirrorless cameras. Kodak's 3×3-inch 89B Opaque Infrared (IR) Optical Wratten filter is selling for $107.95 as I write this. And while I own a lot of 3×3 gel filters, I don't have that one.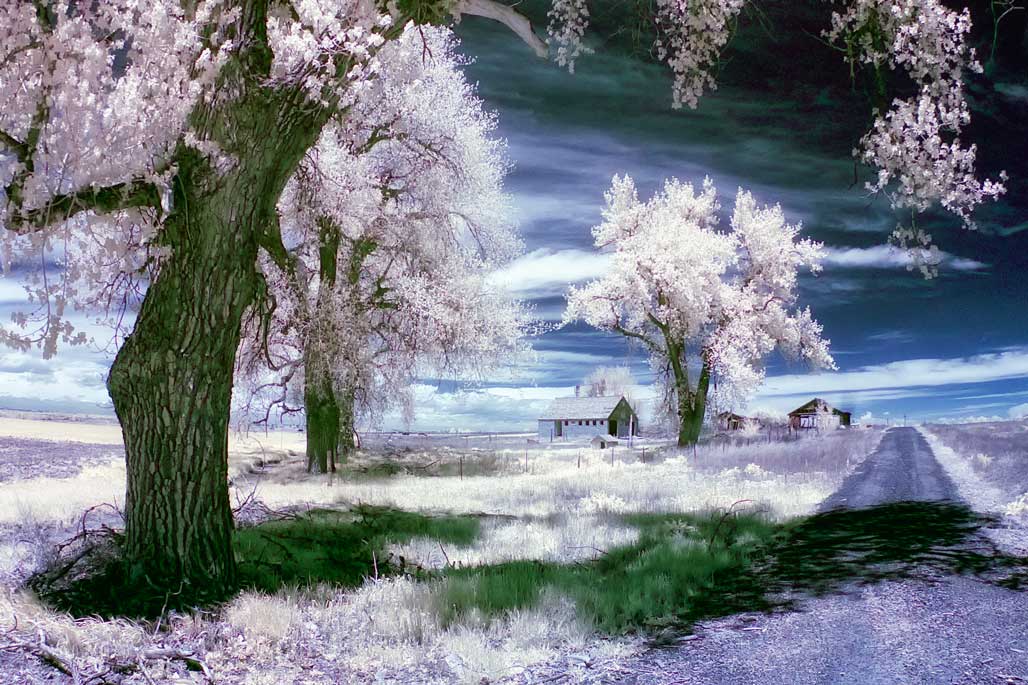 When shooting infrared with filters, I often use the 89B, especially in Cokin's A-series (67 x 71mm) size that works with most digital SLRs and mirrorless cameras. Purists will recognize that the 89B filter only permits 50% transmission of IR light at 720nm while others, such as B+W's IR Dark Red 092 ($91.95 in 58mm) filter, passes 90% of IR radiation from 730-2000nm. For more about nanometers and how that effects IR transmission, please read my post Infrared Camera Conversions: What's the Best Option?
How I made this shot: Who says all infrared shots have to be in color? Not me. The above image was captured as a RAW file using a Canon EOS 50D with an old Russian-made Zenitar 16mm f/2.8 Fisheye lens shot using hyperfocal distance focusing. Exposure was 1/400 sec at f/16 and ISO 400. The color effect was created using the "Blue Sky" technique that I showed how to create in a recent post. The interesting aspect of this technique is that, depending on the original file, other colors can creep into the shot as was the case here. Call it serendipity.
If you would like to read more about filters, check out my post Shopper's Guide to Camera Filters over on my car photography website/blog.
*When I purchased my 58mm Singh Ray iRay filter there as only one option. Now there are two: The 830 (Standard) I-Ray produces the dramatic black & white look of pure infrared and the 690 (Custom) I-Ray, produces both black & white or "near IR" color, which is especially useful for the blue sky" effect.
---
I've found that Life Pixel does a great job with IR conversions and they have done most of the conversions for my Canon DSLRs and all of my Panasonic Lumix G-series cameras. This is not a paid or sponsored endorsement, just my experience.
Used copies of my book, The Complete Guide to Digital Infrared Photography is currently available from Amazon starting $22.44 as I write this. Creative Digital Monochrome Effects has a chapter on IR photography and new copies are available from Amazon for $29.64 with used copies starting at a little more than two bucks, which is a heckuva deal.