Today's Post by Joe Farace
At Camera and Coffee events and when teaching workshops I'm sometimes asked, "What's Your Favorite Photograph?" The glib answer to that question is "the one I'm going to make tomorrow" but what many people really want to know is what was the most challenging to shoot. If that's what you're interested in, you can see that photo and read about how I made it on my car photography blog.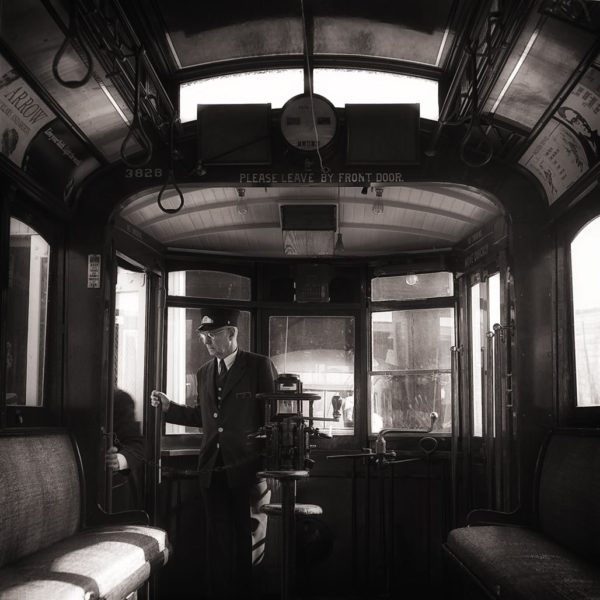 But for me my favorite photograph is the above image. It was made during the mid-1970's at a time when I first began to get serious about photography. My affection for it might just be the nostalgia for a time that I still think of as the most creative period of my life and maybe that's what makes this particular photograph stick with me after all these years. Or maybe not. This image was made when I was doing volunteer work for the Baltimore Streetcar Museum, attending the Maryland Institute College of Art at night, shooting weddings on the weekend and working full-time for a Great Metropolitan Phone Company.
One of the reasons I like this photograph is the way that the conductor is looking off the side. And that there's just part of a hand showing from outside and it's blurred from that person's movement. To me, the entire photograph has a feel that echoes a 1960 Twilight Zone episode called "A Stop at Willoughby." I leave it to psychologists (I know some follow me on Twitter) to figure out why that particular Twilight Zone episode appeals to me.
How I made this shot: The camera used was a medium format Mamiya C-33 twin lens reflex camera with 80mm f/2.8 Mamiya-Sekor lens and shot using Tri-X film that I processed (and later printed) in the kitchen of my home at that time. Exposure was unrecorded and I only made one frame, which I guess is part of the whole medium format experience.
---
There's always more to any story including what my frame of mind was during what I considered the "most creative period of my life" and the price that was paid for all that creativity. This information can be found in my upcoming self-published book 'A Life in Photography.' Publication of the book has been repeatedly delayed but thanks to help from noted author and my former Photomethods editor, John Hamilton, it is scheduled to be published real soon now.