Today's Post by Joe Farace
"I may not have gone where I intended to go, but I think I have ended up where I needed to be.—Douglas Adams
It's my strong belief that most. but certainly not all. photographers progress through three distinct phases while they are learning and refining their skills. My friend Rick Sammon says there are Four Levels of Learning that are similar but different in its approaches, so you might want to read what he has to say too,
But no matter which approach—or combination of approaches you decide to use—how you manage to navigate these phases has a lot to do with the pace of your growth as a creative photographer.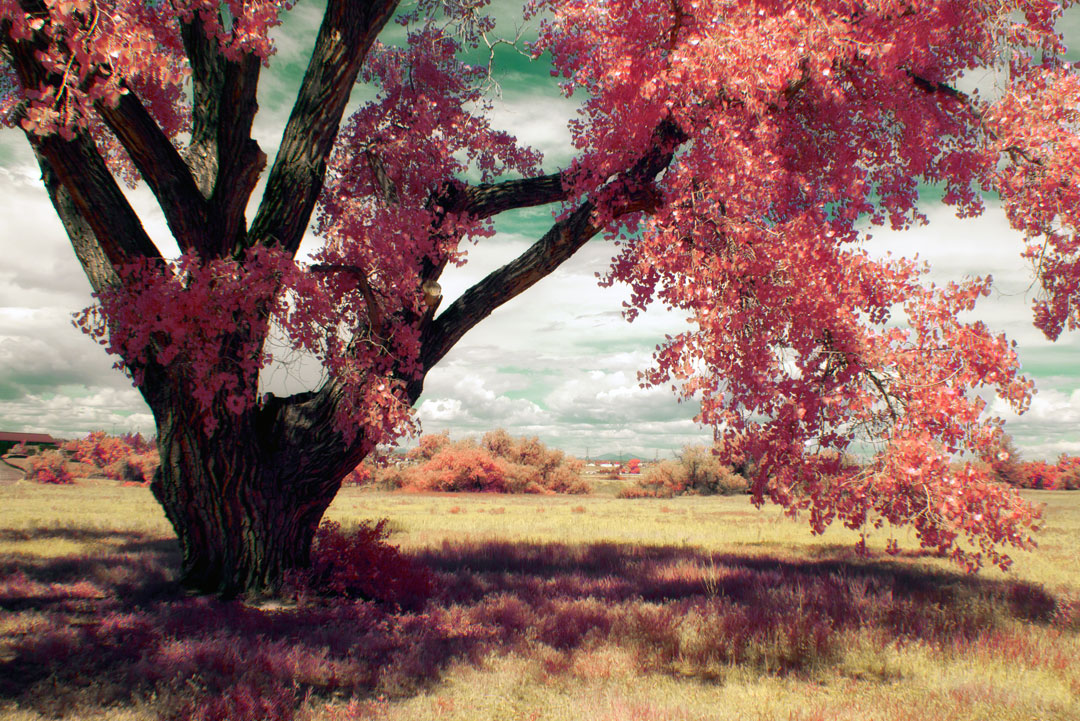 How I made this shot: I captured the above image at McCabe Meadows, near Parker, Colorado, as both a JPEG and a RAW  file (below right) using a Panasonic Lumix GX-1 that I purchased used from Roberts Camera that was converted for infrared capture by Life Pixel using their Hyper Color filter. The lens used was an Olympus M.17mm f/2.8. The exposure was 1/3200 sec at f/5.6 at ISO 160. After minor tweaking of the RAW file in Photoshop's Levels, I applied an action from the set that's part of a tutorial package offered by Life Pixel for purchasers of their conversions, specifically the "HyperColor to Super Color" action, which gave the image a more dramatic look.
Here's how I think it goes…
The first phase occurs just after a new photographer gets their first "good" camera and begins to discover the medium's potential. During this time, these shooters enthusiastically explore their world and every memory card is chock full of files that contains images that look so much better than they could have ever imagined. Unfortunately, this blissful period doesn't last long and is quickly replaced by the next and longer phase.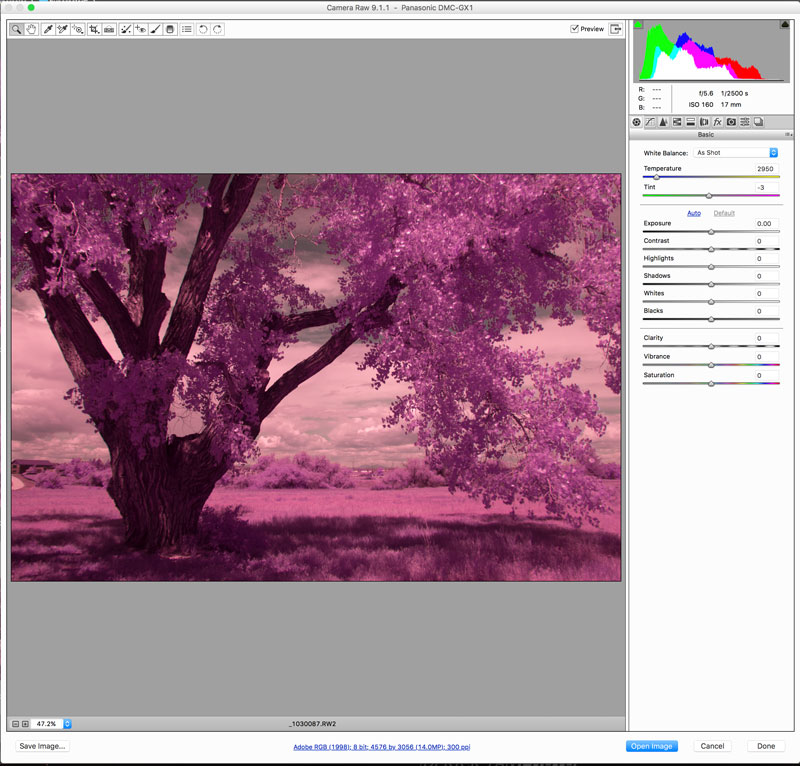 During phase two, the photographer's level of enthusiasm is high but is somewhat diminished when reviewing their latest images only to discover that these new photographs are much worse than they expected. At this point, it's all about managing expectations and this phase can last a long time. As the photographer continues to improve their skills by reading books and blogs (and watching selective YouTube videos.)  Practice does make perfect or as the late Douglas Adams says in The Hitchhikers Guide to the Galaxy, the secret is to keep banging the rocks together…" By practicing their art and craft, a photographer will eventually reach the third phase.
When reaching phase three, the images that the photographer sees in their viewfinder and what they actually capture is exactly what they expected. There are no surprises.Sometimes that right combination of lighting, subject, and photographer's mood and inspiration will capture a magic moment and the secret of making that happen is to just keep making photographs. That's when it becomes to explore new directions like infrared photography or a genre that challenges your status quo.
One of the best things about this process is that if you decide to try new genres like macro or infrared, you get to start the entire process all over again…
---
I've found that Life Pixel does a great job with IR conversions and they have done most of my Canon DSLRs and all of my Panasonic Lumix G-series mirrorless cameras. This is not a paid or sponsored endorsement, just my experience.
My book, The Complete Guide to Digital Infrared Photography is  available from Amazon for 16.95 but used copies starting at $11.26 as I write this. Creative Digital Monochrome Effects has a chapter on IR photography and is available from Amazon for $30.90. with used copies start around two bucks, less than your next cup of joe at Starbucks.