Today's Post by Joe Farace
par·a·digm shift: a fundamental change in approach or underlying assumptions.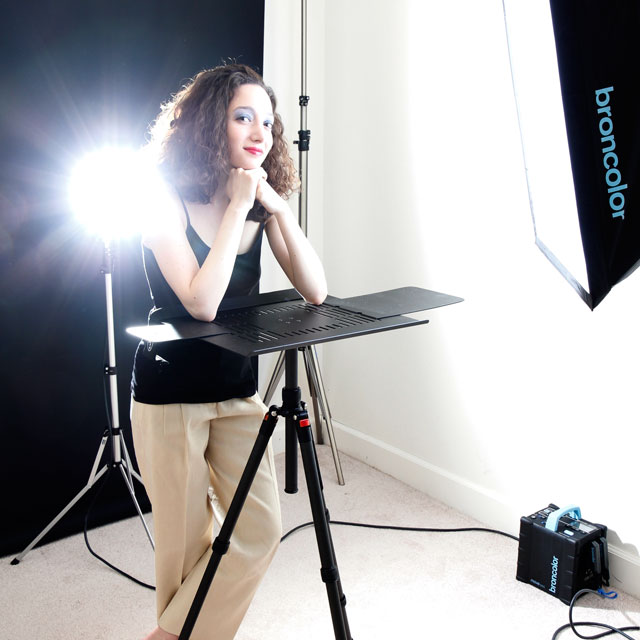 Studio lighting hardware is going through its biggest paradigm shift since the invention of the flash bulb in 1929. Along the way, there have been trends and fads with LED's seemingly having equal parts of both and appealing to new and mirrorless portrait shooters who are interested in capturing stills and video.
Fluorescent-based systems popularity appears to be holding steady for many of the same reasons with quartz and other "hot lights" loosing ground to these literally cooler systems. I don't think that electronic flash systems are going away anytime soon and today we're going to take a look at…
Studio-based electronic flash is available as modular power pack and head systems or monolights and each has pros and cons. The most significant trend with both types of electronic flash is battery power and it's keeping electronic flash viable for studio or location lighting.
How I made this shot: The above setup shot you see uses the Broncolor Move Outdoor 2-Head Kit 2, which is a classic power pack and head system. In this setup the main light head is mounted within a 24×24-inch Bron lightbank that was placed at camera right, while a second MobiLED head, with a standard reflector mounted, is directly behind and aimed at the subject's head and back.
Aspiring model model Laura Bachmayer is leaning on a now discontinued Savage Air Flow Tech Table that's standing in for a posing table. Background is a 5×7-foot Matte Black Savage Infinity vinyl background and
A second MobiLED head is placed directly behind Ms. Bachmayer to separate her from the Matte Black background. Exposure with Canon EOS 5D and EF 85mm f/1.8 lens was 1/125 sec at f/11 and ISO 200.
---
If you enjoyed today's blog post and would like to buy Joe a cup of Earl Grey tea ($2.50), click here.
My book Joe Farace's Glamour Photography is full of tips, tools and techniques for glamour and boudoir photography with new copies available from Amazon for $19.79, as I write this. Used copies start at the hard-to-beat price price of $2.49 and the Kindle version is $11.99 for those who prefer a digital format.