Today's Post by Joe Farace
Fluorescent lighting can be your friend for boudoir and glamour photography. And I'm not talking about those long tubes hanging in lighting fixtures from the ceiling at the local 7-11. I'm talking about a new breed of portrait lighting tools designed especially for digital photography.
Why is fluorescent a good source of lighting for digital imaging? The RGB output spikes from daylight fluorescent lights closely match the receptive RGB spikes of the typical imaging chip, which is less sensitive in the blue channel. Tungsten light has the least output in the blue and when combined with the effect of infrared output (mostly heat) it can overcome the chip's spectral response. Tungsten is 93 percent heat and seven percent red light. And like any continuous light source, there's no flash with fluorescent lighting, so there's no more or at least fewer—contact lenses, you know—blinks to worry about.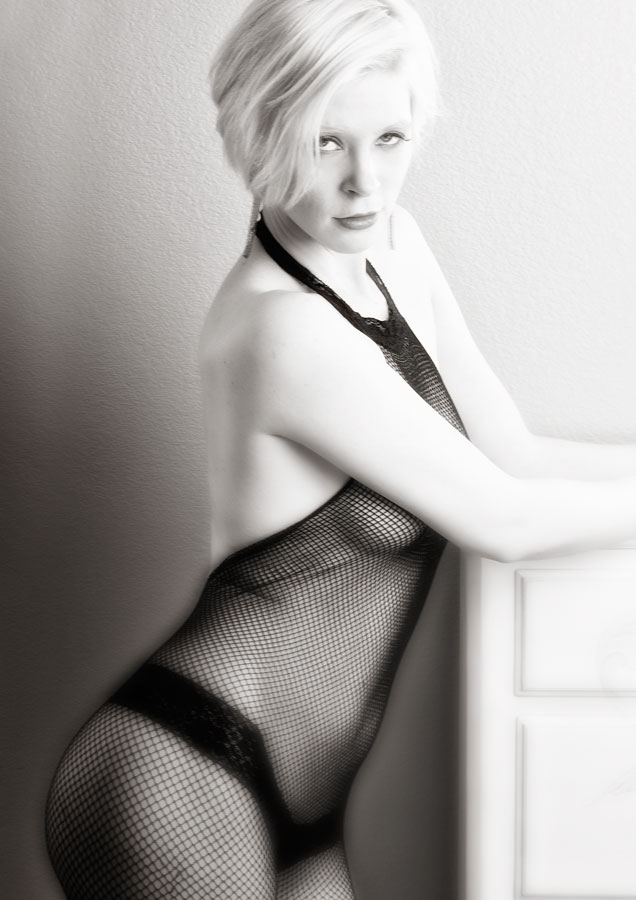 What does this mean for digital photographers? The light you used to hate, you can now love.
There are many fluorescent lighting systems available including Westcott's Two-Light Daylight D5 Softbox Kit that I used to make the image you see at left.
The kit includes two D5 light heads, two 24×32-inch softboxes, ten 27-Watt daylight-balanced fluorescent lamps and two 6.5-foot lightstands. The softboxes have a reflective silver lining to maximize output and use heat-resistant rods that mount onto the D5 heads. It all comes in a 10x12x29-inch cardboard box that since it has a handle can double as a carrying case. For the serious location photographer, a better solution might be a Lightware Cargo 32 case that will hold all that gear with room left over for accessories and an extension cord or two.
How I made the above shot: Pamela Simpson was photographed using a mixture of some daylight from the small window behind and one of the D5 lights with the 24×32-inch softbox from Westcott's Two-Light Daylight D5 Softbox Kit. Camera was a Panasonic Lumix GH4 with Lumix G Vario 14-45mm f/3.5-5.6 lens (at 45mm/) Exposure was 1/50 sec at f/5.6 and ISO 640.
I'm taking registration for a series on 1-on-1 Photography Workshops to be held in my home studio. To schedule a time, click the Contact button above or e-mail me directly at joefarace at gmail dot com.
My book Joe Farace's Glamour Photography is full of tips, tools and techniques for glamour and boudoir photography with new copies available from Amazon for $19.95, as I write this. Used copies are selling for the bargain price of $7.57, which seems like a hard-to-beat price.