Today's Post by Joe Farace
Fluorescent lighting can be your friend for boudoir and glamour photography. And I'm not talking about those long tubes hanging in lighting fixtures from the ceiling at your local 7-11. I'm talking about a new breed of portrait lighting tools especially designed for digital photography.
Why is fluorescent a good source of lighting for digital imaging? The RGB output spikes from daylight fluorescent lights closely match the receptive RGB spikes of an DSLR's or  Mirrorless camera's imaging chip, which tend to be less sensitive in the blue channel. Tungsten light, on the other hand, has the least output in the blue and when combined with the effect of infrared output (mostly heat) it can overcome the chip's spectral response. Thant's because tungsten lighting produces 93 percent heat and seven percent red light.
Another upside to using fluorescent lighting is that, like any continuous light source, there's no flash, so there's no more or at least fewer—contact lenses, you know—blinks to worry about. What does this mean for digital photographers? The light you used to hate, you can now love.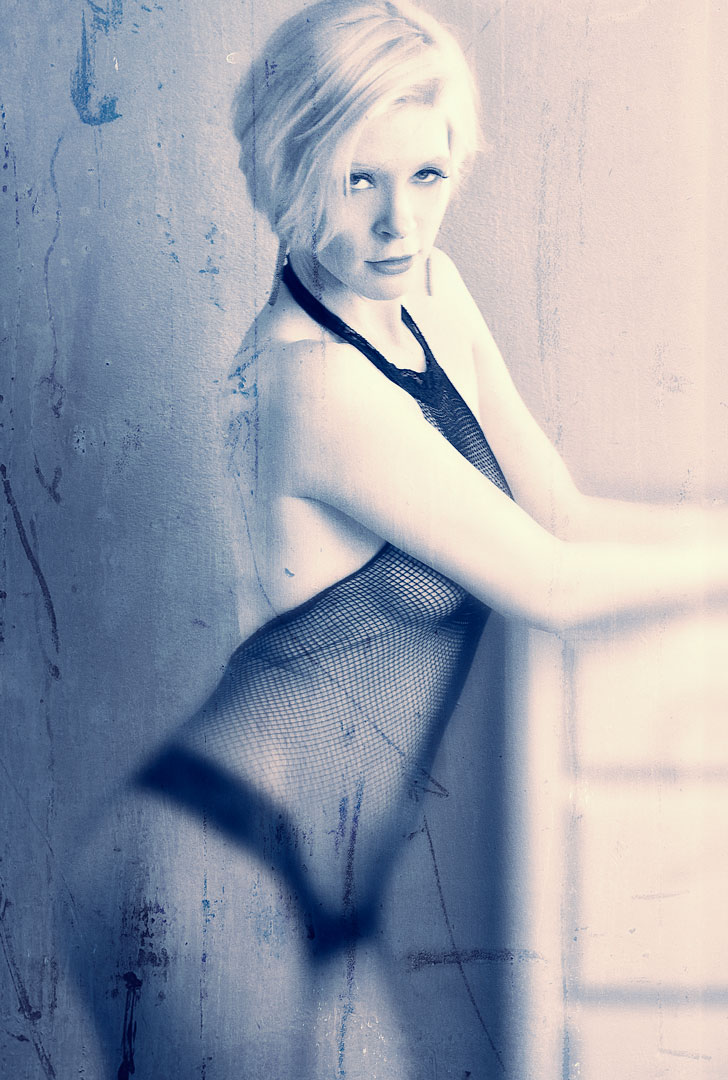 How I made this shot: There are several fluorescent lighting systems available including Westcott's Two-Light Daylight D5 Softbox Kit (it's been replaced by the  Westcott 2-Light D5 Daylight Octabox Kit) that I used to make the image at left.
The kit includes two D5 light heads, two softboxes, ten 27-Watt daylight-balanced fluorescent lamps and two 6.5-foot lightstands. The softboxes have a reflective silver lining to maximize output and use heat-resistant rods that mount onto the D5 heads. It all comes in a 10x12x29-inch cardboard box that since it has a handle can double as a carrying case.
Pam Simpson is back (from yesterday) showing what an amazingly versatile model she is. This image was made on location using one Westcott D5 fluorescent light head in a softbox that was placed at camera right (as can be seen in the setup shot)  and was shot using a Panasonic Lumix GH4 and Lumix G Vario 14-45mm f/3.5-5.6 lens (at 45mm) with an exposure of 1/50 sec at f/5.6 and ISO 640. Many boudoir images are shot as black and white and sometimes sepia but I wanted a blue tint for this image and used OnOne Software's Perfect Effects adding blue and pink tints overlaid with a texture that I felt added to the mood.
Be aware: Because fluorescent lamps contain mercury, they are classified as hazardous waste. The Environmental Protection Agency recommends fluorescent lamps be segregated from general waste for recycling or safe disposal. Home Depot in my area has a recycling area for some of these kinds of bulbs and Batteries Plus Bulbs will do it for a modest fee.

---
If you enjoyed today's blog post and would like to buy Joe a cup of Earl Grey tea ($2.50), click here.
My book Joe Farace's Glamour Photography is full of tips, tools and techniques for glamour and boudoir photography with new copies available from Amazon for $21,51, as I write this. Used copies are selling for the hard-to-beat price price of $8.91 and the Kindle version is $19.99 for those who prefer a digital format. New and used collector copies of my film-based book Part-time Glamour Photography – Full-time Income are available starting at $37.92