Today's Post by Joe Farace
Sigma's 65mm f/2 lens is the second of my reviews of the company's I-Series of lenses. You can read my test of the 35mm f/2 lens here. I'll be reviewing the 24mm F3.5 DG DN lens real soon now.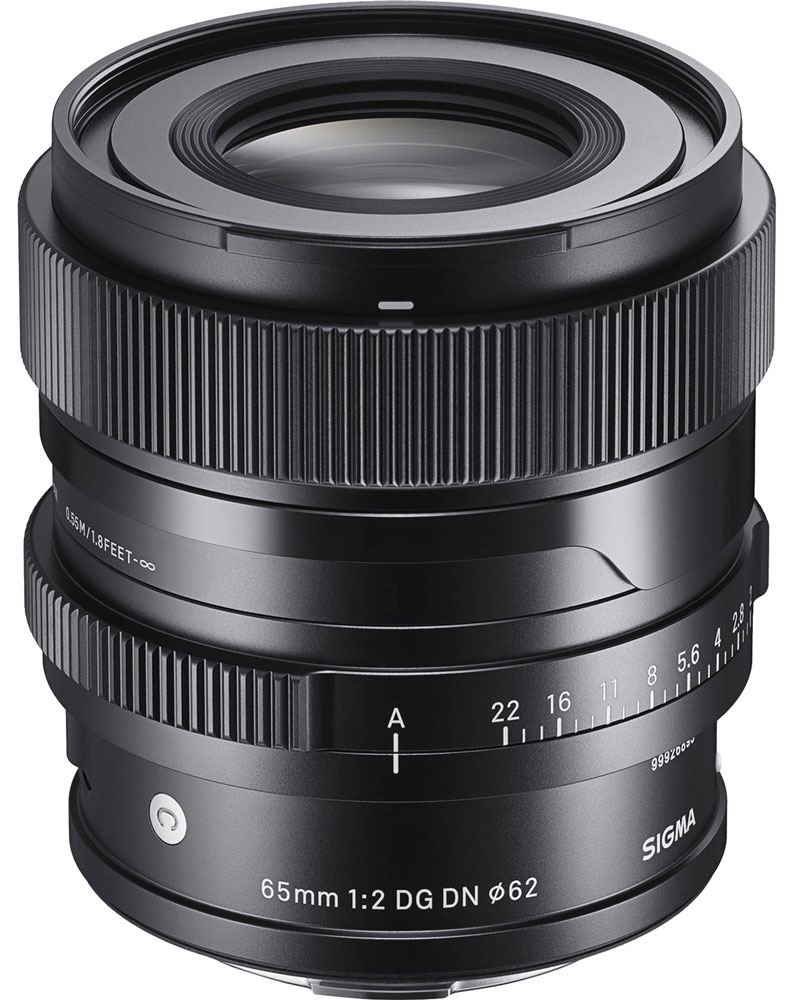 I received my review copy of Sigma's 65mm f/2 DG DN Contemporary Lens in Leica L-mount and will be shooting it mounted on a Lumix S1R mirrorless camera that's on loan from Panasonic. (Psst, don't tell anybody but I have been saving my pennies for a Lumix S5. Mary told me I should get a Leica SL2-S instead but didn't tell me where to find the $5000 needed for that camera.) This 65mm lens is designed for full-frame L- and Sony E-Mount mirrorless cameras but can also be used with APS-C models where it provides a 97.5mm equivalent focal length
It may seem that 65mm is an oddball focal length although at least one Internet guru feels that a "normal" lens for a full frame sensor camera lies somewhere between 40mm to 65mm. For a comparison, the Sigma 65mm f/2 produces an angle-of-view of 36.8 degrees, while the Sigma 50mm f/1.4 DG HSM Art Lens has an angle-of-view of 46.8 degrees. Sigma themselves considers it a short-telephoto/long-normal prime that's "well-suited to portraiture and selective everyday shooting."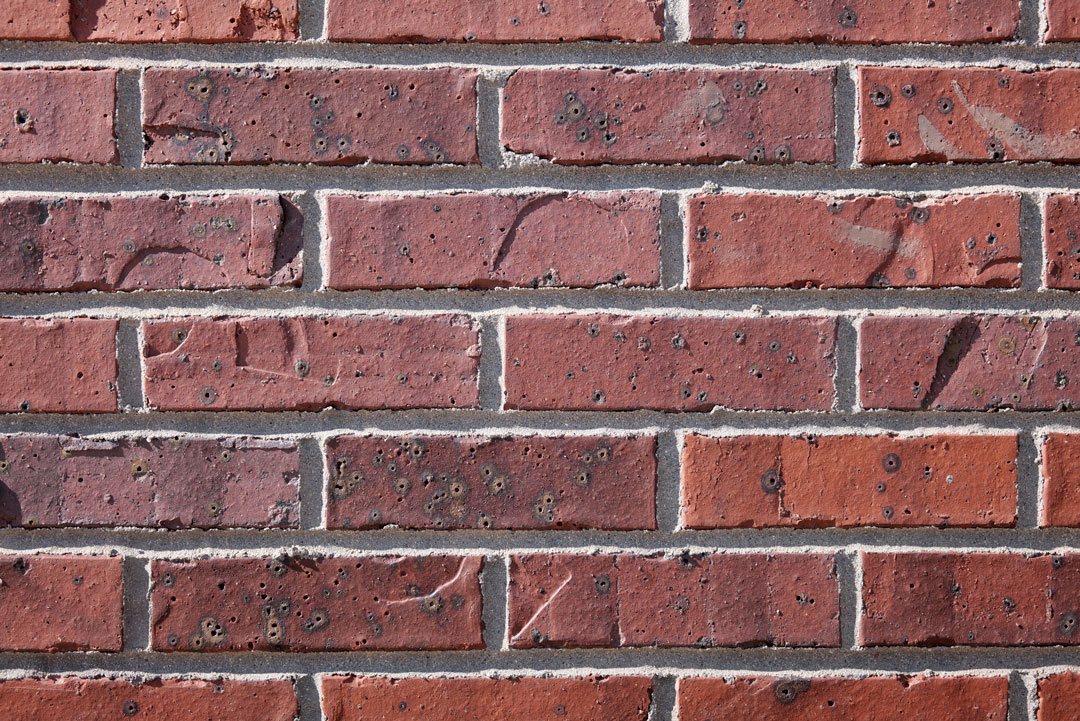 Brick Wall Test: It was a chilly 34 degrees F when I rolled up on my test wall o'bricks, so the testing went rather quickly. When I got home and inserted the memory card into my 5K iMac (who thought of its awkward location for an SD car slot) I was immediately impressed with what I saw and told Mary, "this lens is amazing." (at left) At f/2 this lens is tack sharp corner-to-corner with no visible distortion of any kind and no vignetting at all.
Close focusing is at 1.8-feet and is nothing to write home about but the extra focal length (more than 50mm) should help a bit when shooting close-ups, as would a set of 62mm close focus filter if that's a genre you would like to pursue. I'm looking forward to trying the lens at a car show but with sub-zero temps and snow in the forecast for the past several days, I may need to find something else to photograph up close and personal.
How I made this shot: (Below) This cold weather-testing saga for me is getting old. It was 17 degree when I made it to the Jacks and Ball sculptures at Parker, Colorado's Discovery Park to look for a different way to photograph them. And I think I succeeded. The camera used was that selfsame Panasonic Lumix S1R with an Av exposure of 1/640 sec at f/8 and ISO 320.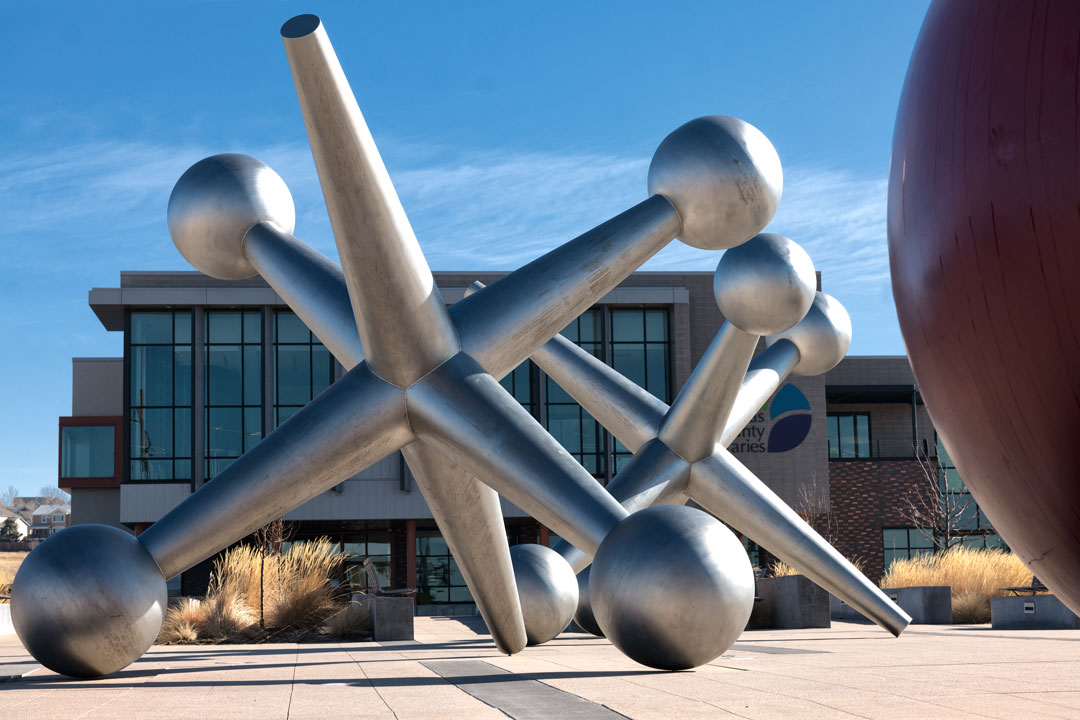 The lens has an integrated stepping motor that produces smooth autofocus, that's complemented by an internal focusing design for fast, quiet AF performance for still or video capture. Optically, the 65mm f/2 includes one Special Low Dispersion (SLD) element to reduce chromatic aberrations and two aspherical elements to control distortion and spherical aberrations. Super Multi-Layer Coating has been applied to lens elements to minimize lens flare and Sigma includes a metal lens hood to help with flare as well. I tested for Longitudinal Chromatic Aberration aka LOCA which occurs when a lens cannot focus different colors in the same focal plane. When it occurs, you'll see ether a magenta or green halo on the edges of objects. The 65mm f/2 DG DN Contemporary Lens passed my LOCA test exhibiting no color fringing of any kind.
How I made this shot: (Left) For my sunstar test, the camera used was a Panasonic Lumix S1R with an Av exposure of 1/500 sec at f/22 and ISO 320. Sunstar performance was adequate but under these high-stress conditions flare was multicolored and visible, even with the lens hood in place. Under normal shooting conditions flare never became a problem.
As an I Series lens, like the 35mm f/2 lens that I tested and liked, incorporates a manual aperture ring with clicks and markings at one-third stops that is my, and I suspect your, preferred method of bracketing. Its all-metal construction exhibits a precise and high quality build quality including a brass bayonet for mounting accuracy and rigidity along with rubber sealing making the lens dust- and splash-resistant. It has a rounded nine-blade diaphragm for smooth bokeh.
The 65mm f/2 includes a magnetic lens cap that solidly attaches to the front of the lens and is compatible with the optional ($29) CH-11 Lens Cap Holder. The lens is also compatible with the optional ($59) Sigma UD-11 USB Dock for fine-tuning different lens characteristics and updating its firmware. If you're serious about photography you should order one of these when you buy the lens.
I didn't know what to expect from Sigma's 65mm f/2 DG DN Contemporary Lens. Was it just a slightly longer focal length "normal" lens? Yes and no. It is decidedly more than this and much more versatile than I expected. The more I used this lens, the more I liked it and couldn't wait to shoot with it again—as soon as it warms up a little. Look for a Field Test soon.
At near $700, the 65mm f/2 DG DN Contemporary Lens may not be considered a bargain unless you take a look at what it delivers. And that is it's near-perfect optical quality wrapped up in a relatively compact (2.8 x 2.9-inches) extremely well-built package. If you're an L- or E-mount shooter, you should seriously consider it as part of your lens arsenal.
---
If you enjoyed today's blog post and would like to buy ($2.50) Joe a cup of tea, click here.