Today's Post by Joe Farace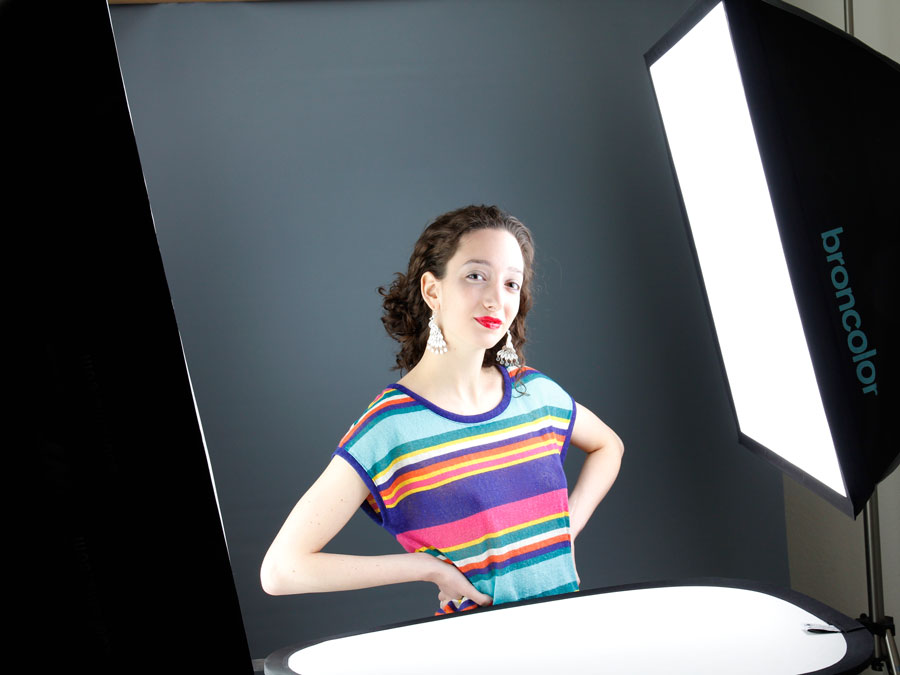 As I promised in last weeks post, Producing a One-Light Headshot, today I'm giving you my take on how I made a two-light headshot. If one light created a really good headshot with my portrait of Cat, then maybe two lights should be twice as good, right? Well, at least it's completely different.
How I made this shot: I made this dramatic, that seems to be a trend these days, headshot both in pose and attire with aspiring model Laura Bachmayer in my 11×15-foot home studio, using Broncolor's Move power pack and head system.
In this lighting setup (seen at above right) I mounted a Bron MobiLED light head inside a 28×28-inch softbox that was used as the main light and placed at camera right but facing Laura from the side, not front. A second MobiLED head, with 36×48-inch softbox mounted, is facing her at camera left. The reflector that's below and in front of her is bouncing light from both softboxes back onto her face and is being supported by a no-longer-available Savage Tech Table. The backdrop was a 5×7-foot Savage Photo Grey Infinity vinyl background suspended from my still falling apart JTL background stand. Exposure with a Canon EOS 5D Mark I and my favorite EF 85mm f/1.8 lens was 1/100 sec at f/9 and ISO 200.
---
If you're interested in learning how I shoot portraits and use cameras, lenses and lighting in my in-home studio and on location, please pick up a copy of my book Studio Lighting Anywhere that's available new from Amazon for $34.95 or starting at $6.94 used, as I write this. The Kindle version is $19.99 for those preferring a digital format.