Today's Post by Joe Farace
"She's got legs, she knows how to use them"—ZZ Top
Legwear offers some of the most important ways to express your personal style. From sheers and tights to leggings and anklets, even men's, women's and kids' socks help complete a look.
In 1598, Elizabeth I, Queen of England, was presented with the first pair of stockings . Nowadays women can choose from numerous types of legwear.
Depending on the occasion, options include opaque, brightly colored tights, textured anklets and foundation finishes. Sheer hose offers a more subtle approach in shades for all skin colors and tones.
Men's socks have evolved, too. From the basics to offerings with statement-making graphics and colors, as my vast collection of Snoopy socks attest. As ties fade from the workplace, socks can function as an expression of style.
Legwear offers everyone comfort, quality and value. And whether on Main Street or the runways of Milan Fashion Week, everyone turns to legwear to put a kick in their step, complete a look and add individual style to any outfit.
#NationalLegwearDay
How I made this shot: Today's image of Pam Simpson was made on October 23, 2013 during our ninth session together and when I decided to photograph her with an accent on her legs. The shot had a behind-the-scenes theme and,as part of the concept, she was photographed against Savage's Photo Gray Infinity vinyl background hanging from my falling-apart JTL background stands. It was shot using a pair of inexpensive monolights that I don't even own anymore, proving once again that light is light.
The camera used was a Canon EOS 60D with an EF-S15-85mm f/3.5-5.6 IS USM lens with an exposure of 1/200 sec at f/4.5 and ISO 800. Image was retouched and then processed using the Vivenza and Color Efex Pro Photoshop-compatible plug-ins.
---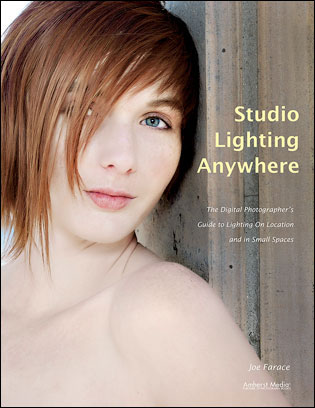 For more tips, tricks and techniques for creating studio lighting effects without spending the big bucks on gear, please pick up a copy of my book Studio Lighting Anywhere. It's available new from Amazon for the amazing bargain price $5.96, with used copies starting at $2.23, as I write this, cheaper than your next latte at Starbucks. The Kindle version is only $5.66 for those preferring a digital format.