Today's Post by Joe Farace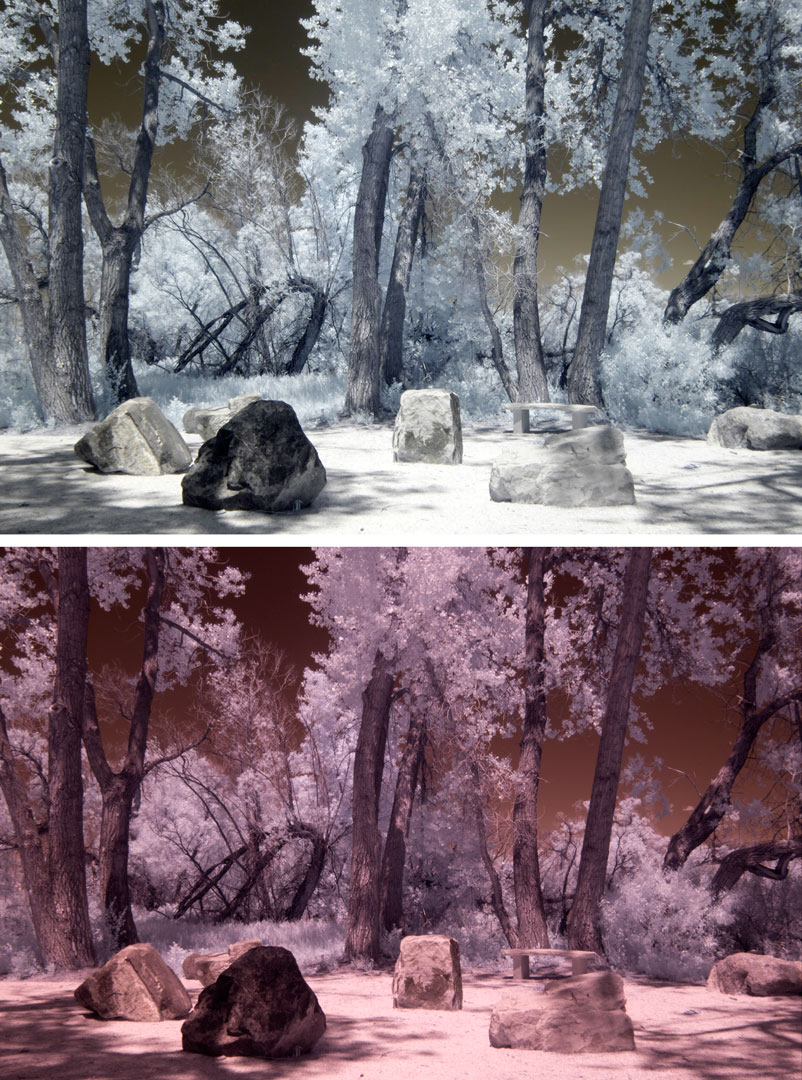 There are those photography gurus, pundits and experts who have strong opinions about certain subjects. This is certainly true when it comes to the topic of RAW files and especially RAW infrared images.
So let me get out of the way first and although I've said it before I think it bears repeating, especially in this context: This is not a "my way or the highway" blog. My opinions and thoughts are just that. You can ignore them or use them. The intention of all my posts is to give you something to think about. Which brings me to today's topic.
So How important is white balance in infrared photography? My feeling is that it varies from somewhat to not at all. Part of the problem is that the software that can unlock all the data in your camera's RAW files requires proprietary technology. The late Chuck Westfall once told me Adobe Camera Raw uses reverse engineering to work with a camera's RAW files. As a Canon employee Chuck said only Canon's Digital Photo Professional software and, he thought, Phase One's Capture One were able to unlock all the data inside Canon's CRW, CR2 or CR3 files. Currently all my infrared converted cameras are Panasonics and I'm told by a trusted source that only the software Panasonic bundles with their cameras, SilkyPix, will do the same for Lumix cameras.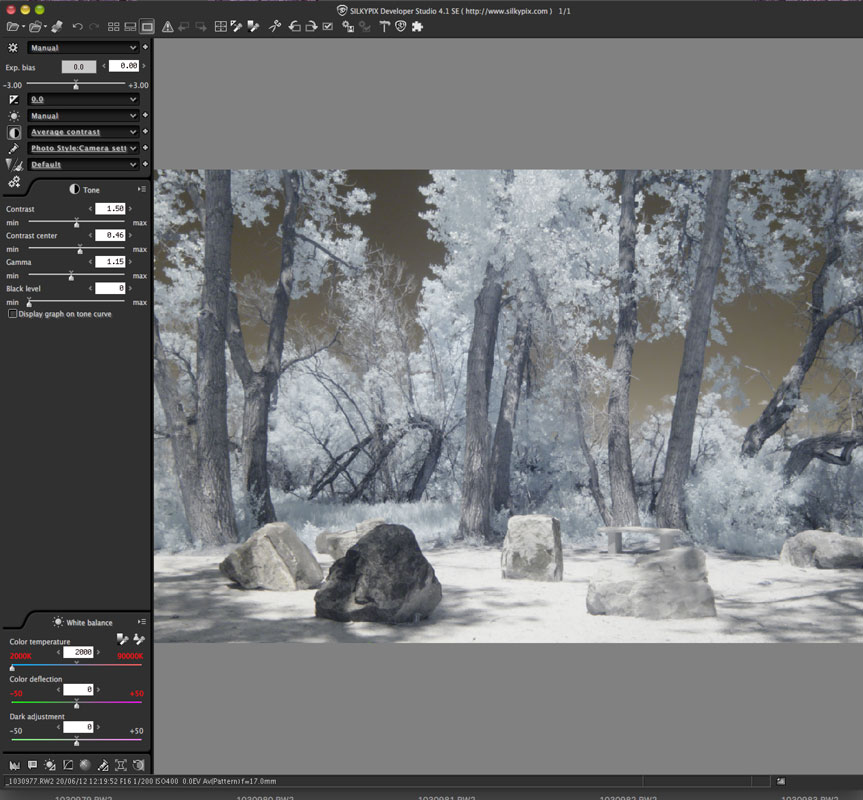 SilkyPix Developer Studio is a commercial and proprietary RAW image processing software that was developed at Ichikawa Soft Laboratory Co. Ltd and is often bundled with cameras from Fujifilm, Panasonic and Pentax. According to Wikipedia, SilkyPix, Developer Studio & DS Pro are both at version 9. UPDATE: After this post originally ran, the company reached out to me informing me that the current version was 10 and offered me a NFR (Not For Resale) copy. But they also told me that the newest version will not work for my current computer/OS combination. They "believe that Pro 9 does support" it and so I asked them to please send me a copy of that version. But they never replied. So there's that…

Time for another disclaimer: My iMac is old (in computer years) and does not run the latest operating system. So I get by using older software including Photoshop CS 6 and its version of Adobe Camera Raw. The latest SilkyPix that I can run on the computer is version 4. So what happens next is just one approach not the approach. Keep all this in mind as we move forward with my testing.
I began by opening a file shot with an IR-converted  Panasonic Lumix G6. The in-camera white balance was a custom balance set by photographing a healthy green lawn,
I opened the file in SilkyPix and used its grey balance tool, which produced the top left image. Next I opened the same RAW file in Adobe Camera Raw and used its grey balance tool, which produced the image below the SilklyPix photograph. As you can see the results are dramatically different. At this point you could use either image as you see them and whichever way you like. I know several photographers who would, at this point, call it good and be happy with the results. But not me because I like a little drama in my infrared images.
My next step —and you can feel free to skip it— was to apply an infrared enhancement Photoshop Action to both of these images creating the image stack you see at bottom left: The top image was from the SilkyPix file, the bottom is from the Adobe Camera Raw file. When processing the image beyond grey balancing, the gap between the two approaches become much closer with the major difference, as far as I can see, is the overall density of the images. The SilkyPix image is lighter and brighter, the ACR image is darker and moodier. Which image is the better? Whichever one YOU like but I would like you refer you back to the first paragraph. Because when it comes to your own images, only your own opinion matters.
How I made this shoot: I made the original RAW+JPEG shot of a memorial rock garden off the bike path near McCabe Meadows in Parker, Colorado. The camera used was a Panasonic Lumix G6 with the Enhanced IR filter conversion from Life Pixel. Lens was the Olympus M.17mm f/2.8 with an exposure of 1/200 sec at f/16 and ISO 400. The RAW file was used for these manipulations.
Question:  Would there be any difference in these images if I had a newer computer with the latest hardware and software? Maybe. But I can only work with the hardware and software that I own and can afford and I suspect that's the case for many of this blog's readers as well. I am reminded of an experience I had during an encounter with a widely published and distinguished travel photographer that I met in Mexico before Adobe went to their subscription model. I asked him what version of Photoshop he was using and he said, "Three." I replied, "CS3?" and his response was, "No, Photoshop 3.01 running under Windows 95."
---
I have found that Life Pixel does a great job with IR conversions and they have done most of my Canon DSLRs and all of my Panasonic Lumix G-series mirrorless cameras. This is not a paid or sponsored endorsement, just my experience.
New copies of my book, The Complete Guide to Digital Infrared Photography are available from Amazon for $24.95 with used copies starting at $11.04 as I write this. Creative Digital Monochrome Effects has a chapter on IR photography and is available from Amazon for $31.40 with used copies starting for around $2.00, less than your next coffee at a Starbucks drive-through. No Kindle versions are currently available for either of these books, sorry.