Today's Post by Joe Farace
The invention of an easy to use and commercially viable instant camera is generally credited to Edwin Land, who unveiled the model 95 Land Camera in 1948, a year after he unveiled instant film in New York City. The earliest instant camera, which consisted of a camera and portable wet darkroom in a single compartment, was invented in 1923 by Samuel Shlafrock but methinks the idea of a "wet darkroom" stretches the definition on "instant."
Yet, it was Fujifilm who really resurrected the concept and the fun of using instant cameras through its series of Instax cameras and coincidentally reignited my own passion for instant photography. You can read about my personal Mini 90 Neo Classic that was a gift from Mary here on my post about how shooting with Instant Cameras is fun.
I recently received Fuji's Instax Mini 40 ($99.95) to review and opening the box got me even more excited about film photography, especially instant film photography. Why? Because this relatively compact (4.8 x 4.1 x 2.6-inch) camera means that it's so small—how small is it?—that you can take it with you anywhere.
Lens is a 60mm (35mm equivalent) and according to Fuji, its a "selfie lens" that is really just a setting on the built-in lens—you pull it out to engage the arms-length setting. There is also a tiny "selfie mirror" above the lens that works remarkably well allowing you frame yourself before snapping selfies. That selfie focus extends to the location of the shutter release. It's perfect for portrait-focused shots but is a bit more challenging in landscape mode where you have to be careful to prevent you hand/fingers from blocking the optical viewfinder.
There's a built-in flash with a range of one to one to 8.9-feet and its auto exposure mode covers apertures from f/5.6 to f/16. A power button next to the lens turns the Instax Mini 40 on and extends the lens; to turn the camera off, you just push in the lens. The camera is powered by two AA batteries and two are included in the box.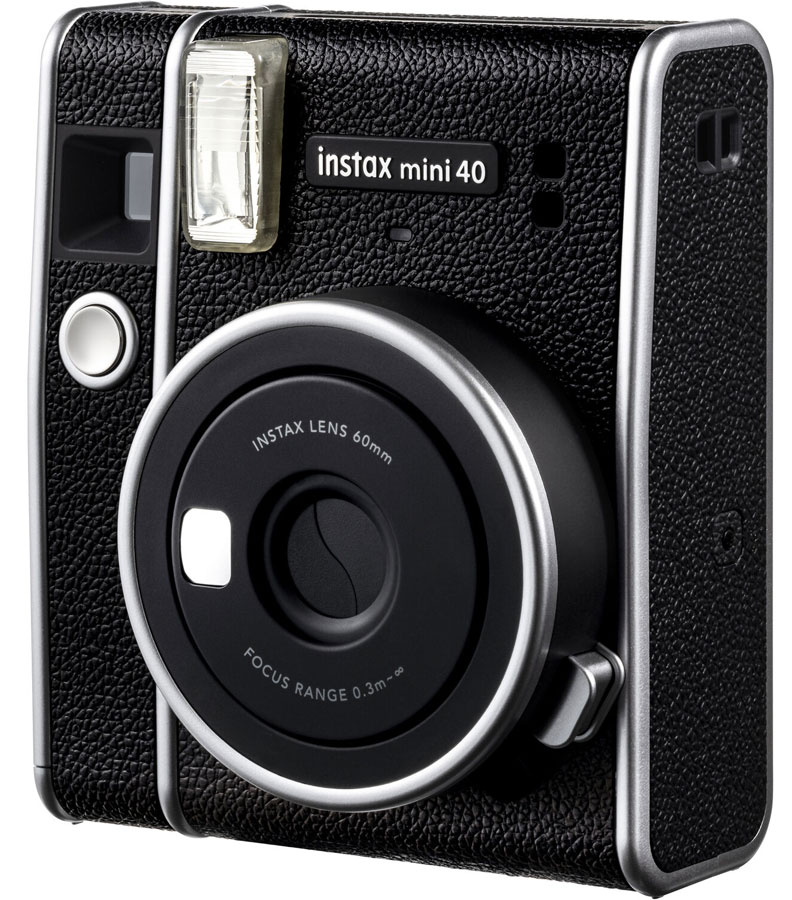 The camera accepts Fuji's  Instax Mini instant film that develops outside the camera in approximately 90 seconds. Each sheet of film produces a 2.4 x 1.8-inch glossy image area that's, in the standard film pack, surrounded by a white border but the sample sent me (above) was from the black frame series. Fuji also offers stylish predecorated frame versions, including rainbow, shining star and stained glass. There's even a monochrome version of the film that features neutral gray tonality and normal contrast with a natural shadow and highlight response. I just ordered some from Amazon and will let you know how that works in my next post* about this fun camera.
A multipack of INSTAX Mini Instant Film ($49.95) contains five twin pack or 100 sheets of instant color film. When shooting under daylight or electronic flash lighting, Fuji says, "the ISO 800 film features vivid color reproduction with natural skin tones." When working in temperatures between 41-104 degrees F the film produces "quick" developing. Tip: be sure to buy some film when purchasing the camera, since none is included in the box.
*As soon as we get past this period of cold—it's 14 degrees F outside as I write this—and snowy weather, look for a Field Test of the Instax Mini 40 real soon now.
---
If you enjoyed today's blog post and would like to buy Joe a cup of Earl Grey tea ($2.50), click here.