Today's Post by Joe Farace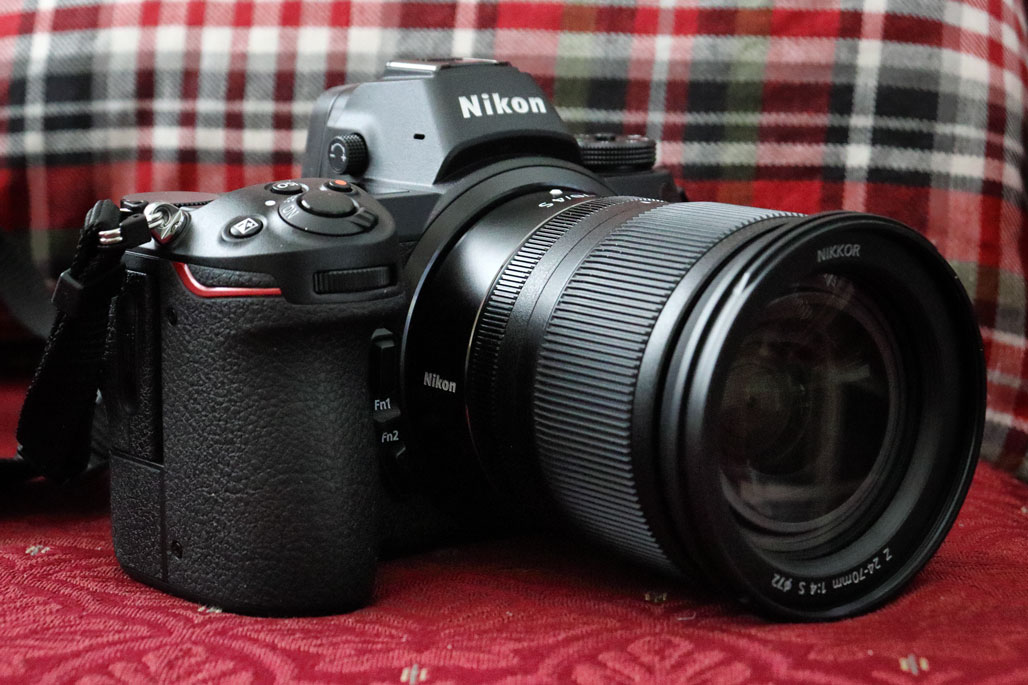 I'm calling my initial post about Nikon's Z 6 a "second look" because by now all of the influencers and YouTubers have had a chance to play with and talk about this 24.5MP mirrorless camera. Instead my second look will come at the camera from a slightly different direction, that of a photographer who has owned and has been shooting mirrorless camera since 2012.
Initial impressions: With the Nikkor Z 24-70mm f/4 S kit lens attached the package seems heavy when you pick it up, at least until you compare it one of Nikon's own DSLRs. Size-wise When compared to the 24.3 megapixel D750, the Z 6 is 6.5mm narrower and 12.5mm shorter. It is a thin camera too being 10.5mm thinner than a D750. The Z 6 also weighs 7.9-oz less than the D750. The DSLR is, however, at $1,296.95 less expensive.
More impressions: The Z 6 has the best looking EVF or even optical viewfinder experience I have ever had. It's big, it's bright and the view through it is absolutely beautiful. Image quality from the initial photographs I shot with the camera on the overcast, cloudy day—lots of those lately— was equally impressive. Based on these results, I'm intrigued by possibilities I'm seeing with the Z6.
How I made this shot: This cyclist was photographed in McCabe Meadows on a dreary, overcast day with the Nikon Z 6 and Nikkor Z 24-70mm f/4 S kit lens (at 24mm.) Exposure was 1/250 sec at f/8 and ISO 200 with +0.7 exposure compensation. That wasn't enough so, in Photoshop, I added a layer with a 40% screen adjustment to create the image you see and cropped it slightly from the lower right-hand corner to get the composition I wanted.
Coming up: I hope to have a model shoot in my home studio on Saturday but you know how models are about showing up for TF shoots. If I have the shoot, look for a post about working with the Z 6 in my studio. On Sunday, weather permitting, Mary and I are going to a VW car show; look for a post about the Z 6 on my car photography blog after that happens. I'll update this post with a link when the post runs. Mary, a Nikon fan girl, is already head-over-heels with the camera, so the car show photographs will probably be hers.
Earlier yesterday, Nikon Inc. announced the release of firmware version 2.0 to enhance the performance of the Nikon Z 7 and Z6. I did the update to my borrowed camera and all my testing will be done with this new firmware that provides three additional features:
Eye-Detection autofocus (AF) for still-image shooting that automatically detects and focuses on human eyes when using the Auto-area AF mode in both AF-S and AF-C modes.
Extension of the low-light AF detection range enables faster autofocusing for both stills and video when capturing photos and video in dark or dimly lit scenes.
Addition of auto-exposure (AE) tracking capability to the continuous high-speed (extended) mode allowing the cameras to track exposure just as they do focus (AF tracking.)
Look forward to more posts real soon now about shooting with the updated Nikon Z 6.
---
If you enjoyed today's blog post and would like to treat Joe to a cup of Earl Grey tea ($2.50), click here. And if you do, many thanks.