Today's Post by Joe Farace
"Every portrait that is painted with feeling is a portrait of the artist, not of the sitter. The sitter is merely the accident, the occasion. It is not he who is revealed by the painter; it is rather the painter who, on the colored canvas, reveals himself."― Oscar Wilde
Recently I was talking with a photographer/friend from the East Coast and he showed me some of his recent portraits. I was surprised to see that most of his portraits were mostly headshots. Really, really great looking headshots but headshots nonetheless, which got me thinking, "what is a portrait anyway?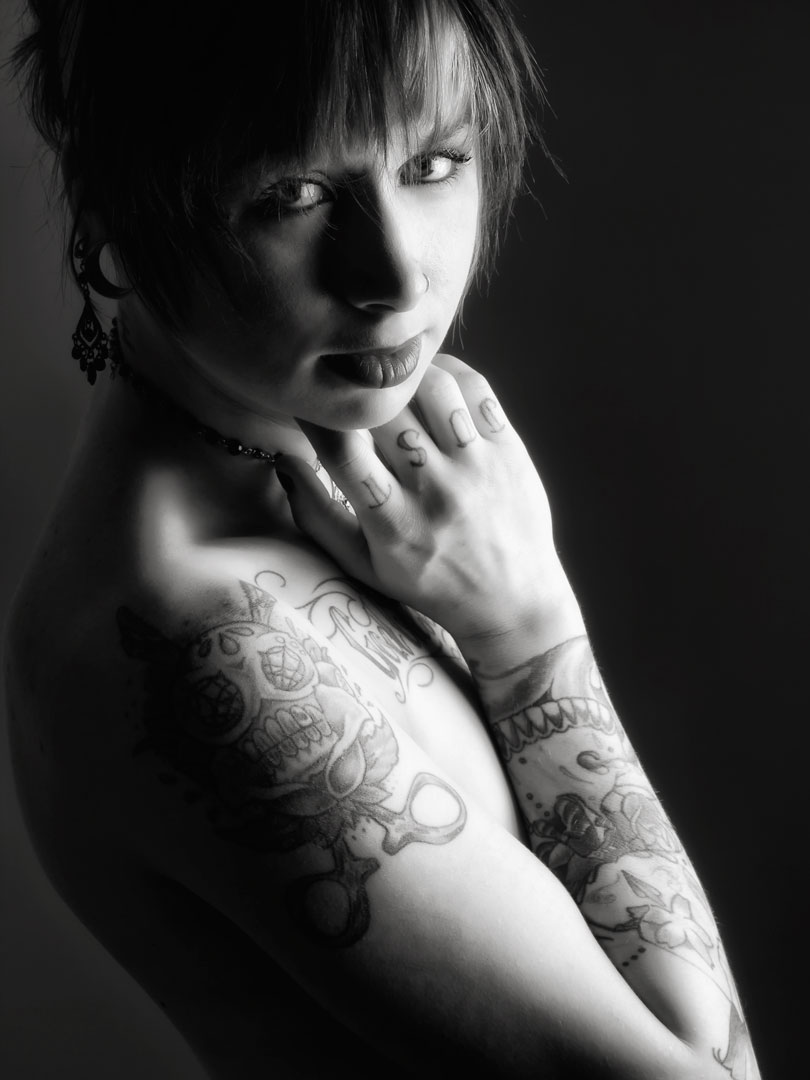 On the other hand, my friend Cliff Lawson is one heckuva portrait photographer and his high school senior images are more like environmental portraits that show more than just the subject's face but also what the subject is interested in and showing them actively participating in these activities. Headshots they are not
Somewhere in any search for inspiration to create the ultimate portrait, you'll encounter images that may be conceptual in nature and these, while seemingly about the subject, more often than not reveal more about the photographer than you might think. Richard Avedon once said," My portraits are more about me than they are about the people I photograph." What my portraits, like today's feature image, say about me, I can only wonder…
OK, a portrait is a just a picture of a person being photographed but more importantly as Oscar Wilde once pointed out, it's also a picture of the person making the photograph. My  friend Rick Sammon likes to say, "the camera looks both ways" and I think he's right. .
How I made this shot: The portrait of Savannah above was created as part of series that I'm working on about unclad women with tattoos* that are being collected for a self-published book and a fine art exhibit that I hope to produce. It was shot in my 11×15-foor home studio with a Canon EOS 60D with EF-S15-85mm f/3.5-5.6 IS USM lens with an exposure of 1/100 sec at f/5.6 and ISO 200. Lighting is from a 16 x 30-inch Westcott Apollo Strip soft box mounted on a Purple Haze Paul C Buff Alien Bee monolight. Background is a Savage Infinity black vinyl backdrop hanging from (you guessed it) my JTL background stands. The RAW file was converted to monochrome using Silver Efex Pro with a dash of Glamour Glow from Color Efex Pro to soften the look.
So what is a portrait? It is a picture of a person and it can be anything that you like—and maybe something they like as well.
*If you or a friend would like to be photographed for this project, drop me a message by clicking Contact button above and I'll get back to you or them with details.
---
If you're interested in learning how I shoot portraits and use cameras, lenses and lighting in my in-home studio and on location, please pick up a copy of Studio Lighting Anywhere which is available new from Amazon.com for $32.45 and used starting around four bucks as I write this. Kindle version is $19.99 for those preferring a digital format.