Today's Post by Joe Farace
"Every portrait that is painted with feeling is a portrait of the artist, not of the sitter. The sitter is merely the accident, the occasion. It is not he who is revealed by the painter; it is rather the painter who, on the colored canvas, reveals himself."― Oscar Wilde, The Picture of Dorian Gray
When I was talking with a photographer/friend from the East Coast he showed me some of his latest glamour portraits. I was surprised to see that almost all of his portraits were basically headshots. Really, really great looking headshots but headshots nonetheless, which got me thinking, Seinfeld-style, "what is a portrait anyway?
My friend Rick Sammon always says that, "The Camera Looks Both Ways." While I ponder the existential nature of my friend's quote, I also wonder what today's featured portrait says about me other than just trying to make the best possible photograph, which is my typically goal during these kinds of photo sessions. Maybe I'm wrong? OK, a portrait is a picture of a person being photographed but more importantly as Oscar Wilde also pointed out, it's also a picture of the person making the photograph.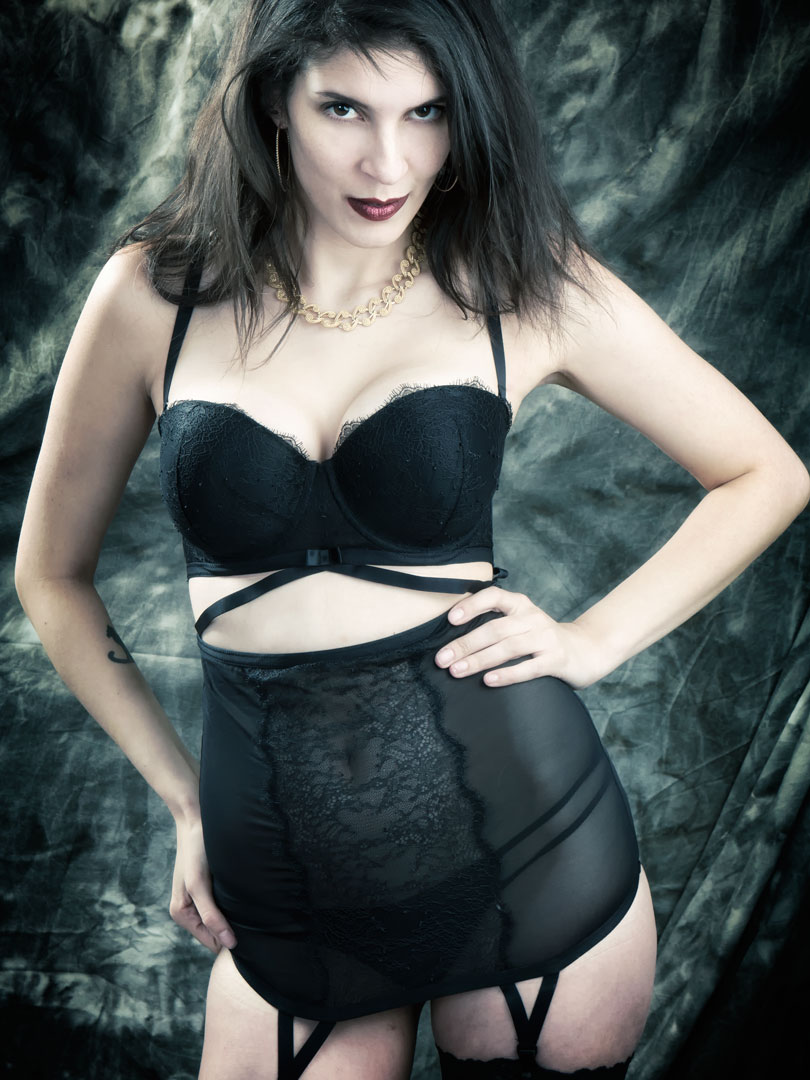 Somewhere in a quest for the ultimate glamour portrait, you'll encounter images that are conceptual in nature and these, while seemingly about the subject, more often than not reveal more about the photographer than you might think. Richard Avedon once said," My portraits are more about me than they are about the people I photograph." What I think he meant is that when creating a portrait he likes to control as much of the environment and maybe even the subject to reflect his view of them, and not necessarily how the subject sees themselves. And in perhaps this same way, some of that thinking may apply to my own studio work as well. Maybe it's just another form of my OCD or do all/some/many photographers have this same affliction because their images strive to reorder the world into how they imagine it should be.
How I Made this shot: The above image of my former muse Erin Valakari was one of 13 similar poses I made in a particular sequence; this pose was frame 13, the final one. The portrait was made in my 11×15-foot home studio with a Paul C. Buff DigiBee DB800 with Plume Ltd Wafer softbox used as the main light and placed at camera right. An Alien Bee B800 with an 18-inch Paul C Buff OMNI reflector with Triple layer diffuser sock is at camera left with another Digibee with a (no longer available) 48-inch Dynalite Quad Square black/silver umbrella that was placed in a back left corner of my studio .
The camera used was a Panasonic Lumix GH4 with Lumix G Vario 14-45mm f/3.5-5.6 lens (at 43mm, for some reason) with an exposure of 1/125 sec at f/11 and ISO 200. Background was a cheapo muslin backdrop hung—you guessed it—on my still falling apart JTL background stands. Image was retouched and tweaked with Photoshop CS6. The final it's-not-color-but-is-color effect was achieved using Color Efex Pro's Colorize filter, with some additional tweaks in Vivenza followed by a dash of the Glamour Glow effect, that's part of Color Efex Pro.
PS: I just created a short video showing behind-the-scenes while I was shooting today's featured image. You can watch it by clicking here.
---
If you enjoyed today's blog post and would like to treat me to a cup of Earl Grey tea ($2.50), please click here. And if you do, thanks so much.
One of my biggest regrets is that I never got to photograph Erin for one of my books, before my book writing career slowed down. If you would like my take on glamour photography pick up a copy of my book Joe Farace's Glamour Photography. It's full of tips, tools and techniques and includes information on all of the gear that used to make each image as well as the exposure data for each photograph. New books are available from Amazon for $22. with used copies starting at $8.90, as I write this. Kindle version is $19.99 for those preferring a digital format.