Today's Post by Joe Farace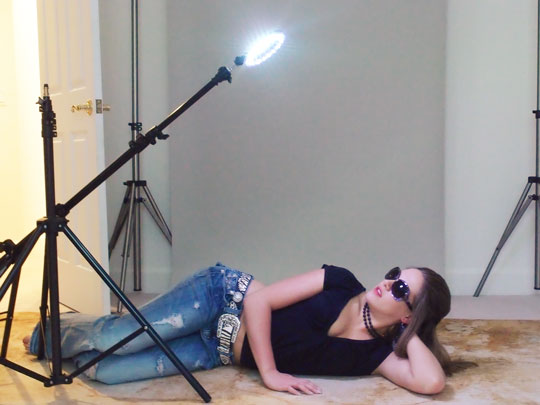 The use of LED as a light source for portraiture has really increased in the past several years years as more lighting equipment companies release products in this space. And one of the most versatile and inexpensive LED systems is Rotolight's RL48 Interview Kit.
Inside the kit's well-crafted pouch you'll find two RL48 LED light heads along with 24 Filters including, a 063 Pale Blue, 712 Bedford Blue, 020 Medium Amber, 182 Light Red, 765 Sunlight Yellow, 730 Liberty Green, 052 Light Lavender and 128 Bright Pink and two cosmetic filters (184 Cosmetic Peach and 791 Moroccan Frost) for skin enhancement. Since each light only weighs six ounces (plus batteries) these lights make for a fun kit that's easy to take on the road.
The kit includes two stands (not lightstands) with standard ¼-inch tripod screw mounts allowing you attach a light to a tripod or lightstand. The pouch has room for filters, two lights and the stands, plus six AA batteries; each light is powered by three AA batteries. In addition, Rotolight offers a full line of swivel mounts, clamps and articulated arms to provide flexibility when working with the system.
How I made this shot: This pose and lighting set up is an homage to a black & white portrait that was originally made by my friend Rick Sammon, who placed a single speedlight on a boom over a model in a similar pose. I don't own a boom and instead Rube Goldberged two lightstands together to hold a single Rotolight RL48 head with a Light Lavender gel attached. Camera was a Canon EOS 50D with my favorite EF 85mm f/1.8 lens. Exposure was 1/15 sec at f/3.5 and ISO 640 in Aperture Priority mode. Image was retouched then tweaked with Color Efex 4's Glamour Glow filter.
---
If you enjoyed today's blog post and would like to buy Joe a cup of Earl Grey tea ($2.50), click here.
My book Joe Farace's Glamour Photography is full of tips, tools and techniques for glamour and boudoir photography with new copies available from Amazon for $34.95, as I write this. Used copies start at $8.91 and the Kindle version is $19.99 for those who prefer a digital format.