Today's Post by Joe Farace
Taking pictures is like tiptoeing into the kitchen late at night and stealing Oreo cookies."— Diane Arbus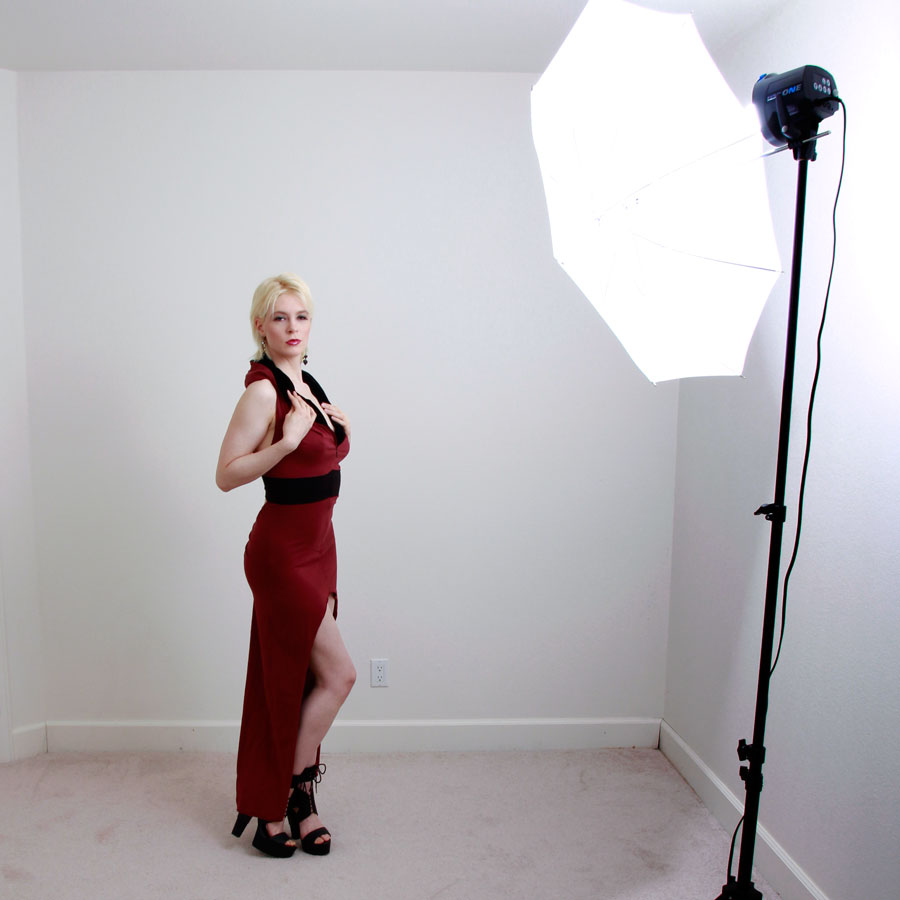 I haven't had an Oreo in a while (OK, maybe not all that long ago…) but any photographer who's ever shot a portrait knows what the late Ms. Arbus was talking about. In fact, my pal Barry Staver wrote a blog post—Cooking in the JPEG Kitchen: Cookies and Cakes—on this very topic. Give it a read when you have time.
All of the ingredients needed for successful glamour portraits are easy to find: All you need are a subject, a camera and some lighting equipment but like any good recipe it's how all of these components are prepared that goes into cooking up a delicious portrait.
All that stands between the photographer and a good portrait is their imagination and a client who's interesting in working together to create the best possible image. Because there's sometimes nothing for the client to interact with in the studio, especially in a small in-home one like mine, the photographer's posing directions are going to have to be more precise than normal.
Although I don't always accomplish this goal, my philosophy is that I don't want any of a client's portraits to look the same as our other clients. The session is all about them.
How I made this shot: Photographing a portrait subject against a seamless paper background is the ultimate test of a photographer's ability to make something from nothing; you're shooting without a net—naked, even if your subject is wearing clothes. For this pose I simply asked Ms. Simpson to bend at the waist and unzip her dress a little bit. How much to unzip/zip was left up to her comfort level.
Lighting doesn't get much simpler than how I made this portrait. A single monolight with an umbrella was used and placed at camera right as shown in the above setup shot. I didn't even use a photographic background. Instead, the formerly white (now grey) walls in my studio provided all of the high-key goodness that I wanted and needed for this image. The camera used was a Canon EOS 60D with EF-S15-85mm f/3.5-5.6 IS USM lens (at 55mm) with an exposure of 1/125 sec at f/11 and ISO 200. Image was retouched with Imagenomic's Portraiture and enhanced with Vivenza and Color Efex Pro.
---
If you enjoyed today's blog post and would like to treat me to a cup of Earl Grey tea ($2.50), click here. And if you do, thank you very much.
You can see more of Ms. Simpson—she's even on the cover—and can learn more about my posing techniques in Posing for Portrait & Glamour Photography. Brand new books are available from Amazon.com for just $18.34 with used copies selling for (some reason?) $19.06 as I write this. Kindle versions are $16.99 for those preferring to have the book in digital form. PS. Sometimes Amazon displays the wrong cover for this book; the correct cover photo is shown at right.