Today's Post by Joe Farace
There are two main methods for capturing digital infrared images: First, by using on-camera filters and second by shooting with an IR-converted camera.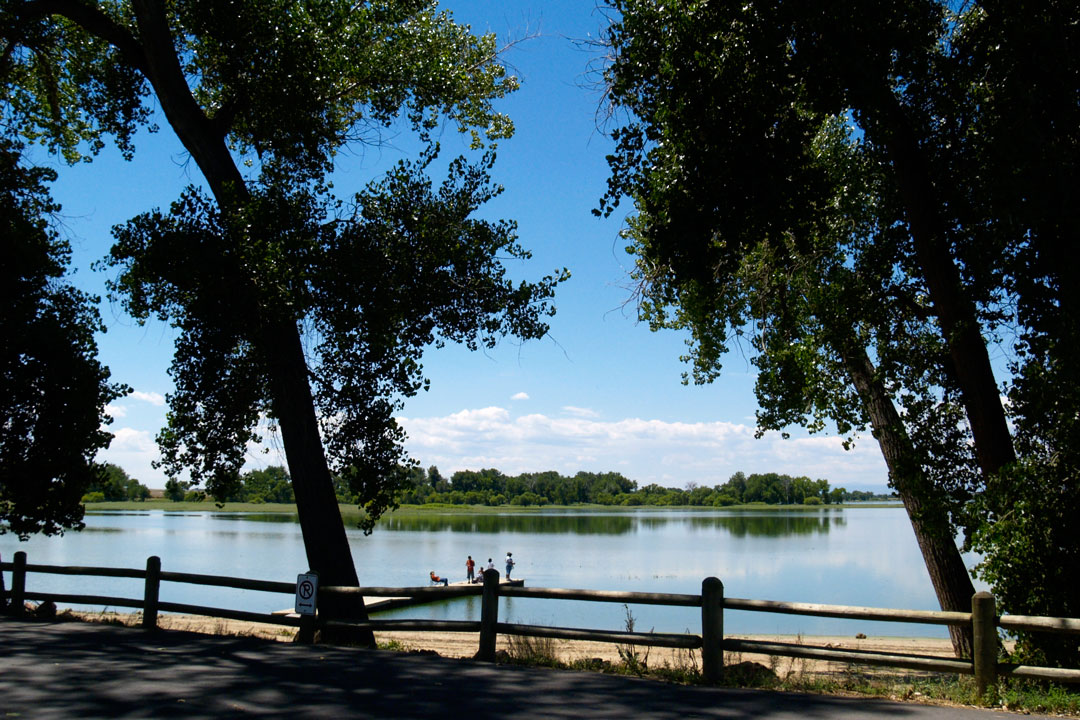 But first the bad news: Infrared camera filters are more expensive than your everyday yellow filter. Some say the reason for this is just a supply and demand thing and that may even be true. Others say they are also more expensive to manufacture. You can insert your own photographic conspiracy theory here but that won't change the fact that a 58mm Hoya RM-72 (IR) filter costs $49.95 and a 58mm Hoya Yellow filter is $24.95. Before you freak out let me tell you that the RM-72 may be your best value in digital infrared photography. But is it the best IR filter? Maybe or maybe not. Based on my testing, the best filter choice might just be Singh-Ray's I-Ray 690 Infrared Filter, if you can afford it because in standard 58mm mount the filters costs $160.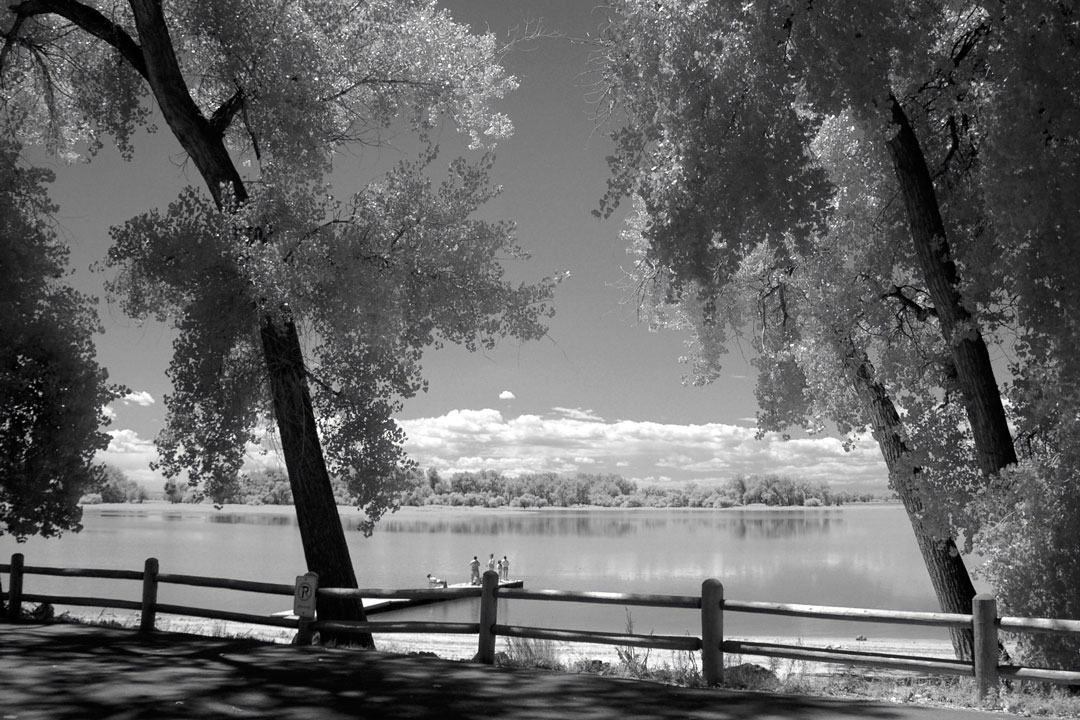 How I Made these Shoots: At first glance, the above (reference) lakeside scene at Barr Lake State Park doesn't appear to a suitable candidate for digital IR capture but that's because we are looking at it with visible light. It was shot on a hot day near Noon and those trees were bursting with chlorophyll, I just couldn't see it. Exposure for this reference image that was shot in Program mode was 1/800 sec  at f/10 at ISO 400. A plus one-stop exposure compensation was used because of the backlit nature of the scene.
Proving that Paul Simon was right, the picture doesn't improve when I shot it in black and white. In fact it looked more boring. But the photo starts to look more appealing when a Cokin P007 IR filter ($34.90) is placed in a holder in front of the lens to capture it as an infrared image. Exposure for the in-camera IR shot at right in Program mode was 1/25th of a second at f/3.6 at ISO 400. A plus one-stop exposure compensation was also used.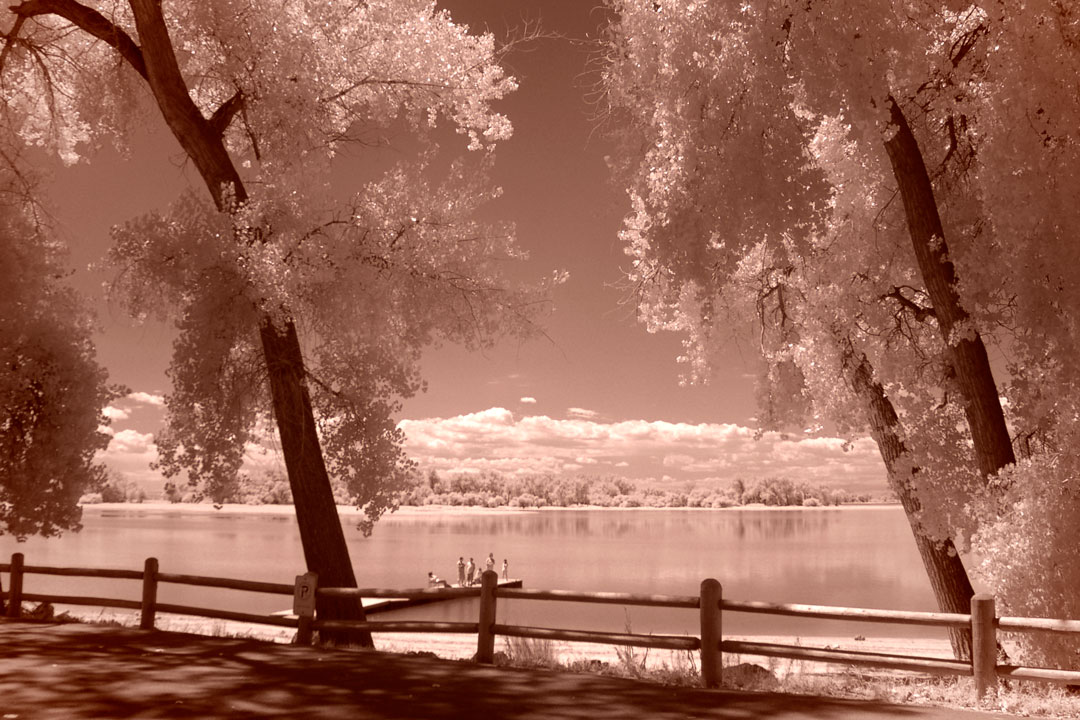 Just for the heck of it, I switched the tripod-mounted camera into sepia mode and created what I think is the most interesting photograph of the bunch by using an on-camera filter with an in-camera filter. Who knew? That's why it's a good idea to experiment. You can always erase any clunkers so they don't eat up space on your memory card.
---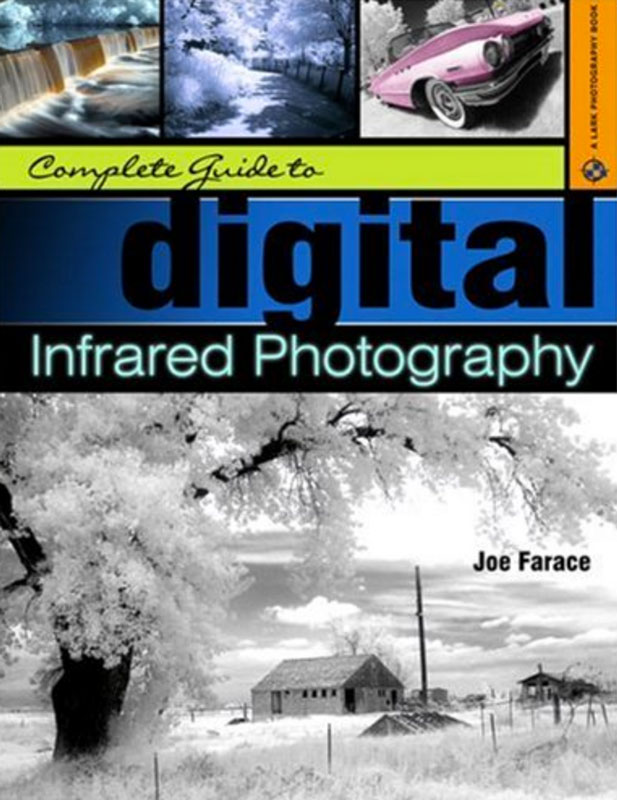 I've found that Life Pixel does a great job with IR conversions and they've done conversions for some of my Canon DSLRs as well as all of my Panasonic Lumix G-series cameras, including a GX1 that uses their new Hyper Color conversion. This is not a paid nor sponsored endorsement, just my experience.

My book, The Complete Guide to Digital Infrared Photography is available from Amazon for with new copies selling for $21.31 and used copies starting at $17.77 as I write this. Creative Digital Monochrome Effects has a chapter on IR photography and is available from Amazon with new copies at $23.49 with used at a little more than nine bucks, as I write this. There's no Kindle versions available, sorry.