Today's Post by Joe Farace with Mary Farace
"Halloween is an opportunity to be really creative."— Judy Gold
This time of year one of my favorite photo concepts is to ask portrait subjects to bring their Halloween costumes to a shoot, even if it's after Halloween.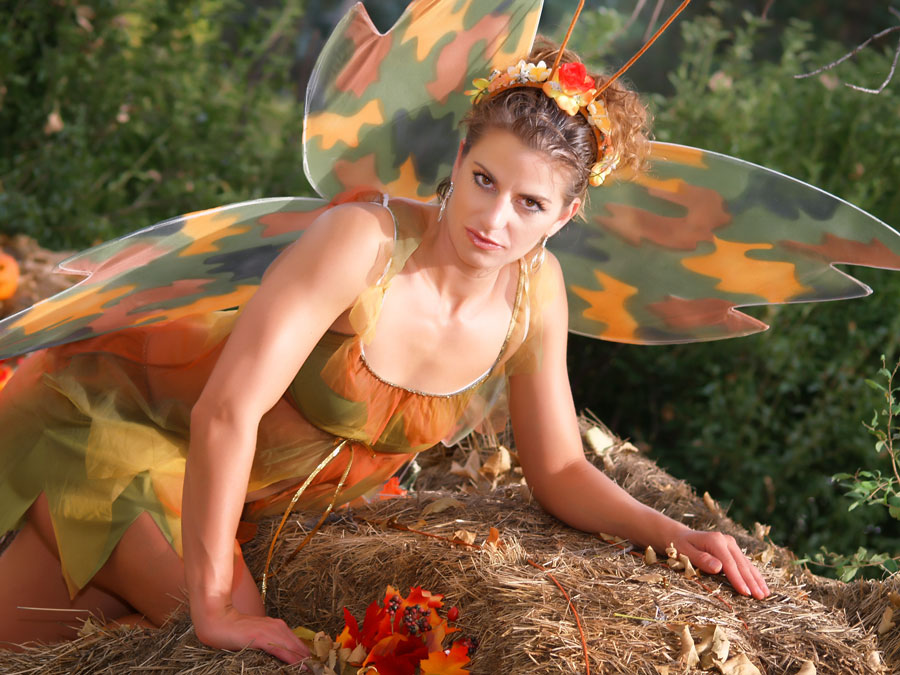 As adults they don't get a chance to wear the costumes more than just once and it lets you create the kind of images that are fun to make for both the photographer and the subject. And when they're dressed up, they seems to get more involved in the session. In addition to getting a chance to create some great photographs that you can add to your portfolio, you also get to add another potential sale from the session. It's a win-win situation.
How these Photos Were Made: Mary Farace photographed Jamie-Lynn as a "butterfly" at an outdoor shoot in Northern Colorado. Using the hay bales gave the subject something to interact with and create a diagonal line showing off her costume to good effect as well as giving Mary a chance to make a horizontal portrait. This is one of ten different shots she made and three different poses she shot during the session using an Olympus E-500 Four-Thirds camera with 40-150mm f/3.5-4.5 lens. Exposure was 1/125 sec at f/4.5 and ISO 100.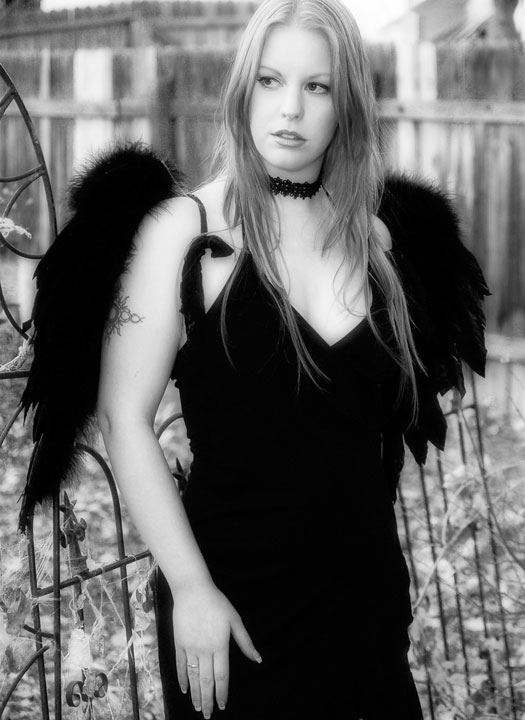 The Halloween costume (at right) that was worn by Farrah works great with this particular setting and I like the pose of having her lean on a cobweb-filled fence in a friend's back yard. It was shot with an Olympus E-1 Four-Thirds camera with 40-150mm f/3.5-4.5 lens. Exposure was 1/100 sec at f/3.5 and ISO 200.
To give it a Morticia Addams look, I thought the portrait needed to be black and white but although originally  shot in color, I used Silver Efex Pro plug-in to tweak the image as seen here. The Glamour Glow filter from Color Efex Pro was also used. If you don't like it in black and white, you can always got back to the color original.
---
If you enjoyed today's post and would like to treat me to a cup of Earl grey ($2.50,) please click here. And if you do, thanks so much.
My book Studio Lighting Anywhere is available new from Amazon.com for $17.07 or starting at $6.95 used, as I write this, which seems like a heckuva deal. The Kindle version is $11.99, if you prefer a digital format.