Today's Post by Joe Farace
Bibliophile – a person who has a great appreciation for or collects books.
On August 9th National Book Lovers Day wraps all of the excitement that bibliophiles feel about books into one big celebration. National Book Lovers Day is a day for all those who love to read and encourages us to find your favorite reading place, a good book (fiction or non-fiction) and read the day away.
Trivia: The first books used parchment or vellum (calf skin) for its pages. Book covers were made from wood and were often covered with leather. Clasps or straps kept the books closed. Public libraries first appeared in the Middle Ages and librarians of the time would chain the books to a shelf or a desk to keep them from being stolen. This was a far cry from the wonderful Enoch Pratt Free Libraries that were founded in 1882 and helped shape me into a book lover while I was growing up in Baltimore.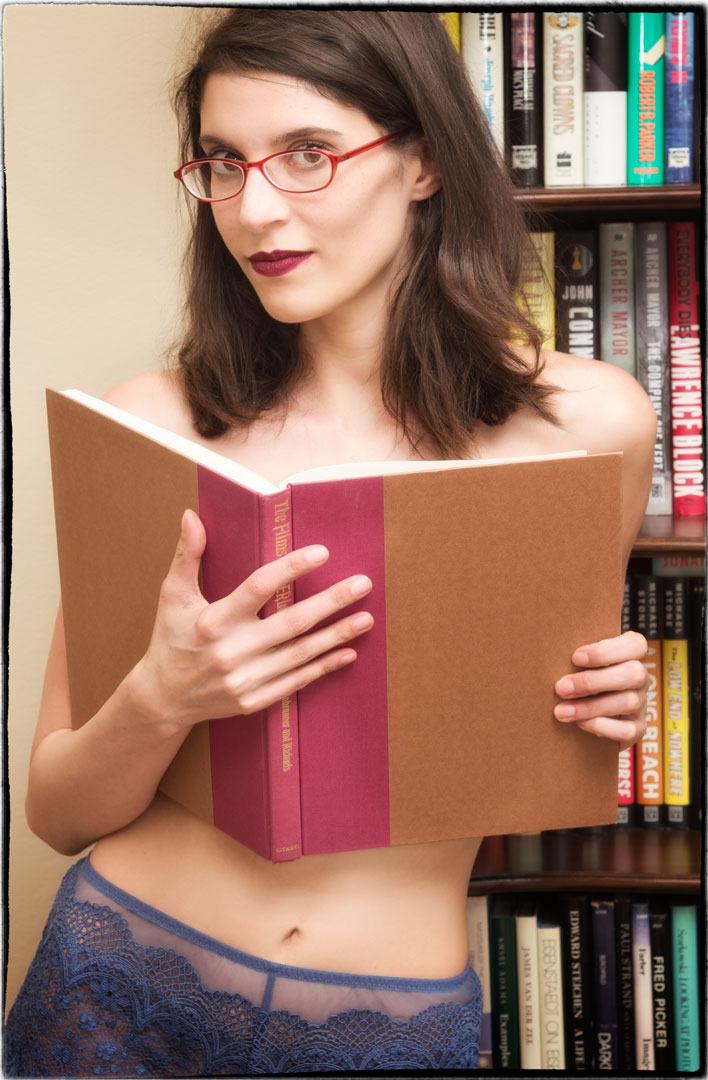 How I Made this Photo: I photographed Erin Valakari against the backdrop of the three bookcases in my dining room. There are also a few small bookcases in my home office, along with a smaller one that's built in as well as a few movie-related books on shelves near my TV. When we moved into Daisy Hill ten years ago, the moving company told me I had more than 3,000 books. I've probably added a few more since then but I also periodically donate books to the local library where they're sold to fund their activities. Camera used was a Panasonic Lumix GH4 and Olympus M. Zuiko 45mm F1.8 lens with an exposure of 1/50 sec at f/8 and ISO 200. Lighting was provided by one of my Rotolight LED light sources.

Moving forward: Along with several recent developments, book manufacturers often use digital printing techniques with book pages being printed with toner instead ink. As a result of digital printing, print-on-demand opened up a new realm of publishing that I've used to self-publish a few books. In this case, the books aren't printed until the customer places the order. And more and more, people read E-books—not me, however. Perhaps I've not yet found the best e-reader to match my reading habits but there is something wonderful about holding a book in my hands. And then there's this…
HOW TO OBSERVE #NationalBookLoversDay
Sit back, relax and read! Don't forget to share the joy of reading with the young people in your life. Inspire them by telling them about your favorite novel or find out what was the last book they took off the shelf. Read to the littlest of the up and coming readers, too. If you need more ways to celebrate?
Shop for a new book to read or scan the shelves for one you would like to give as a gift.
Explore the shelves of used book stores, like Poor Richard's Book Shoppe in Parker, Colorado. You might find an out-of-print tome that might become the highlight of your collection.
Discover the world of online book stores. I've found a few through Amazon that have added to my collection of books written by David Handler.
Randomly give a book to someone. (One of mine would be nice but not necessary…)
---
If you're interested in learning how I shoot  available light glamour portraits, please pick up a copy of Available Light Glamour Photography which is available new from Amazon.com for $28.91 with used copies starting around twenty bucks, as I write this. The Kindle version is $27.63 for those preferring a digital format.