Today's Post by Joe Farace
People sometimes ask "how did you make that shot?" Today I begin a series of posts where I'll explain how I made certain portraits. This post is about how I made this in-studio boudoir portrait of Pam Simpson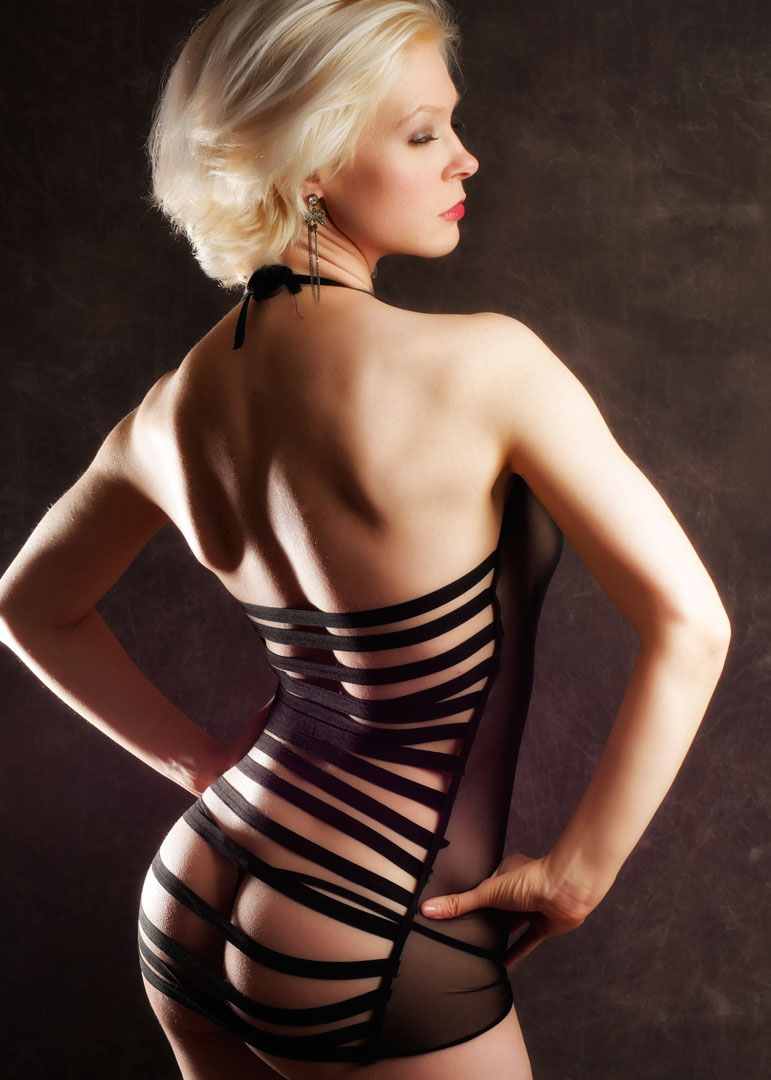 This portrait of the always amazing Ms. Simpson was shot in my 11×15-foot home studio using a pair of Godox monolights.
At 600 Watt-seconds, the Godox QT600IIM has a flash duration of 1/19,696 to 1/190 sec with recycle times between .05 to 0.9 sec. The QT600IIM supports High-Speed Sync permitting shutter speeds as fast as 1/8000 sec. It has a Guide Number of 249 at ISO100 when used with the standard reflector. As I write this, the monolight costs $379.
Boudoir photography is all about mood and the Godox monolights that I used for this shot proved themselves well suited for this genre. Their output is so powerful that even when shooting at f/8—my preferred aperture for intimate portraiture—the monolights were set at one-half power or less producing near instantaneous recycle, which is useful for shooting when a subject's all-important expression or pose may be fleeting. In my home studio, it took me about 45 minutes to set up all of the Godox components including installing flash tubes and modeling lights in both heads, attaching reflectors, mounting a softbox and making a few test shots.
How I made this shot: It used to be that when shooting boudoir or intimate portraiture I preferred working in black and white to produce what I thought was a quietly, pensive look. But more recently I've preferred making these kinds of images in color, as with today's featured image, because I feel color adds a more natural and contemporary look to the portrait. I tend to go back-and-forth on this subject so I guess I'm kind of wishy-washy. If you want to compare the differences between the two approaches, here's another boudoir image of Pam from a different but similar photo session.
For this lighting setup, the main light is a Godox QT600IIM monolight with a Westcott Apollo Strip softbox attached and placed at camera right. The softbox's flexible framework uses an umbrella-style construction so it's compatible with many kinds of lighting systems. Side light came from another Godox monolight located at camera left with the standard metal reflector in place. Backdrop is a two-sided Savage Monsoon (this is the darker side) collapsible background hung on a lightstand. The camera used was a Panasonic Lumix GH4 with Leica DG Macro-Elmarit 45mm f/2.8 lens with an exposure of 1/125 sec and f/8 and ISO 200.
I've been using Micro Four-thirds cameras for all of my studio portraits since my friend Mark Toal introduced me to the Panasonic Lumix system several years ago, although I've now also embraced Olympus cameras and lenses (look for a post on that subject this week) and use a mix-and-match approach for my mirrorless photography.
---
If you enjoyed today's blog post and would like to buy Joe a cup of Earl Grey tea ($2.50), click here. And if you do, thank you very much.
My book Joe Farace's Glamour Photography is full of tips, tools and techniques for glamour and boudoir photography with new copies available from Amazon for $20.99. Used copies start at the hard-to-beat price price of $8.90 as I write this and the Kindle version is $19.99 for those who prefer a digital format.