Today's Post by Joe Farace
Today we continue to celebrate National Hispanic Heritage Month. It runs from September 15 to October 15, highlighting the histories, cultures and contributions of those American citizens whose ancestors came from Spain, Mexico, the Caribbean and Central and South America.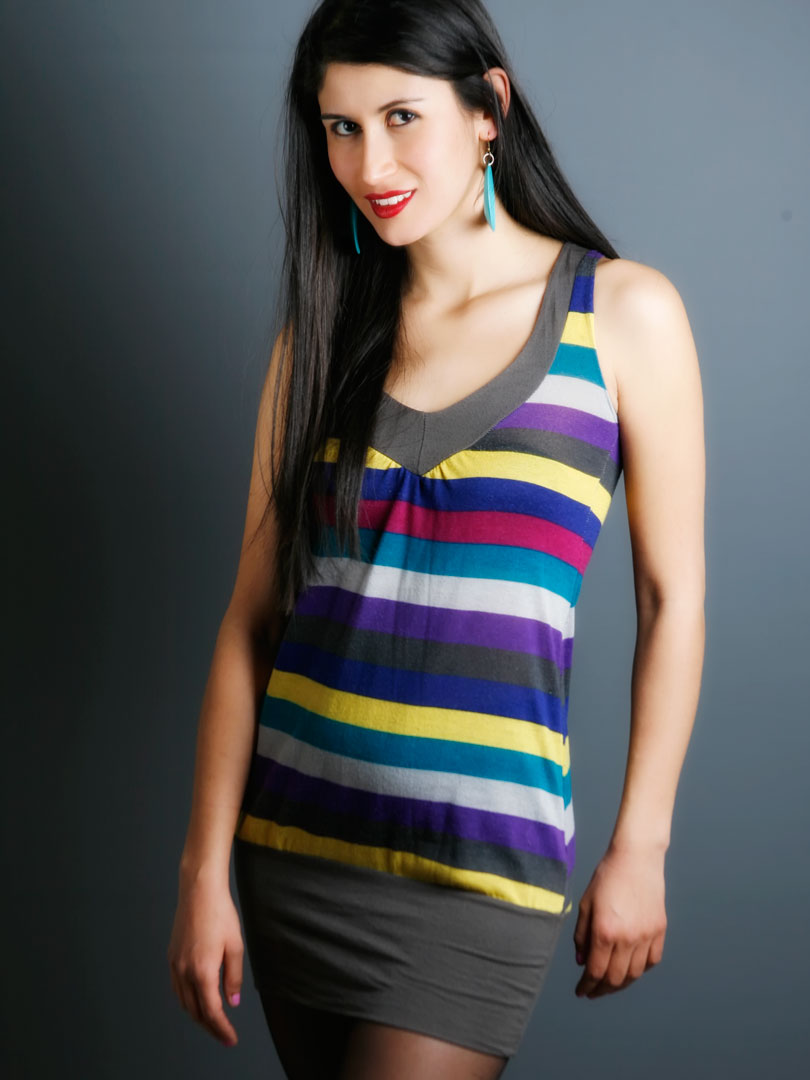 This celebration was begun by President Lyndon Johnson in 1968 initially as Hispanic Heritage Week. In 1988 it was expanded by President Ronald Reagan to include a 30-day period starting on September 15 and ending on October 15 and was enacted into law on August 17, 1988.
September 15 is a significant date because it's the anniversary of independence for the Latin American countries of Costa Rica, El Salvador, Guatemala, Honduras and Nicaragua. Mexico and Chile celebrate their independence days on September 16 and September18, respectively. Also, Columbus Day or Día de la Raza, which is October 12, falls within this same 30 day period.
In my little corner of the Internet I want to use this time to highlight some of the wonderful Hispanic models that I've photographed over the years, continuing today with Kim Zaldivar, a tall and delightful model that I was lucky enough to photograph twice for the former print edition of Shutterbug.
How I Made this Photo: I photographed Kim in my home studio using Broncolor's Move 1200 L Outdoor Kit 2 that includes the Move 1200 L power pack, MobiLED lamphead, MobiLED continuous light adapter, 28 x 28-inch Flex softbox and RFS 2 wireless transmitter, all of which fits into a trolley—it's got wheels—backpack. I mounted the 28×28-inch softbox onto the main MobiLED head that was located at camera right with fill provided by a 32-inch reflector placed at camera left. The 1200 L's output was set at approximately one-third of maximum power.
Image was made using a Canon EOS 5D and EF 28-135mm f/3.5-5.6 IS USM lens (at 100mm.) The exposure of the JPEG file (made before my current RAW+JPEG regimen) was 1/100 sec at f/8 and ISO 200. The portrait was lightly retouched and then layered with the Glamour Glow filter from Color Efex Pro,
---
If you enjoyed today's blog post and would like to buy Joe a cup of Earl Grey tea ($2.50), click here. And if you do, thank so very much.
If you're interested in learning how I shoot portraits and use cameras, lenses and lighting in my in-home studio and on location, please pick up a copy of Studio Lighting Anywhere that's available new from Amazon.com for $22.55 or starting around twenty-two bucks used, as I write this. (I don't get that either.) The Kindle version is $19.99, if you prefer a digital format format.