Today's Post by Joe Farace
My friend and neighbor, landscape photographer Mike Denson, and I occasionally get together over breakfast to share photo tips. Recently, Mike told me how much he really liked his new Peak Design backpack. He not only thought it was well made but also liked its versatility as a camera backpack, day pack or a combination of the two.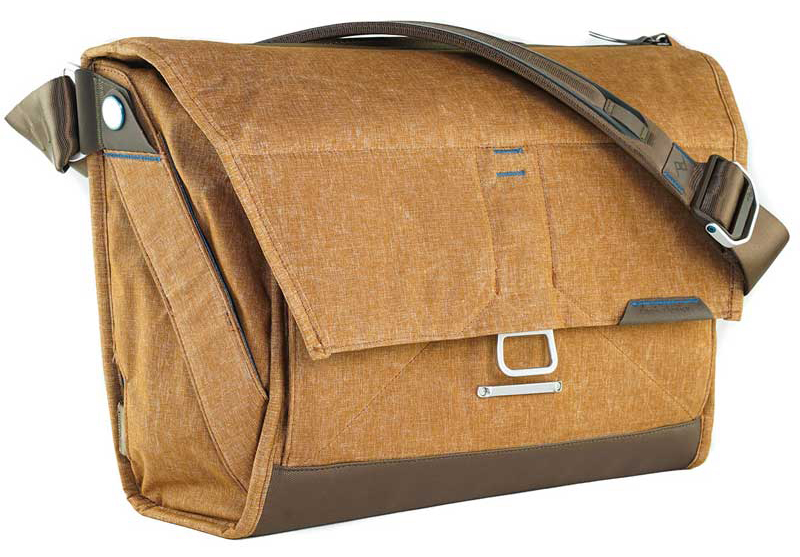 I already have a bunch of photo backpacks and was looking for something different and Peak Design's Everyday Messenger, which is available in 13 and 15-inch versions, caught my eye. The one I chose is a 13-inch model ($219.95) in Heritage Tan. It's also available in Charcoal or an elegant Ash color
The Messenger 13 holds a full-frame DSLR although I'll use it for my mirrorless cameras, hence my choice of the smaller 13-inch model. It has two adjustable and removable dividers that I wish had just a skosh more padding. A 13-inch laptop and tablet (my choice) can be stored in a rear, padded compartment that has an interior separator. If you need room for more stuff or a bigger laptop, the Everyday Messenger 15 is only $30 more. Both sizes fit under airplane seats and are approved for airline carry-on.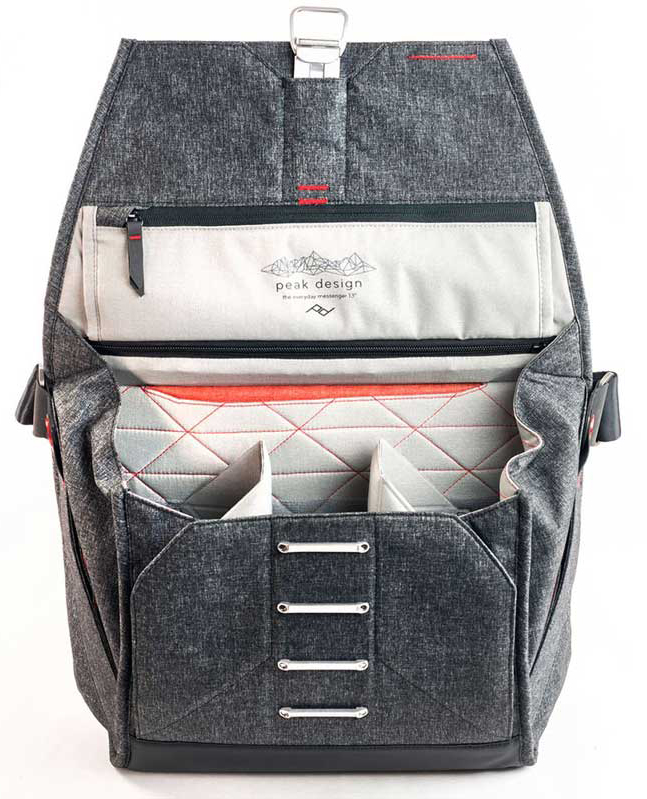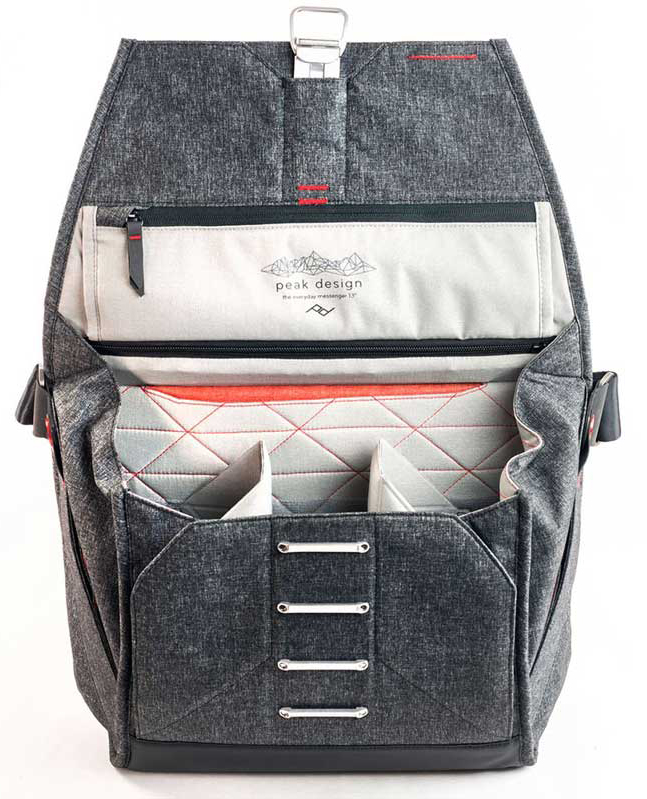 The bag is made of weatherproof waxed 500D Kodra synthetic canvas with a DWR (durable water repellent) undercoat. Fiber thickness and diameter is measured in denier or "D," the higher the number, the stronger the fabric will be. Exterior zippers are weatherproof and stress points are reinforced and bar-tacked. The poly-cotton interior with quilted-style stitching ala Bentley should be gentle on your gear.
Small accessories like batteries, memory cards, or a smartphone can be stored inside an expandable front access panel. Other small items can be stored in the zippered pocket under the messenger flap or in one of the two side pockets. When traveling, there's an interior slip pocket for a passport. There's even a hidden key/ID tether with an anchor link connector in one of the side pockets.
A magnetic latching system lets the bag expand and contract. Tip: Don't overload any bag; you still have to be able to pick it up. A two-inch wide strap converts into a low-slung shoulder strap, while a stabilizer strap can be worn cross-body for better weight distribution, or as a trolley strap when traveling with rolling luggage.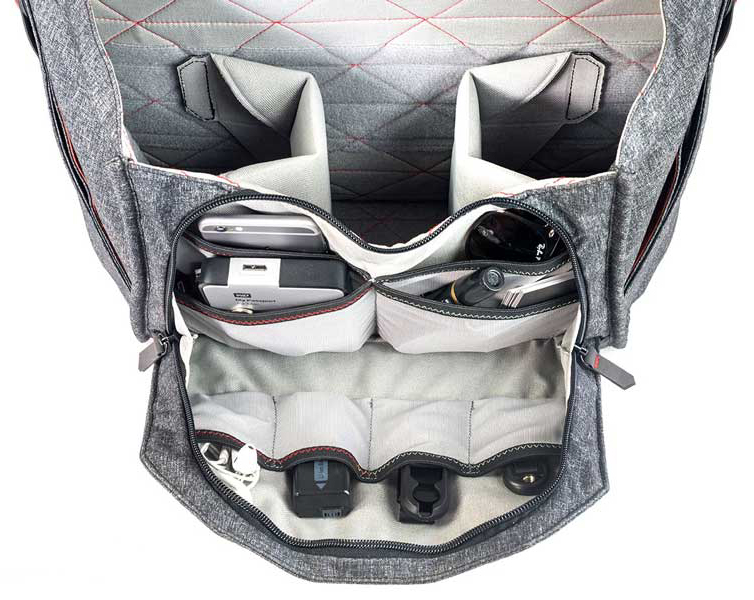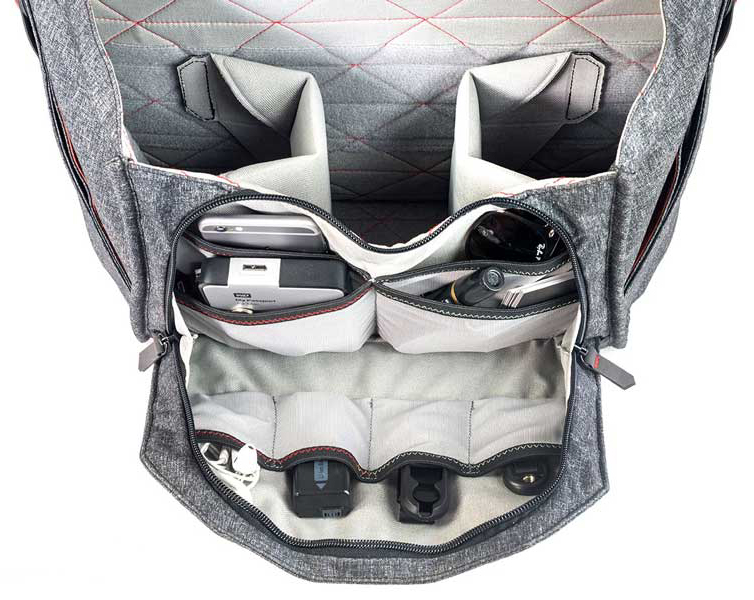 A built-in tripod carry feature— that I will probably never use—includes a silicone band for keeping the legs together. I'm not a fan of hanging a tripod on camera bags* because when they're full of gear they're going to be heavy enough. But if you like to do it that way, who am I to say? Speaking of weight, the bag weighs 2.6 lbs empty.
Every Peak Design product has a no-hassle, no-rhetoric lifetime guarantee. If any part of a product becomes non-functioning or defective, the company will repair or replace it with a fully functioning item in the same or better condition.
Much like my friend Mike, I can see me using Peak Design's 13-inch Everyday Messenger to store camera gear as well as sometimes using it as a business type attaché case and most times, I'm betting, as a combination of both. Look for a field test real soon now but only after I've had time to put some wear and tear on it.
* To carry my tripod I prefer a rifle-style sling to spread the load across my body. I would really prefer to leave the tripod at home but sometime, you just can't.