Today's Post by Joe Farace
"Photographic success is not just about getting the equipment. And you can't market yourself without a portfolio. If you love photography enough, the equipment will come, the portfolio will result and if you enjoy the process, successful will follow."—Bruno Schreck
There's a big Catch-22 to glamour photography: You need a portfolio to attract models but you also you need models to build that portfolio.
Just as you can determine a potential model's abilities by reviewing her portfolio, she will want to evaluate your talent by reviewing your portfolio. A portfolio is important because it shows potential clients or models your photographic style and level of technical competence. It also demonstrates the type of photographs you enjoy making and gives people a chance to assess your ability to communicate through those images.
As soon as you do your first glamour shoot, you should start assembling a portfolio containing the best images from that shoot. The most important factor to keep in mind when preparing your portfolio is that quality is more important than quantity. And you several options; here are two: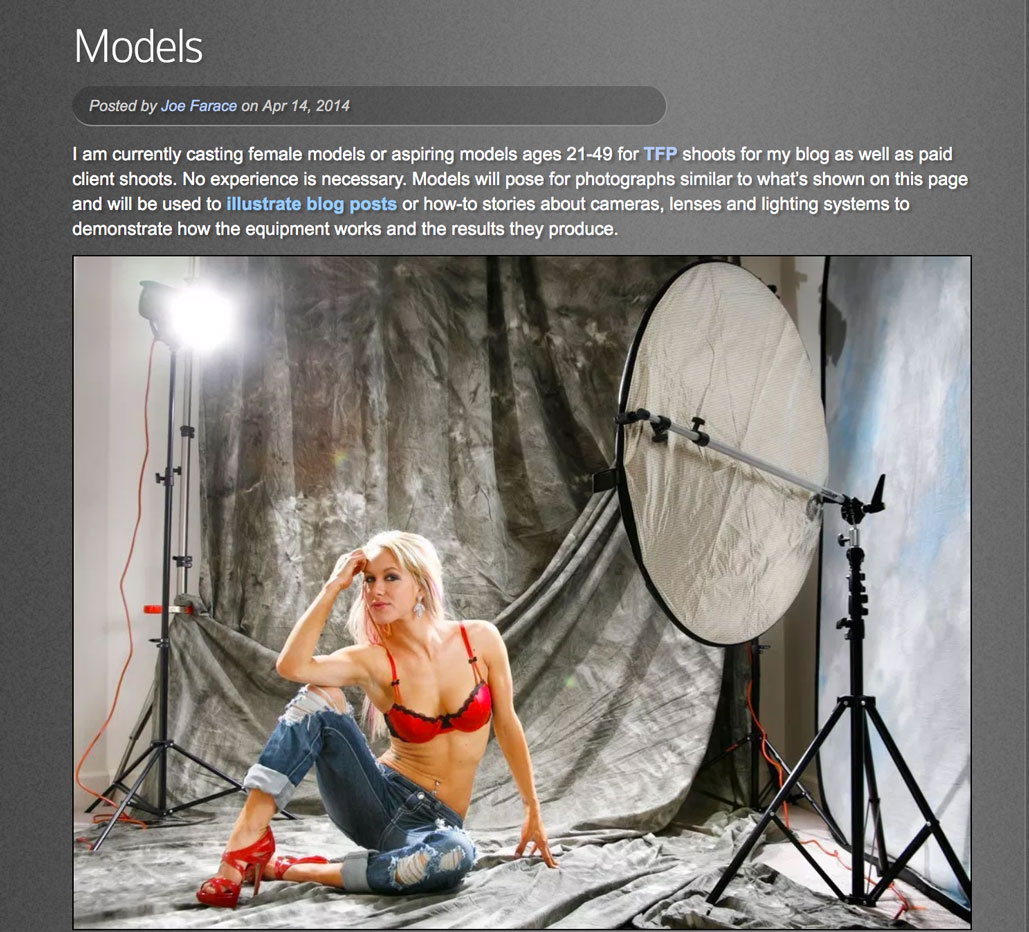 Digital: There are many ways to produce a digital portfolio displaying your glamour images. One of the least expensive to display images on-line on websites that offer a free portfolio; there are paid options too. Many have an e-mail system to securely communicate with models.
Having a model search option on your website, like mine (at right,) isn't expensive and gives you the ability to show potential models a more complete overview of your capabilities.
Print: You don't need to show tear sheets or dozens of images and most beginning glamour photographers won't be able to do that anyway. Instead of displaying fifty images of lesser quality choose 8-10 well-composed and nicely lit photographs that show your capabilities Later, when you are more experienced, you may be choose to use a combination of tear sheets and more and better prints in your portfolio.
Since you will be showing images under plastic in the portfolio you don't have to print on expensive paper. Inexpensive papers such as Epson's Ultra Premium Presentation Paper Matte costs $16.49 for 50 letter-sized sheets ,as I write this. For more on putting a print portfolio together, you might want to read What Type Of Portfolio Do You Need? on my old blog.
May is National Photo Month. And if you like cars, I urge you to visit my car photography site to see the details on a photo contest that will be running during May. Unlike some contests, you don't have to worry about ownership because all rights remain with the photographer, not me or the blog.
---
If you enjoyed today's blog post and would like to treat Joe to a cup of Earl Grey tea ($2.50), click here.
My book Joe Farace's Glamour Photography is full of tips, tools and techniques for glamour and boudoir photography and includes information on all of the cameras used as well as the complete exposure data for each image. New books are available from Amazon for $27.45 with used copies starting at $8.46, as I write this. Kindle version is $11.99 for those preferring a digital format.