Today's Post by Joe Farace
It's been a while since my last book review but this new book, The Grand Canyon And The Southwest, is a great "welcome back" and features seldom seen photographs made by Ansel Adams. And get this, as opposed to most coffee table style books, this one only costs $21.99, although Amazon prime members may be able get it for less.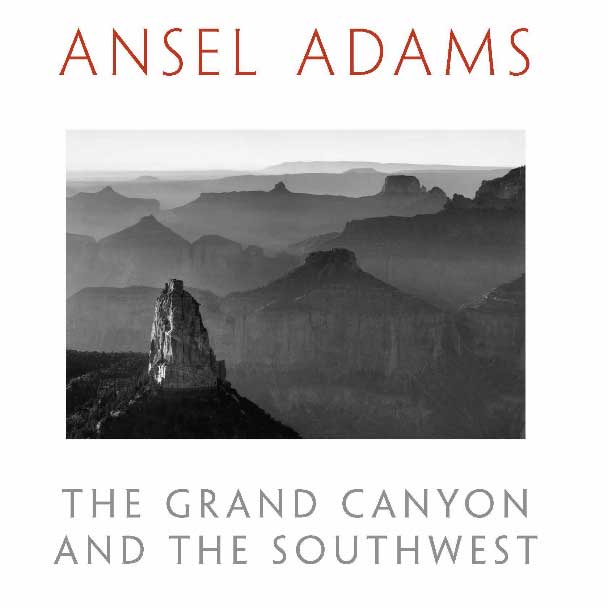 Much like a coffee tale book, The Grand Canyon And The Southwest is full of beautifully printed, albeit smaller than most coffee table books, images that capture the essence of the master photographer that Adams was.
The book features majestic landscape images, like "Canyon de Chelly National Monument, Arizona, 1942" that are pure Ansel Adams. While others are quite subtle such as "Thunderstorm of the Great Plains, near Cimarron, New Mexico, 1961″ that contains echos of "Moonrise, Hernandez, New Mexico" that was made twenty years prior. And there is the quiet drama of an image of a tree, "Tree and Clouds, Tucson, Arizona, c,1944" that should inspire all of us to run outside TODAY and make a photograph of a tree to see if we can capture an image as quiet and elegant as his.
And while there are amazing landscape images on display there are also a number of portraits and if you didn't think that AA could shoot a pretty mean portrait think again. In addition to his classic portrait of Georgia O'Keeffe add Orville Cox, one glance at "Spanish American Woman, near Chimayo, New Mexico, 1937" will help you reappraise your opinion of his work and style.
This book is not text heavy; it's mostly about the photographs but scattered throughout the pages are quotes from letters written by Adams that give you some insight into the photographs but more importantly, at least for me, was insight into the kind of man that Adams was. Tying that together is a series of letter from Adams—I didn't know his middle name was Easton—at the back of the book. Some are in the book's typeface while other's are copies of actual hand written or typed letters that he wrote. These letters are often warm, especially when writing to his wife Virginia, but always interesting and seem written with the occasional twinkle in his eye. ("I have woke up Virginia.") It is wonderful that we have access to these letters because nobody writes letters anymore and in the future we'll be denied this kind of look into the life of contemporary photographers, while here we get a look at the soul of Ansel Adams. And that alone is worth this book's modest price.
Despite its affordability this is a glorious book. I'm not a landscape photographer and don't pretend to be but as a young photographer Adam's work inspired me. The Grand Canyon And The Southwest belongs in every photographer's library, especially if you don't already have any of Adams' other books. Even if, like me, you don't shoot many landscapes you will appreciate the beauty, craft and photographic skill of a master of the medium and it might even inspire you to make a few landscape photographs and see how you like it.
Paperback: 112 pages
Publisher: Ansel Adams
ISBN-10: 0316534870
ISBN-13: 978-0316534871
Price: $14.57 (Amazon Prime, as I write this)