Today's Post by Joe Farace
I must confess that I was unaware of the SOOC movement until my friend Mark Toal told me about it a while ago. Wedding and portrait photographer Matthew Saville explained the concept saying, "SOOC means 'straight-out-of-camera' and denotes zero Photoshop. No Bridge / Lightroom / Aperture, etc…"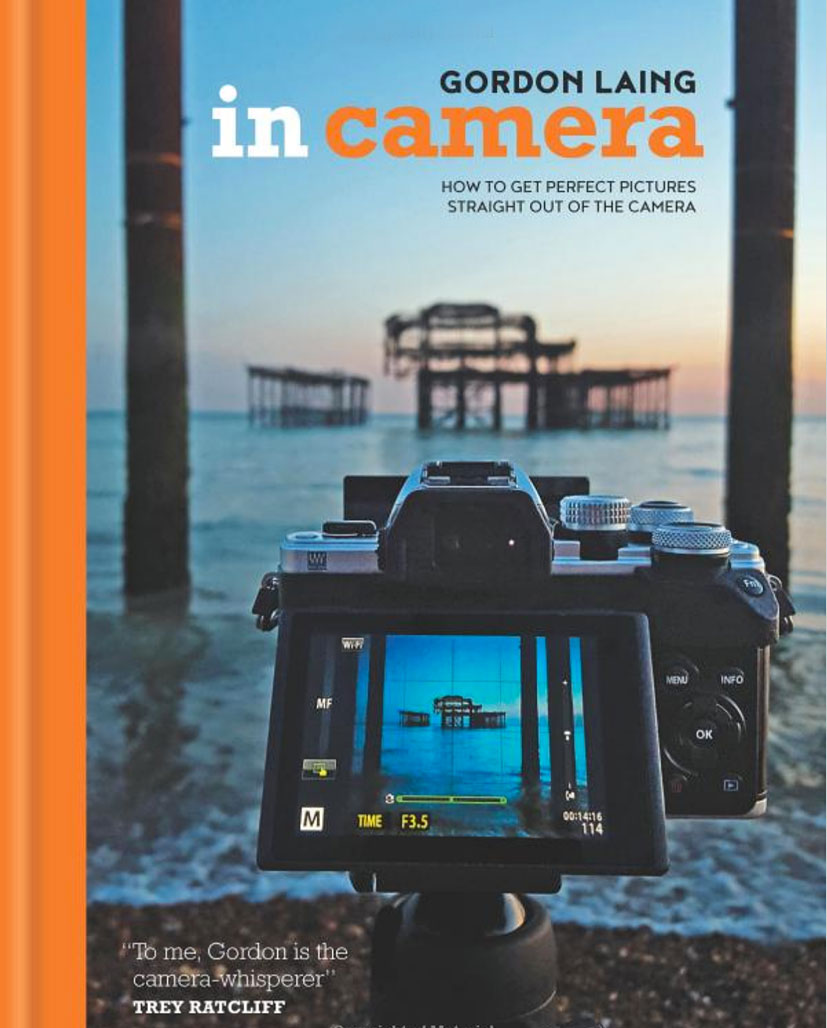 Along comes Gordon Laing's book In Camera: Perfect Pictures Straight out of the Camera and we're back into the debate over processed RAW vs. SOOC images. Laing himself is not dogmatic on this subject and in the Introduction states, "some styles of photography demand post-processing" but adds that "more can be achieved in camera than many people realize." He then sets out to prove it by his page-by-page analysis of one hundred JPEG images.
The first image is a doozie because he jumps into SOOC with both feet with an in-camera monochrome image made with a FujiX-T1. And in an age where I see increasingly lazy book designers who slap pages together with the least amount of work, this book's design by Paul Palmer-Edwards is the best of any recent How-to book that I've read. Typically, the image is on the right page with Laing's always illuminating text on the left page that is flanked by complete technical detail on how he made the image.
And Laing himself is not just a writer who's good at explaining things (a rare enough talent) but is one helluva photographer who's sensitive and whose vivid style embraces everything form moody landscapes to architecture to reportage. There's even a stunning portrait, "The Burlesque Model" (PG-rated,) shot with a wide-angle zoom that embraces his highly graphic style while keeping the focus squarely on the subject.
The book itself looks like a really nice textbook, there's no dust jacket but it's hardbound and the quality of the paper and the reproduction of Laing's 100 images—some double truck across two pages— are living proof that his concept works. I don't want to get into any arguments with my friends who shoot RAW exclusively but I have my own thoughts on the subject.
Overall, this is a really nicely written and produced book and if you've been wondering what the whole RAW vs. JPEG controversy is about, Gordon Laing's words and especially his photographs might convince you that he's right. You can order a copy of this great book from Amazon by clicking here.
PS: Gordon is my favorite YouTube photographer and he puts that same common sense, no BS approach to reviewing cameras as he does in this book. Check out his channel here.
Hardcover: 208 pages
Publisher: Ilex Press
ISBN-10: 1781573611
ISBN-13: 978-1781573617
Size: 7.8 x 10-inches
Price: $16.99