Today's' Post by Joe Farace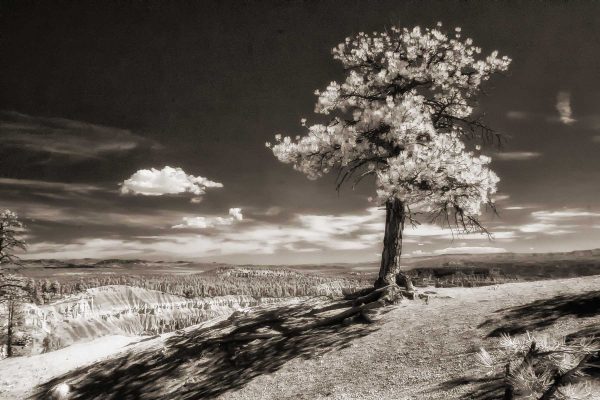 As most of you know by now, I'm not a landscape photographer but when I do shoot landscape I have my own way to approach this genre. You can read about what I consider the for most important aspects of capturing landscape images here. And if you're wondering where this approach comes from, the post includes an anecdote about how I came up with this ides when I was a student at the Maryland Institute of Art in Baltimore
How I made this shot: Most of the landscape photography I tend to do these days is related to my interest in infrared photography. I really enjoy the look that comes from digital infrared photography when making images line such as this one that was made at Zion National Park. It was shot using a Canon EOS 50D DSLR that I had converted by LifePixel and later sold to a reader in Florida. These days most of my infrared photography is made with either a Panasonic Lumix G5, Lumix G6 or Lumix GX1, all of which have been converted to infrared capture by Life Pixel using different kinds of filters, so each on produces different kinds of images.
This image with the IR-converted camera and Tamron's wonderful but no longer available 11-18mm  f/4.5-5.6 Di-II LD Aspherical lens (at 18mm.) The RAW file exposure was 1/160 sec at f/16 and ISO 400 handheld, pointing out the major advantage of using a IR converted camera—no tripod required. A plus one and one-third stop exposure compensation was used. The RAW image was processed in Silver Efex Pro and then Color Efex Pro to achieve the final image  you see above.

---
Life Pixel does a great job with IR conversions and have done most of my Canon DSLRs and all of my Panasonic Lumix G-series cameras. This is not a paid or sponsored endorsement, just my experience.
Used copies of my book, The Complete Guide to Digital Infrared Photography is currently are available from Amazon starting at $22.28 as I write this. Creative Digital Monochrome Effects has a chapter on IR photography and is available from Amazon with new copies at $41.48 with used copies starting around two bucks—a bargain for one of my favorite books.