Today's Post by Joe Farace
High key subjects typically consist on lighter tones, use soft lighting and contain white or pale tones. High-key lighting aims to reduce the lighting ratio in the scene and is soft and free from dark shadows.
High key portraits often contain small darker areas such as a subject's eyes to keep the images from being too flat and boring. It's also a good method for photographing blondes, which is what this subject was when I made these portraits. At the other end of the lighting-style spectrum, low-key lighting creates a chiaroscuro (strong contrasts between light and dark) effect by accentuating the contours of an object by throwing areas into shadow and usually only requires few light, maybe just one light that may be supplemented with a reflector.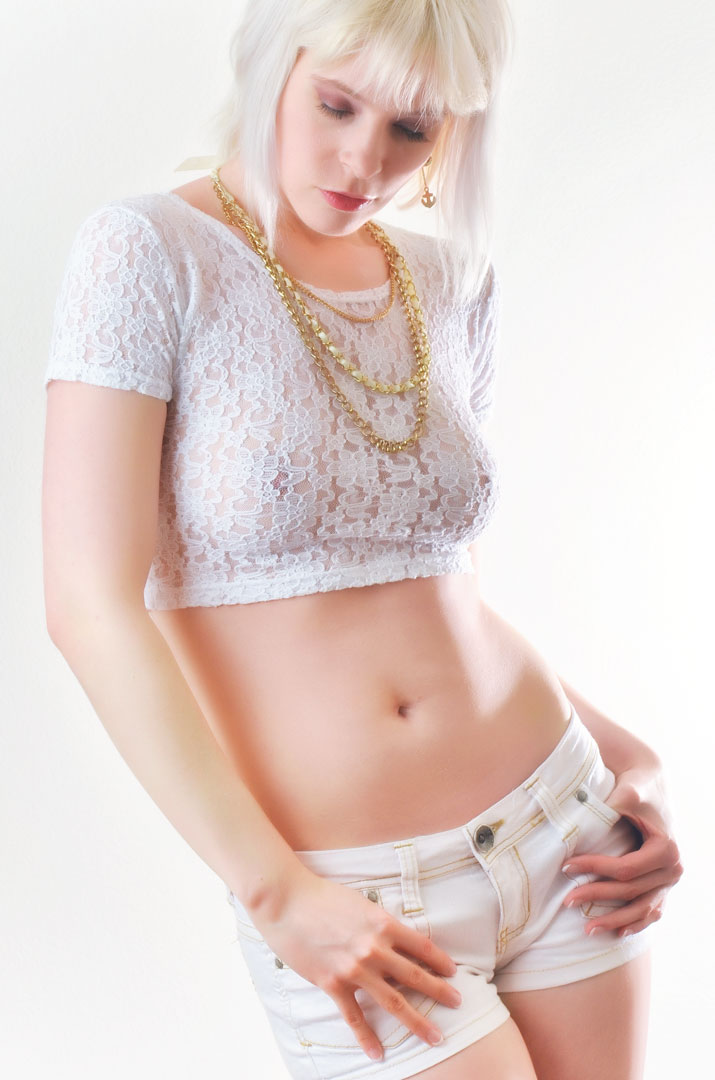 Low key pictures concentrate on the darker tones, conveying an atmosphere of mystery and use higher contrast lighting where most of the subject is in shadow and has relatively small areas that are brightly li . It's also a useful technique for photographing brunettes.
For those mathematically inclined, low key lighting has a much higher lighting ratio than low key. It's about 8:1 in the example seen in this link, than what's seen in a typical high key lighting, which can approach 1:1.
How I made this shot: I photographed the always amazing Pam Simpson in my home studio using one of its white walls as a background (before it was painted a more-or-less 18% grey.) A Plume Ltd Wafer softbox is located at camera left. This softbox is available in several different sizes and shapes, including the Wafer HexOval 100 (37.5 x 27.5 by 12 inches deep) that I use in my studio. A Paul C Buff DigiBee 800 is attached to the softbox with a Balcar-compatible speed ring. My Purple Haze Paul C Buff Alien Bee 800 is placed low and at camera right and is used in bare tube mode and is more-or-less aimed toward the the wall but there is so much much bounce in a white painted studio that it's everywhere.
Camera used was, for some reason, my wife Mary's Nikon D5100 with 18-55mm f/3.5-5.6 kit lens, at 55mm or an 82mm equivalent, according to the EXIF data. Exposure was 1/160 sec at f/9 and ISO 300. Image was retouched and processed with Vivenza and Color Efex Pro.
---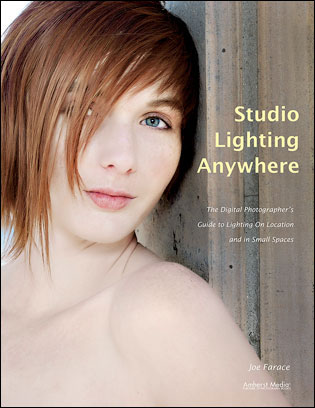 If you enjoyed today's blog post and would like to buy Joe a cup of Earl Grey tea ($2.50), click here. And if you do, thank so very much.
If you're interested in shooting portraits and learning how I use cameras, lenses and lighting in my in-home studio or on location, please pick up a copy of Studio Lighting Anywhere that's available from Amazon.com with new copies selling for $6.98 and used copies starting at around three bucks, which is a heckuva deal for all the useful information that's found in the book. Kindle versions are $6.72 for those preferring a digital format.