Today's Post by Joe Farace
Bucket List: A list of things to do before you die. Derived from the term "kicking the bucket."
A little while ago I wrote a post on my car photography blog about finding my "bucket list car" and the Bentley featured there has yet to appear in my garage. Nothing has; video on this subject to come real soon now. But this fact hasn't stopped me from dreaming about find that "right car" as well as kissing a few frogs along the way.
For the last 20 years or so I've also had a photography bucket list that I wanted to share it with you today along with how well—or not so well, it seems—I've done with checking things off the list.
Space Vehicle Launch: NASA's Shuttle program ran from 1981 to 2011. With some help from friends, I got a press pass to photograph a launch but NASA issues passes based on a specific launch. That particular mission was constantly being rescheduled and finally scrubbed so I never made it, although I did get to the Kennedy Space Center for a tour once.
America's Cup:

In the past I tried but press passes are/were impossible to get for an financially and socially unconnected photographer like myself.

Easter Island: influenced by the late Fred Picker's book Rapa Nui: Easter Island I've wanted to photograph the moai on Easter Island for a long time. I keep thinking bout how amazing the heads would look in infrared. Easter Island is 2000 miles from anywhere in any direction making it not easily accessible. My wife thinks I'm crazy to want to go there, just to photograph "the heads." Maybe I am.
Antarctica: This was a big one on my list for a long time but it seems that affluent tourists are damaging the ecosystem with their visits, so this one has been temporarily (?) removed from my list.
Indianapolis 500: Never made it to that race but did get to photograph the penultimate US Grand Prix at Indy, thanks to Olympus.
Daytona 500: Never made it to this race either but did get to photograph some driver's school events at Daytona International Speedway, where the featured portrait of me was made last December. This was, once again, thanks to Olympus.
The Bridges of Madison County: Yes, there really are bridges. And while I'm not exactly Clint Eastwood, I do own a photo vest just like the one he wore in the movie.
The Classic Cars of Cuba. I live in hope of making it Cuba before all those classic cars fall apart.
Carhenge: This bizarre sculpture site is located in Alliance Nebraska, which is 260 miles from Daisy Hill, and it's been my dream to photograph it in infrared, even more would be to photograph a beautiful model in a wispy gown at the site. I'm hoping post-pandemic that I will I get to do this, plus The Covered Bridges of Madison County.
Monument Valley: It is located on the Arizona–Utah border near the Four Corners area and lies within the territory of the Navajo Nation Reservation. It is one my dreams to photograph it in infrared, like John Ford did for his film Fort Apache. Monument Valley is only 525 miles from Daisy Hill, so maybe some day…
What's on my personal bucket list? I had been saving money to buy a used baby grand piano and start playing music again.That doesn't look like it's going to happen for two reasons: first, I don't have much money to save these days and second my hand surgery may have made the whole concept moot.
As you can see all of my bucket list items have so far eluded me so far and while I may never make it to Easter Island, I hope to someday achieve one or more of these goals, even if it's just the one mentioned on my car photography blog.
---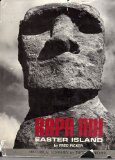 If you enjoyed today's blog post and would like to buy Joe a cup of Earl Grey tea ($2.50), click here.
You can pick up a hardback copy of Fred Picker's book Rapa Nui: Easter Island for $13.06 and get inspired too. Used copies start around four bucks. Pick up a copy and maybe Easter Island will be on your bucket list. I hope you make it.