Today's Post by Joe Farace
A personal note: I recently had surgery and my right arm will be in a cast for two weeks. After that I'll have a brace for several weeks, which I understand will let me make photographs and type, more or less. Check my Instagram feed (@joefarace) for updates on how I'm doing with posts from Mary.
When it comes to continuous lighting, fluorescent is giving LED a run for the money. And why not? It's continuous and works perfectly for hybrid video/still shooters because the RGB spikes from fluorescent light closely match the receptive RGB spikes of your DSLR or mirrorless camera's imaging chip. With tungsten lighting, producing 93 percent heat and seven percent red light, fluorescent easily comes out the winner. And more often than not it's affordable.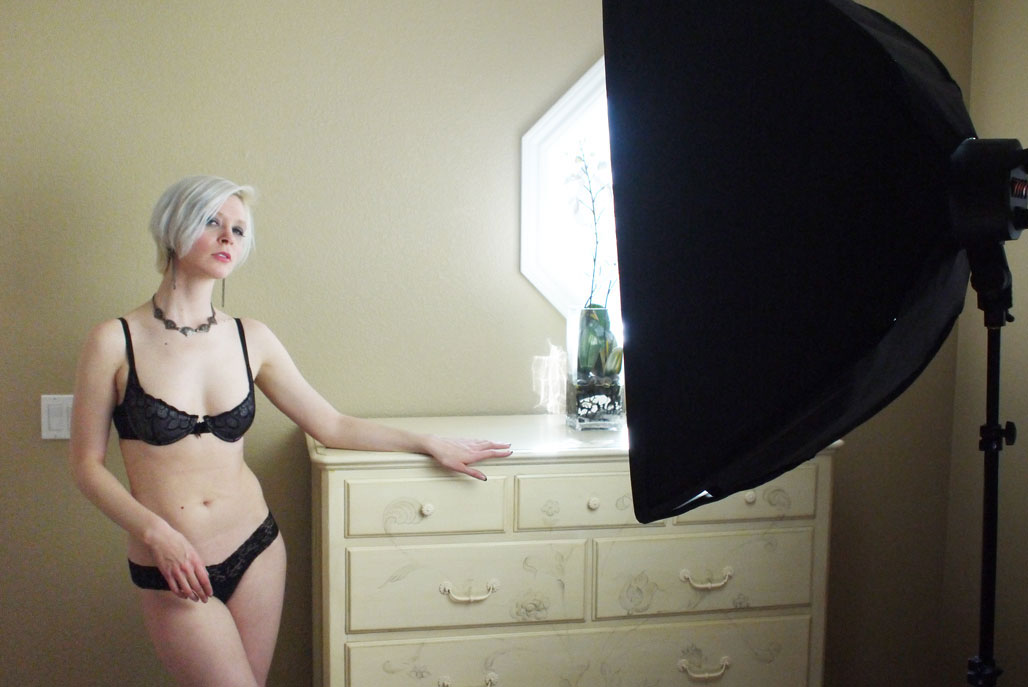 Take Westcott's Two-Light Daylight D5 Softbox Kit ($399.90.)The basic building block of the kit is their D5 head. Made of nylon, it weights a little over two pounds and features five ceramic light sockets, each supporting a 50-Watt lamp. The D5 head has five illuminated power switches arranged in a row across it's back, each controlling a single lamp that are used to control the output. There's a tilting bracket for positioning and a heavy-duty 13-foot cord with an in-line power switch.
The kit includes two D5 light heads, two 24×32-inch softboxes, ten 27-Watt daylight-fluorescent lamps and two 6.5-foot lightstands. The softboxes have a reflective silver lining to maximize output with heat-resistant rods mounting on receptacles on the D5's head. It comes in a 10x12x29-inch box that since it has a handle can double as a carrying case, at least for a short haul.
How I made this shot: One of the Westcott D5 heads with all bulbs illuminated and 24×32-inch Basic softbox was placed to the right of Pam Simpson, helping fill in for the weakish available light coming from the octagonal-shaped window on my home's guest bedroom.
Originally shot for a Shutterbug lighting review, this unpublished portrait was made with a Panasonic Lumix GH4 and Lumix G Vario 14-45mm f/3.5-5.6 lens (at 33mm) with an exposure of 1/125 sec at f/2,8 and ISO 800. Captured in RAW format and processed using Color Efex Pro.
Be aware: Because they contain mercury, many fluorescent lamps are classified as hazardous waste. The Environmental Protection Agency recommends fluorescent lamps be segregated from general waste for recycling or safe disposal. Home Depot and Loews stores in my area have a recycling area for these kinds of bulbs and I'm sure there are others at similar stores.
---
If you enjoyed today's blog post and would like to buy Joe a cup of Earl Grey tea ($2.50), click here. And if you do, thank so very much.
My book Joe Farace's Glamour Photography is full of tips, tools and techniques for glamour and boudoir photography and includes information on all of the cameras used as well as the complete exposure data for each image. New copies are available from Amazon for $27.43 with used copies selling for $5.45, as I write this, which is a bargain no matter how you look at it. The Kindle version is $11.99 for those preferring a digital format.