Today's Post by Joe Farace
Over the past decade, the first measurable Colorado snowfalls have occurred in October and November. On September 3, 1961, the 4.2 inches of snow that fell in Denver was the earliest snowfall recorded since the Weather Bureau began keeping records in 1872.
It won't be long before leaves start falling off trees, so now might be your best chance to go out and shoot some classic infrared images. There's all kinds of options too, including color and monochrome that can only be captured via invisible light. Photographing in infrared can transform mundane subject matter into dramatic photographs and scenes you might walk by and never think of photographing, take on a  spectacular look when seen via infrared.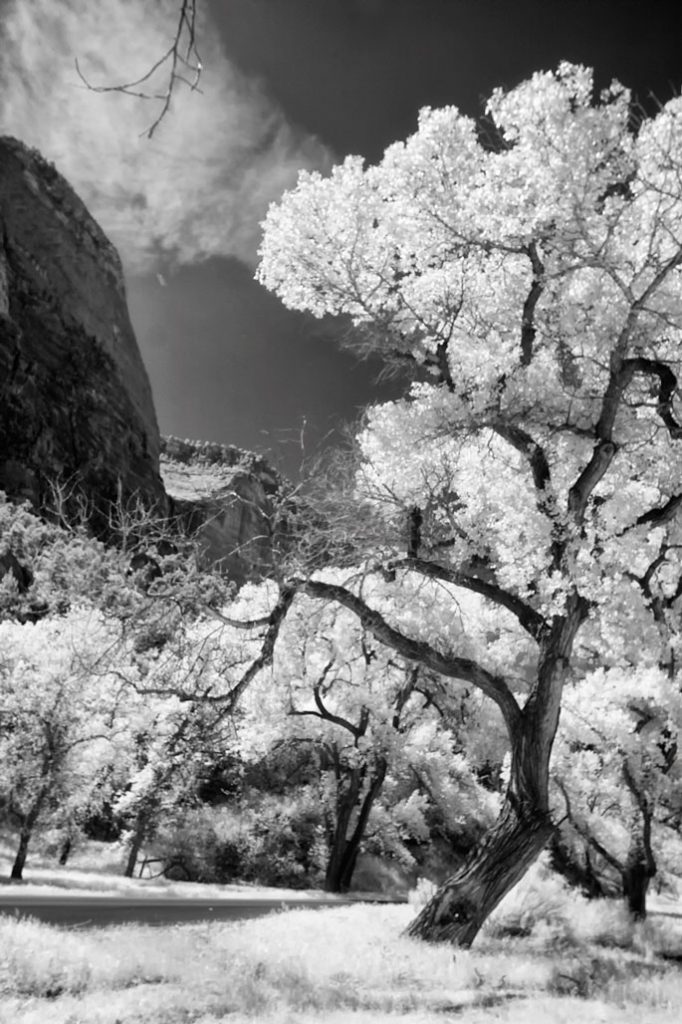 Best of all, and it has never been simpler than with digital capture. When shooting IR film the process wasn't all that easy. In addition to using special film your camera had to be loaded and unloaded in total darkness to reduce the possibility of fogging the film. To shoot IR film you also needed special filters and more than likely had to process the film yourself.
How I made this shot: It was made in Zion National Park, which I believe is one of the best places—at least where I've been— for infrared photography. It was shot using a Canon EOS 50D that was converted to infrared capture by LifePixel. Lens was the Tamron SP AF 11-18mm F/4.5-5.6 Di-II LD Aspherical (at 18mm.) Exposure was 1/125 sec at f/9 and ISO 200, which shows the big advantage of shooting IR with a converted camera as opposed to on-camera filters, because you can easily handhold the camera instead having to use a tripod.
If you decide to get serious about digital infrared photography you might consider having a camera converted to IR-only operation because you'll be able see the results immediately on the camera's LCD screen. Older DSLRs and mirrorless cameras coming onto the used market offer a perfect opportunity to pick up an extra camera that uses all of your existing system's lenses and can be dedicated to infrared photography without breaking the ole piggy bank.
One of the most important lessons you learn about shooting IR images is forgetting everything you know about the best time of day to capture images. To give foliage that famed infrared glow you need to shoot at a time of day when there's more sun on the scene than not. This puts your prime shooting times around mid-day! These are not the best of times to make conventional images but they are the "golden hours" for infrared. If you need a rule of thumb, try this one: The best time of day to shoot IR is when it's the worst time of day to shoot normal images.
Update: Sometime in 2020 I would like to hold an infrared photography workshop in Zion National Park. A few years ago one of the big photography websites approached me asking about sponsoring such a workshop but with a change in their ownership that offer evaporated. If your organization is interested in sponsoring such a workshop, please click the Contact button and let's talk.
---
I've found that Life Pixel does a great job with IR conversions and they've done most of the conversions for my Canon DSLRs and all of my Panasonic Lumix cameras. This is not a paid or sponsored endorsement, just my experience.
My book, The Complete Guide to Digital Infrared Photography is available from Amazon with used copies selling for $6.49 as I write this. My other book, Creative Digital Monochrome Effects, has a chapter on IR photography and is available from Amazon with used copies starting at $2.07, a deal no matter how you look at it.