Today's Post by Joe Farace
"Look, I'm not an intellectual – I just take pictures."—Helmut Newton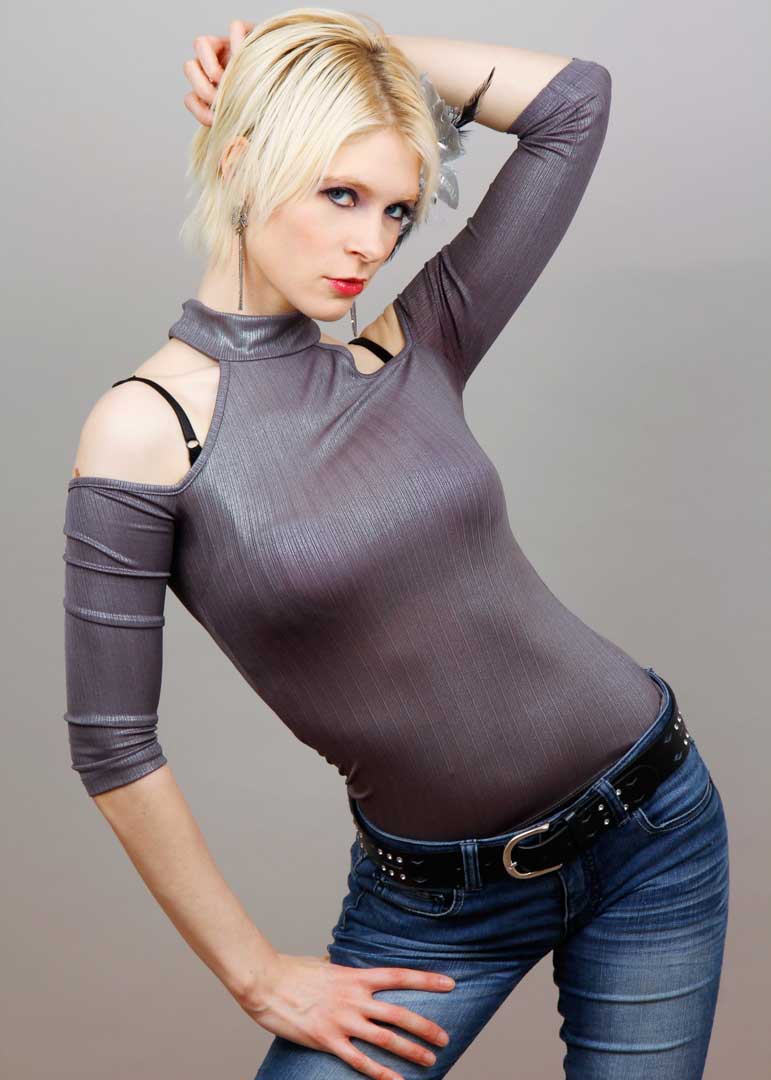 Inspired by Gary Bernstein's book Burning Gold, I decided to publish a different portrait of the same model, in this case Pamela Simpson, off-and-on over the next who-knows-how-many Sundays.
During this time I'll be featuring a different image of her that was made over the six years that I was lucky enough to have photographed Pam, showcasing her many, many looks in many different styles.
How I Made this Portrait: Today's image is from our third portrait session together on November 2, 2012. It was made in my 11×15-foot home studio who's future, at this point, is in doubt. She is wearing a casual outfit and photographed against one of  Savage's Focus Grey seamless paper backdrops that was hung from my old, falling apart JTL background stands.
Lighting was from a single monolight with a 45-inch Westcott Halo Mono lightbank mounted and placed at camera right with a 32-inch reflector located at camera left. The camera used was a Canon EOS 60D with an EF-S15-85mm f/3.5-5.6 IS USM lens (at 59mm) with an exposure of 1/125 sec at f/9 and ISO 100. Image was retouched using my standard techniques and software and then processed using the Color Efex Pro Photoshop-compatible plug-in for the final touch.
---
Gary Bernstein's book Burning Cold is long out of print but new hardcover copies are available from Amazon for $23.98 and used copies for $20 and used, paperbacks starting around four bucks, as I write this. Ms. Simpson is featured on the front cover and several inside pages of my book Posing for Portrait & Glamour Photography. New copies of my book are available from Amazon for $28.56 with used copies starting around 19 bucks, as I write this. Kindle copies are $27.64 for those preferring a digital format.