Today's Post by Joe Farace
"Courage is not simply one of the virtues, but the form of every virtue at the testing point."— C. S. Lewis
We're back in the studio again today…
I have written about the different methods that I use for finding models before. To locate all of the other posts on this subject, you can use this site's search feature and enter "finding models" . Some people have asked me to write an eBook on this subject and if there is any demand maybe I will. Or maybe I should create a real book using Blurb but I digress…
So what happens after I find a new model* who wants to work with me? With models that I haven't photographed before, I like to first have an informal interview to take a look at her portfolio (if she has one) and if she isn't familiar with my work, show her the kind of images that I prefer making. This exchange helps establish rapport and the model that usually pays off in the future because we will have established some rapport that only builds with time. Next, I like to schedule a test shoot to see how we like working together. The feedback from the interview affects the kind of images that get made during the test shoot.
A test shoot in my home studio or on location typically takes two hours during which time I'll usually make approximately two hundred photographs. During the test, I'll shoot both color and direct black & white images. I've previously mentioned my philosophy of shooting RAW+JPEG—B&W and color—at the same time and you can read about my reasons for using this technique here.
In working with the model during test shoots I don't have a formula for posing them. I pretty much let them do their own thing, which also demonstrates their creativity. But I always try to accent a model's good points and minimize the ones that she's self-conscious about, even if I think she's wrong about that. I tell each model, and wholeheartedly believe it to be true, that I want to make each of them too look as beautiful as possible. And that's also my goal for a test shoot too, to create great photographs that makes the model happy and helps us build a longstanding partnership.
How I made this shot: As far as lighting is concerned: There are photographers who prefer using available light meaning "every light that's available" but I prefer to work with as few lighting tools as possible and concentrate on the model, not fussing with the lighting equipment. These days in my studio I've standardized on Paul C Buff's Alien Bee and DigiBee monolights because they offer a combination of affordability, output power and dependability. Great customer service too. This is not a paid or sponsored endorsement, just my experience.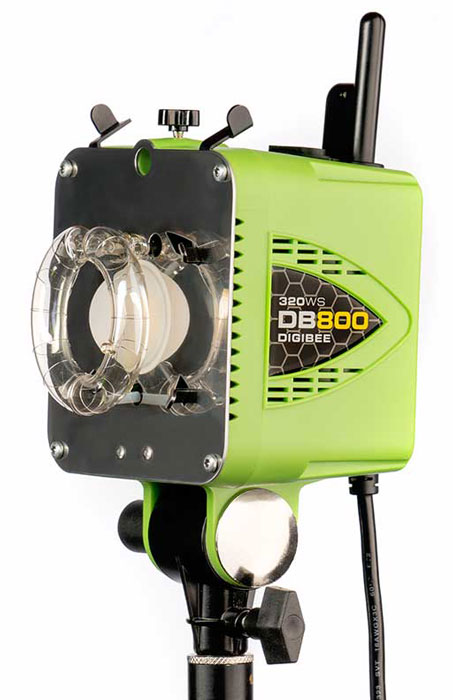 The standard lighting tools in my 11×15-foot home studio are Paul C Buff's Alien Bees B800 and DigiBee DB 800 monolights. For this portrait of Marcia, a make-up artist I only photographed this one time, a 42-inch hexagonal Plume Wafer soft box is attached to a DigiBee 800 placed at camera right, while an Alien Bee 800 with 18-inch OMNI reflector placed behind her at camera left and out of camera range. Both monolights are synced with a Pocket Wizard Plus X on the main light and another Plus X on my camera.
A Lastolite Distressed Paper collapsible background was used as backdrop and was leaned up against a background hanging from my falling-apart JTL background stand. Camera was a Lumix GH4 with a borrowed Leica DG Macro-Elmarit 45mm f/F2.8 lens (that I wished I owned) with an exposure of 1/125 sec at f/8 and ISO 200.
*If you have a friend (or maybe yourself) who would like to model or wants to be my new muse, please contact me through the Contact page or send me an e-mail at joefarace at gmail dot com. We can schedule a test shoot or interview whichever is more convenient.
---
The original title of my book Posing for Portrait and Glamour Photography was The ABC's of Portrait Posing. On this blog there are lots of posts about posing. Use the Search box on the upper right-hand corner and type "posing" to find the appropriate posts. If you want something more lasting, take a look at my book that's available new from Amazon for $18.86, with used books starting at $18.98 for some reason. The Kindle version is $28.45 for those who prefer a digital format.