Today's Post by Joe Farace
Much to my wife's consternation I have always wanted to visit Easter Island to, what else, photograph "the heads." I'll probably never made the trip so this post may be as close as I get.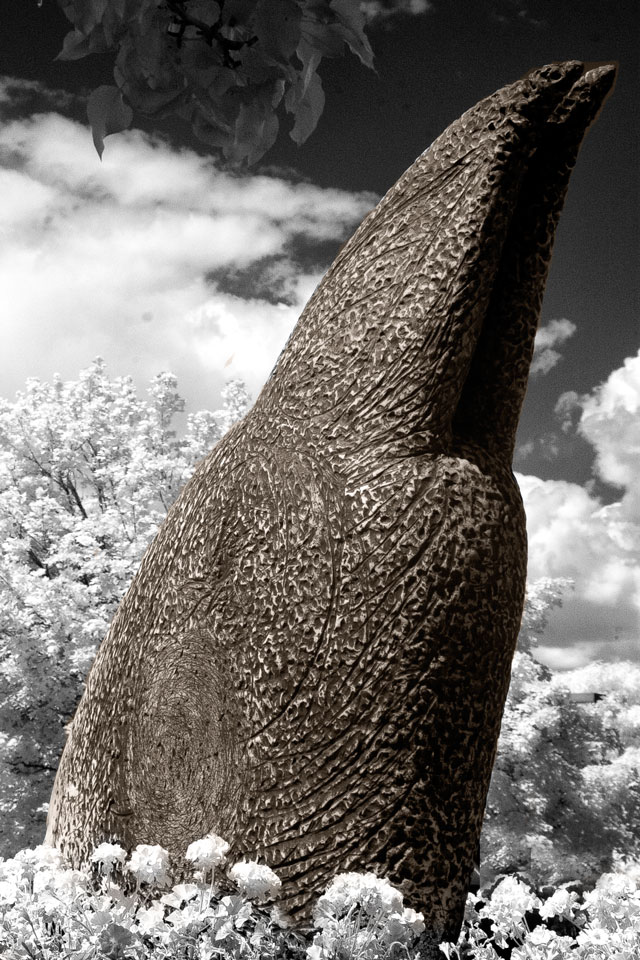 The name "Easter Island" was given by the island's first recorded European visitor, the Dutch explorer Jacob Roggeveen, who encountered it on Easter Sunday, April 5, 1722, while searching for Davis or David's island. Roggeveen named it Paasch-Eyland , which is 18th-century Dutch for "Easter Island." In Spanish its name is Isla de Pascua that also means "Easter Island."
I've long been fascinated by Easter Island's stone heads but so far haven't yet been able to make the trip, so I'll have to make do with this photograph of a rabbit's head sculpture that I made in Arvada, Colorado.
I call the image "The Real Easter Island" because it's a rabbit head (get it?) It was shot with a Canon EOS 50D that was modified by LifePixel to capture a monochrome infrared images. Lens was a Tamron AF18-200MM F/3.5-6.3 XR Di II I zoomed the lens to 80mm while attached to Exposure was 1/100 sec at f/16 and ISO 400. The RAW file was converted to black and white using Silver Efex Pro. I digitally toned a duplicate layer using PixelGenius' PhotoKit, then used Adobe Photoshop's Eraser tool to erase everything on that layer except the sculpture.
Used copies of my book, The Complete Guide to Digital Infrared Photography, not my original choice for a title by the way, are available from Amazon for $5.99 as I write this. My book Creative Digital Monochrome Effects has a chapter on IR photography and is available used from Amazon for $3.00. Copies of both make a nice Easter gift for an infrared shooting friend or yourself.