Today's Post by Joe Farace
In my book Studio Lighting Anywhere I quote Richard Avedon who once said, "I think all art is about control—the encounter between control and the uncontrollable." That's what a dedicated studio, no matter what size it may be or where it may be located, can offer a photographer.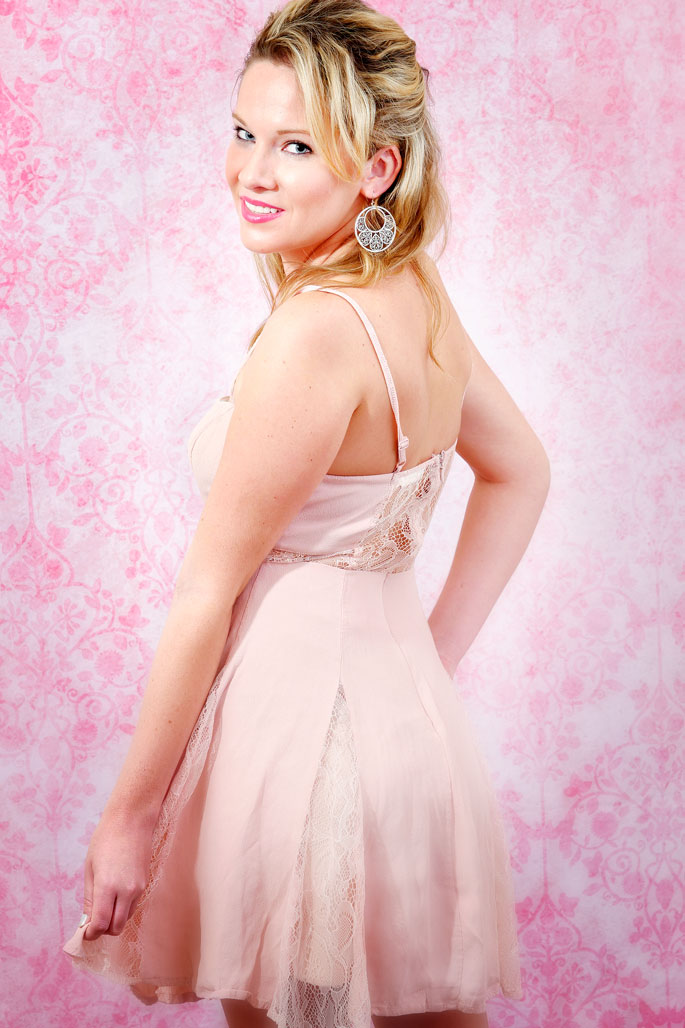 You own shooting space becomes a safe haven from the real world where, to paraphrase the Outer Limits voice, you can control the lighting, the background and subject. Even my small 11×15-foot in-home studio, where many of my current portrait and glamour images, including today's were made, is a retreat for creativity and, I think, the best place to develop a portrait style.
When working in this environment, I control everything from the subject's pose, clothing choices and make-up with the resulting photographs tending to be as much a portrait of myself as they are of my subjects. Or as my friend Rick Sammon likes to say, "the camera points both ways." And what often emerges from that control is a style.
How I made this shoot: While I usually like to use a background that's a complimentary color to what a portrait subject is wearing, one of my stylistic foibles is to match the outfit with a Silverlake Colorsmack background that coordinates with it, like the Photo Blush backdrop that is used here. For this portrait of Colleen Brianne lighting was provided by two Dynalite Baja B4 monolights. The main light is at camera right with a white 60-inch white parabolic umbrella mounted in shoot-through mode while the fill comes from another monolight with a 48-inch silver umbrella attache that was placed at the left rear corner of my studio
The camera used was a Panasonic Lumix GH4 with an Olympus 45mm f/1.8 lens along with an exposure of 1/160 sec at f/9 and ISO 200. The Vignette Blur filter, that's part of Color Efex Pro, was used to soften the portrait's edges.
Having a personal photographic style is not something that I'm conscious about when shooting portraits but the truth is that over time we all develop a signature way of shooting. The danger, of course, is that we keep shooting that same way or different versions of the same shot for the rest of our lives so any style you develop must grow and change as you learn to make better portraits.
---
If you're interested in learning how I shoot portraits and use cameras, lenses and lighting in my in-home studio and on location, please pick up a copy of Studio Lighting Anywhere that's available new from Amazon.com for $33.66 or starting at the bargain price of $2.33 used, as I write this. The Kindle version is $19.99 for those preferring a digital format.

Here's a special offer: The first reader who signs up for a Supporter or VIP membership account on my Patreon will receive a free, signed copy of my book Posing for Portrait & Glamour Photography.