Thoughts for Today by Joe Farace
That's the question some photographers have been themselves these days. Facebook's Mark Zuckerberg published a 5,700 word manifesto where he stated that Facebook represents one of history's "great leaps." Yet many photographers are not seeing the benefits social media should/might/could provide. On the f/stoppers website, photographer Dusty Wooddell wrote, "my Facebook page currently has around 6,500 followers. My Instagram account has just over 2,000. With over 8,000 followers, it kind of feels like I should be booking more than the 35(ish) shoots per year that I book."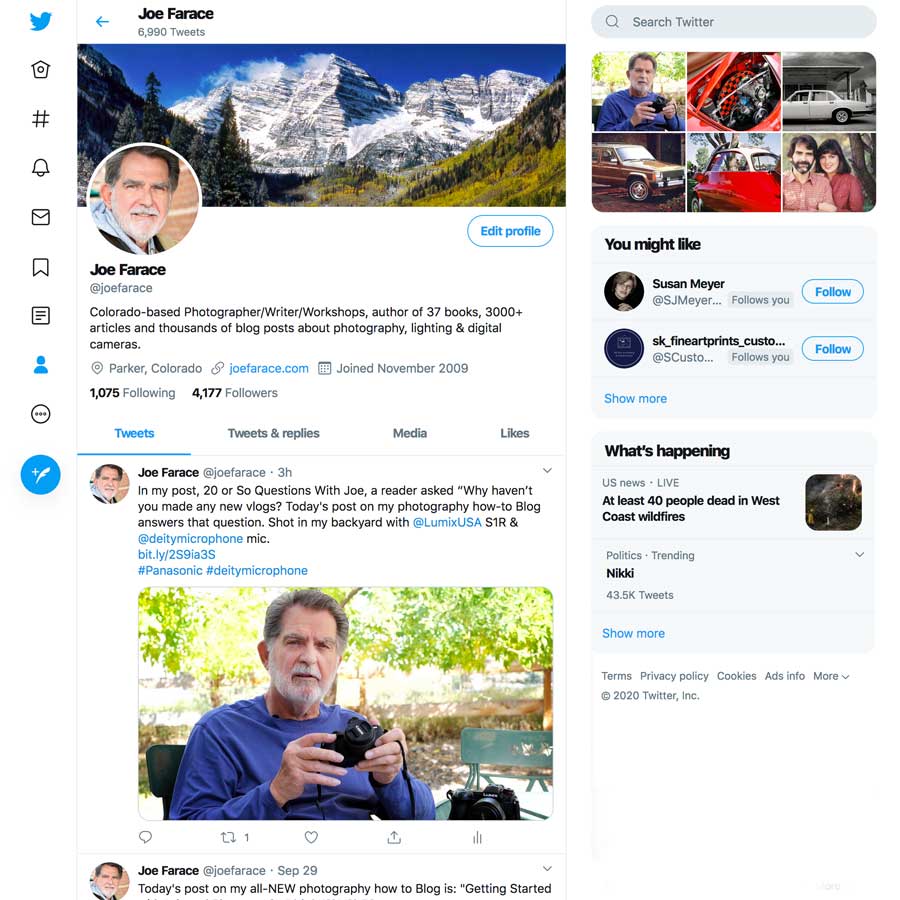 One of the many things I've learned from working with and later writing about computers since the 1960's is that some things can't be changed: One of Farace's Laws of the Computing Universe is that the first people into a new media are ultimately the most successful. To put it all in perspective: According to the  ARS Technica tech blog stated, "more than 500 hours of video is uploaded to YouTube per minute." Think about that—per minute. As the digital marketplace gets saturated with more data, more websites, more social media posts and their use by photographers—and anybody else for that matter—people (and Google too, I bet) tend to pay the most attention to those who were there first. Or to quote Ricky Bobbie, "If you ain't first, you're last."
The late Rohn Engh once wrote a post for our old blog where he offered this advice: "Facebook, Google, and others are the 'Classified Ads' of the Digital Age. Here's a system you can use to determine if you should get involved in advertising your photography on social media. In the last century, entrepreneurs would observe classified ads in the major newspapers of the day. They would scan the classifieds for 'repeats. If the entrepreneur placed an ad that read, 'How to Rid Your Yard of Moles -$1' and they noticed it was in there every day or every week, it was a winner."
And then there's this…
"People who used social media for more than two hours per day were more likely to report symptoms of depression, poorer sleep, and increased anxiety."—report by UK's Royal Society for Mental Health
The Royal Society for Public Health's report contained something you probably already knew about social media: It ain't good for you.
The report, titled "StatusOfMind: Social Media and Young People's Mental Health and Wellbeing" detailed the effects of social media on young people from age 14 to 24. The results show a negative effect on the emotional well-being among social media users. People who used social media for more than two hours per day were more likely to report symptoms of depression, poor sleep and increased anxiety. After using Facebook compared to non-users, women ranging from teenagers to adults reported concerns about their body image .
Based on its survey of over 1,400 individuals, the study ranked the most popular social media platforms and found Instagram to be the worst offender among Facebook, Instagram, Snapchat, Twitter, and YouTube, the last of which garnered the only net positive response.
Is Social Media Helping Your Photography Business or a Waste of Time? Only you know the answer but I hope that I've given you something to think about.
---

October is National Book Month. You can help support this blog by purchasing any of my books from Amazon, such as…My out-of-print film-based book Part-Time Glamour Photography: Full-Time Income, is available new for $28.99 with used copies starting at $10.61 as I write this. Yes, it's about shooting using film cameras but there's still lots of useful information and that used price is hard to beat! The newer, digital oriented Joe Farace's Glamour Photography, is available new for $20.99 or starting at $8.91 used. The Kindle version is $19.99 for those preferring a digital format.