Today's Post by Joe Farace
One of the biggest challenges facing aspiring portrait photographers is retouching. Out here in the real world, few of us are perfect. Cindy Crawford once said, "even I don't look like Cindy Crawford when I get up in the morning!" So before you begin doing any retouching on a digital image there are a few steps you can take to make sure that your portraits won't need much retouching to begin with.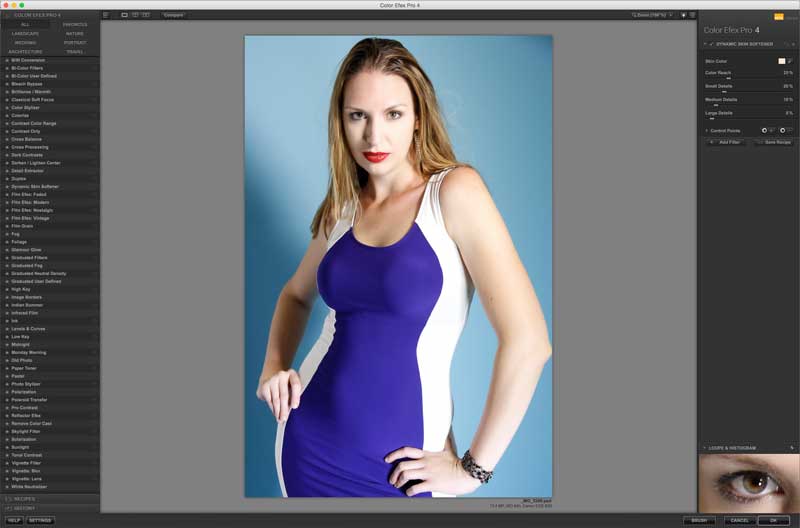 Start by working with a good make-up artist and here are some tips. Another way to minimize retouching is to slightly overexpose the portrait making it just a little brighter than your camera or flash meter says is correct. Using both of these techniques should minimize any retouching challenges.
As I said, nobody's perfect but we all want our portraits to look like how we think we should look, at least on our best days. A Google search of "Portrait Retouching" yielded 16,400,000 hits all of which claim to have the real secrets of the best retouching methodology. Here's number 16,400,001 and one of my favorite retouching techniques.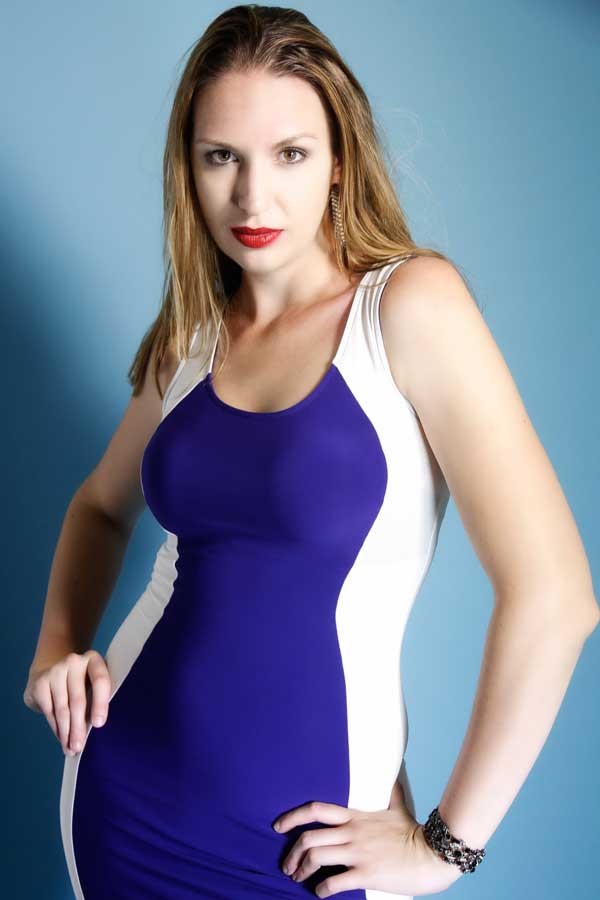 I've found that one of the easiest ways to retouch a portrait is to use a dedicated Photoshop-compatible plug-in such as the Dynamic Skin Softener filter that's part of Color Efex Pro.
Using the software's built-in color picker, you can select a specific skin color within a portrait so the softening effect is only applied to specific skin areas while preserving details in the subject's hair. The dialog box's Color Reach slider lets you expand the range of colors affected by the filter beyond the initial color selected by the skin color picker. The higher the value of this slider, the more that colors similar to the selected color are affected. A Soften Strength slider controls the amount of overall softening that's applied to the colors set by your other choices.
Tips: I usually apply any retouching filter to a separate layer and then magnify the portrait while adjusting the layer's opacity until I achieve a realistic but retouched skin tone, one that has some texture without looking too plasticy. To kick it up a notch, I next apply the Glamour Glow filter part of the same family of plug-in, to a separate layer and lower its opacity to taste.
For more on this subject, see my post Retouching and Makeup for Glamour Portraits featuring a before and after portrait of my former muse, Tia Stoneman.
How I made this shot: I photographed the statuesque Danielle in my home studio using LED lighting. Camera was my Canon EOS 60D with EF-S15-85mm f/3.5-5.6 IS USM lens and an exposure of 1/80 sec at f/5.6 and ISO 640. Background is a 53″ x 36′ roll of Savage's classic Ocean Blue seamless paper.
---
If you enjoyed today's blog post and would like to buy Joe a cup of Earl Grey tea ($2.50), click here. And if you do, thank so very much.
My book Joe Farace's Glamour Photography is full of tips, tools and techniques for glamour and boudoir photography and includes information on all of the cameras used as well as the complete exposure data for each image. New copies are available from Amazon for $27.43 with used copies selling for $5.46, as I write this, which is a bargain no matter how you look at it. The Kindle version is $11.99 for those preferring a digital format.