Today;s Post by Joe Farace
McCabe Meadows is located near Parker, Colorado along the west side of Parker Road just north of Indian Pipe Lane and the Country Meadows subdivisions. The park includes a trailhead with access to Cherry Creek Trail, a fitness circuit, a shade structure with tables and public restrooms. The Parker Arboretum is also located here. Because of the large number of deciduous trees, it is also the best place near Daisy Hill for me to make infrared images, which is why I hold the Infrared Workshops (scroll to the bottom of the page) there.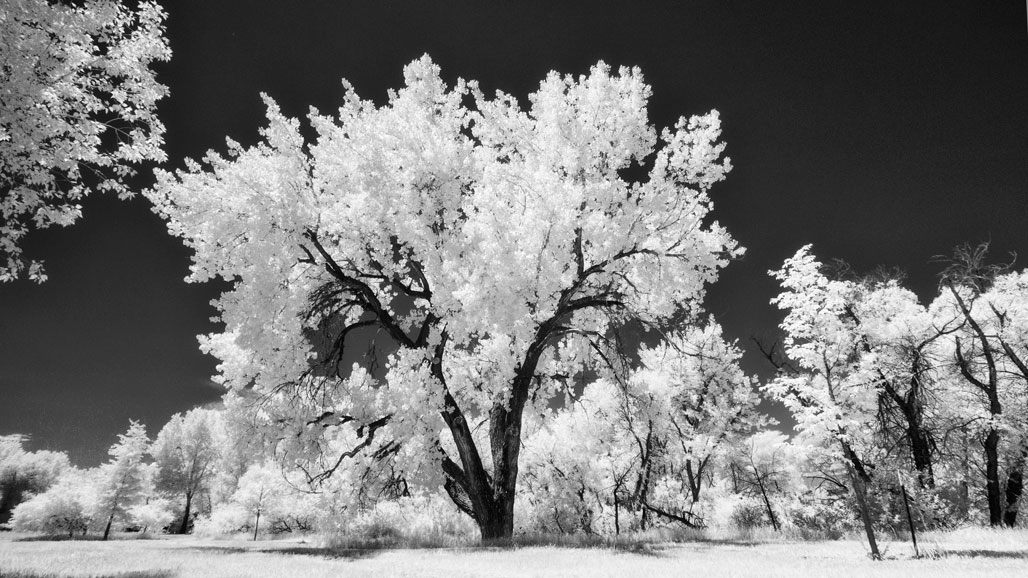 The above image was shot with a Panasonic Lumix G6 converted to infrared-only capture by LifePixel. Lens was the Leica DG Vario-Elmarit 8-18mm f/2.8-4 ASPH lens (at 8mm) with an exposure of 1/200 sec at f/11 and ISO 400. To suppress color fringing, chromatic aberrations, and spherical aberrations, the lens design uses a single aspherical ED element, three aspherical elements, two extra-low dispersion elements, and one ultra high-refractive index element. Nano Surface Coating minimizes flare and ghosting for increased contrast and color accuracy. The diaphragm has seven blades producing a more-or-less circular aperture producing out-of-focus areas that should make bokeh fans happy.
As you can see when shot at 8mm, as in the above image, you can experience some pincushion distortion if the lens in not held perfectly level. In this case I was shooting from a low angle handheld but more careful and level placement of camera and lens at this focal length should minimize this effect.
The metal lens body is splash, dust, and freeze proof for use in challenging environmental conditions, and its 240 fps autofocus works for both photo and video shooting. The lens focuses as close as nine-inches, which may not produce true 1:1 macro images but it'll do until a real macro lens come along.
Life Pixel does a great job with IR conversions and they have done most of the conversions for my Canon DSLRs and all of my Panasonic Lumix G-series cameras.
My book, The Complete Guide to Digital Infrared Photography, is currently out-of-print but used copies are available from Amazon for $2.40, as I write this. Creative Digital Monochrome Effects has a nice chapter on infrared photography and is available from Amazon with used copies selling at giveaway—less than four bucks—prices. You can get both books for less then price of a Starbucks Venti latte.