Today's Post by Joe Farace
I don't have to take a trip around the world or be on a yacht in the Mediterranean to have happiness. I can find it in the little things, like looking out into my backyard and seeing deer in the fields."—Queen Latifah
I don't always have a specific goal or objective in mind when making an image, other than "I'd like to make a nice photo" but that doesn't mean you shouldn't. My friend Matt Staver is a talented, young photographer and once asked me "what was your objective in making that photograph?" but I didn't have a good answer for him.
At the FOTOfusion conference a few years ago I conducted a workshop called "Right in Your Own Backyard" that was based on the premise that you don't have to travel halfway around the world to make interesting images when there are photo ops close to home. During the workshops, when showing an image made  literally in my backyard one of the students asked, "Why did you make that picture." Answering him was difficult because it addressed the thought processes going on while I was capturing that image. I didn't have a good answer for him but I never got that question out of my head and so decided to show how and why a specific "backyard" photograph was made.

This portrait of my wife Mary (above) was made in the actual back yard of our former home, not Daisy Hill, using a Hasselblad Xpan film camera and is the full image of the 35mm panoramic frame. It was created as a homage to the work of Phil Borges who is not only a gifted photographer but a humanitarian. One of the techniques Mr. Borges uses is called selective toning which is different from split toning although the effect is similar because the image maker gets to determine which specific area of the photograph is toned in different colors or tones by using masking techniques.
In the traditional darkroom the effect can be achieved by coating the areas of the print you don't wish to tone in a particular color with liquid rubber cement. You carefully apply this goopy stuff with a brush, let it dry and then immerse the print in the toner solution. After washing and drying the rubber cement peels off easily and you can then apply rubber cement to the areas you just toned and then re-tone the print in another color. If all that sound complicated and messy it is but the effects can be dramatic but it's much easier to accomplish using digital techniques and layers. Here two layers were created; one was toned one way, another was toned another way. Then I erased everything on one layer but Mary's face and hands.
---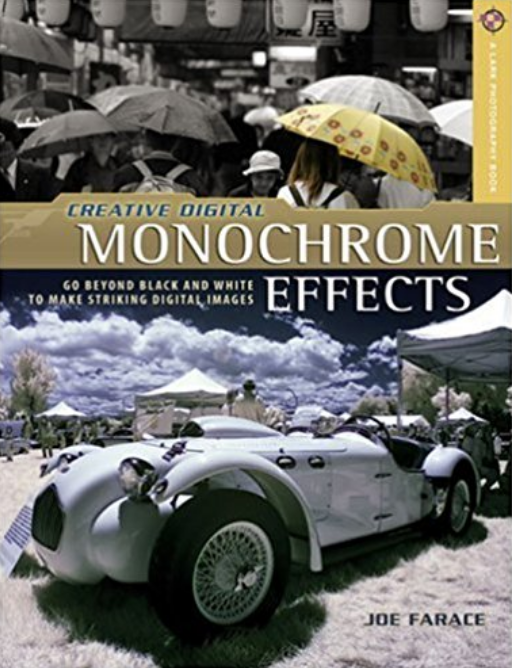 If you enjoyed today's blog post and would like to treat Joe to a cup of Earl Grey tea ($2.50), click here.
My book Creative Digital Monochrome Effects is currently out-of-print but is available from Amazon with used copies starting at less than seven bucks, as I write this. That's cheaper than a trenta Starbucks latte, so get'em while you can.